| | |
| --- | --- |
| Wednesday, 30 March 2016, 19:00 HKT/SGT | |


Source: HKTDC
Latest Product Technology & Industry Insights to be Presented



HONG KONG, Mar 30, 2016 - (ACN Newswire) -

Three major trade events are set to welcome a total of more than 4,700 exhibitors at the Hong Kong Convention and Exhibition Centre (HKCEC) next month. Organised by the Hong Kong Trade Development Council (HKTDC), the events comprise the Hong Kong International Lighting Fair (Spring Edition), which runs from 6 to 9 April, as well as the Hong Kong Electronics Fair (Spring Edition) and the International ICT Expo to be held concurrently from 13 to 16 April. The fairs will feature innovative technology, smart and environmentally-friendly products as well as creative local designs. Exhibits previewed at today's press conference included a smart robot that can work on production lines, smart glasses created by a Hong Kong-based company and successfully funded on kickstarter, a smart fitness video platform developed by a local start-up, a waterproof LED lamp and a smart home system. They aim to catch the eye of international buyers at the fairs.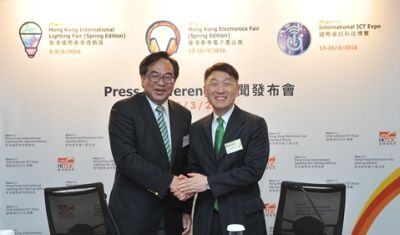 HKTDC Acting Executive Director Benjamin Chau (Right) and HKTDC Electronics/Electrical Appliances Industries Advisory Committee Chairman Dr Lo Wai-kwok (Left) announce details of the HKTDC Hong Kong International Lighting Fair (Spring Edition), the Hong Kong Electronics Fair (Spring Edition) as well as the International ICT Expo.


HKTDC Acting Executive Director Benjamin Chau said, "There is a strong demand for smart technology and environmentally-friendly products in the market. Most of the exhibits this year are high value-added and innovative, incorporating high tech, smart and green elements. This proves that the industry's efforts in research and development over the years are paying off. Moreover, many Hong Kong companies have created high-quality brands as featured in the Hall of Aurora in the Lighting Fair and Hall of Fame in the Electronics Fair. Held concurrently with the Electronics Fair is the International ICT Expo, creating more cross-sector business opportunities for the industry."

In 2015, the three trade fairs have attracted more than 110,000 visitors in total. To bring more business opportunities to Hong Kong companies, this year the HKTDC plans to organise more than 200 buying missions for the three fairs, attracting representatives from over 9,000 companies from around the world. In view of the demand for sourcing in small orders, both the Lighting Fair and Electronics Fair will continue to have the hktdc.com Small Orders display, featuring around 500 showcases with over 4,000 products available for buyers to source in minimum order quantities of between five and 1,000 pieces. The hktdc.com Small Orders Online Transaction Platform is also available at http://smallorders.hktdc.com for global buyers to source products and complete transactions online, featuring over 110,000 products from more than 9,000 suppliers.

Electronics Fair to showcase the latest in IoT and robotics

The electronics industry is the largest merchandise export earner for Hong Kong, with total exports reaching HK$2.3 trillion, accounting for 64 per cent of Hong Kong's total exports last year, a rise of 2.4 per cent compared to 2014. As such, Hong Kong is an important electronics trading hub in Asia. The 13th edition of the Hong Kong Electronics Fair is the largest spring electronics event in Asia, with more than 2,800 exhibitors from 20 countries and regions taking part, including new participants from Austria, Liechtenstein and Russia. Given the rapid developments in the application of Internet of Things (IoT) technology, the Connected Home zone will return to the fair, displaying a wide range of smart home automation products with IoT applications. These include a smart Wi-Fi digital photo frame allowing users to update photos from anywhere by mobile App, and a smart digital scale measuring body weight, body fat and muscle mass with the data transferred to an App for further analysis.

The HKSAR Government's latest Budget for 2016/17 specifically promotes smart production and research. As the market is highly interested in robotic applications, this sector is expected to be a focal point of the fair. As robotics can enhance the efficiency and quality of production, its applications are sought after by companies. The Robotics & Unmanned Tech zone of the Electronics Fair will present the latest remote-controlled gadgets from airborne cameras to robots, including smart robots that do not require traditional programming and can be easily trained to handle different tasks.

With rising demand for smart device accessories, the new iAccessories area will feature a wide spectrum of items for mobile and smart devices such as bags, screen protectors, stylus pens and mobile chargers, as well as smart products. The Wearable Electronics zone will again showcase the latest wearable tech, while other zones at the fair will include 3D Printing, Audio Visual Products and Healthcare Electronics, all conveniently categorised for easy sourcing.

Hall of Fame, one of the highlights of the Electronics Fair, will return with over 570 international leading brands, including Bigben, Bourgini, Desay, Haier, Hubble, Hyundai, Intel, Motorola, Polaroid, and local brands such as Momax and Odoyo. During the fair, the HKTDC will also organise a series of industry seminars, Product Demo & Launch Pad, Buyer Forum and networking events that spotlight the latest trends for the electronics industry. Among the highlights will be a seminar on consumer electronics including a session by Microsoft Corporation on Virtual Reality. Industry experts including Intel Corporation will also analyse the impact of wearable electronics on healthcare and lifestyle trends, and provide insights into how the recent "Maker" culture can expand the horizons of the robotics industry.

International ICT Expo to present latest tech solutions

The International ICT Expo is a major event under the umbrella of the International IT Fest 2016. The ICT Expo will feature IT solutions for different industries with close to 600 exhibitors from 11 countries and regions taking part, including new participants from Brunei, France and the United Arab Emirates. The new E-Commerce zone will present a range of e-commerce technology and related services such as e-commerce platforms, third-party payment, IT infrastructure, system integration and process management. Moreover, the Hong Kong Electronics & Technologies Association will join the expo for the first time, with members presenting the latest IoT solutions so as to inspire electronics manufacturers to produce new smart products.

The Office of Government Chief Information Officer (OGCIO) will present an "iStartup@HK" area to showcase products and solutions from local start-up companies. Incubators including Cyberport and the Hong Kong Science & Technology Parks Corporation will also showcase products from start-ups. The Apps Zone will feature the latest mobile Apps developed in local tertiary institutions. Meanwhile, an on-site SME IT Clinic will offer free professional consultation services conducted by representatives of leading IT corporations including Alibaba and Yahoo.

One of the highlights at the ICT Expo is the Internet Economy Summit on 13 April, which explores the future development on Internet economy and provides a platform for celebrated industry experts and leaders of innovative technology enterprises from the East and West to interact and share insights. The Summit features topical issues shaping the Internet economy such as global technology trends shaping business strategy, Big Data and IoT, and Internet-led economic growth in the Chinese mainland and beyond. Invited speakers are renowned experts and world leaders from ICT enterprises such as Alibaba Group, Facebook, Microsoft and Xiaomi, among others.

To focus on different services and events, there will be a particular theme on each day of the ICT Expo; IoT, e-Payment/O2O, wireless technology, and IT startup. A series of seminars will be organised with industry experts sharing their views on these themes. Winners of the Hong Kong ICT Awards 2016 will also share their latest solutions and success stories at the expo.

Lighting Fair to demonstrate smart home experience

The Hong Kong International Lighting Fair (Spring Edition) will welcome over 1,300 exhibitors from 11 countries and regions. New participants are coming from Australia, the United Arab Emirates and Ukraine. The fair will also feature the Guangdong Jiangmen LED Pavilion and Zhongshan Semiconductor Lighting Industry Association Pavilion. A new Smart Lighting Product Display area will showcase smart lighting systems in a simulated home environment, giving visitors a chance to experience the convenience of this lighting technology. Hall of Aurora, one of the highlights of the fair, will gather more than 230 international leading brands, including Forest Lighting, Jaykal, Ervan and Viribright.

The four-day expo will feature several product zones to provide international buyers with effective sourcing opportunities. The largest zone will be LED & Green Lighting, which presents energy-efficient lighting products from over 430 exhibitors. Other product zones include World of Professional & Industrial Lighting with a range of emergency and safety lights, while Decorative Lighting that will gather exquisitely designed lighting products and Avenue of Chandeliers will showcase a variety of dazzling displays.

Winning designs from the Hong Kong Lighting Design Competition will be displayed at the concourse lobby area in Hall 1C, where international buyers will be able to witness the creativity of local design talents. Another highlight of the Fair is the Asian Lighting Forum. Industry experts and professional associations will analyse key topics such as global market trends in LED lighting products and future applications for smart lighting.

Fair Websites:
Hong Kong International Lighting Fair (Spring Edition): www.hktdc.com/hklightingfairse
Hong Kong Electronics Fair (Spring Edition): www.hktdc.com/hkelectronicsfairse
International ICT Expo: www.hktdc.com/ictexpo

Download Link: https://bit.ly/1SwtqAz

Highlighted Products: http://bit.ly/22O1Yq6

Media Registration: Media representatives wishing to cover the event may register on-site with their business cards and/or media identification.

To view press releases in Chinese, please visit http://mediaroom.hktdc.com/tc

Contact:

HKTDC
Communication and Public Affairs Department
Joe Kainz
Tel: +852 2584 4216
Email: joe.kainz@hktdc.org

Topic: Trade Show or Conference

Source: HKTDC
Sectors: Trade Shows, Retail & eCommerce, Consumer Electronics
https://www.acnnewswire.com
From the Asia Corporate News Network
Copyright © 2021 ACN Newswire. All rights reserved. A division of Asia Corporate News Network.