| | |
| --- | --- |
| Sunday, 10 April 2016, 13:00 HKT/SGT | |


Source: HKTDC
LED & Green Products High-flyers; Smart Lighting Display in Limelight



HONG KONG, Apr 10, 2016 - (ACN Newswire) -

Organised by the Hong Kong Trade Development Council (HKTDC), the eighth Hong Kong International Lighting Fair (Spring Edition) concluded yesterday at the Hong Kong Convention and Exhibition Centre. The four-day fair (6-9 April) featured more than 1,300 exhibitors from 11 countries and regions. Nearly 20,000 buyers from 108 countries and regions took part in the fair, up 3.6 per cent over last year. Among overseas buyers, attendance from the Chinese mainland, Malaysia, Korea, Singapore and Indonesia had the most significant growth, recording a double-digit percentage increase. Buyer attendance from the United States and the United Kingdom also saw considerable growth.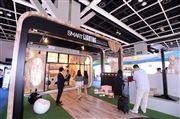 The four-day Spring Lighting Fair concludes on 9 April with nearly 20,000 buyers from 108 countries and regions taking part.


"Despite the lingering global economic uncertainties and challenges, the Spring Lighting Fair this year still showed a considerable increase in buyer attendance," said Benjamin Chau, HKTDC Deputy Executive Director. "It reveals that buyers remain optimistic in purchasing. Hong Kong companies are encouraged to grasp the opportunities brought about by the Chinese mainland and Asian markets."

The HKTDC commissioned an independent on-site survey during the fair, interviewing more than 342 exhibitors and buyers about their views on industry prospects. The survey found that 64 per cent of respondents expect overall sales this year to increase or remain unchanged. As for product trends, respondents consider LED & green lighting to be the product sector with the best growth potential in the sales/export market (35%), followed by household lighting (23%), commercial lighting (15%) and smart lighting & solutions (10%). It also showed that customers are increasingly concerned about product quality (90%) and practicality (90%), as well as after-sales service/maintenance (89%) and product price (87%).

High quality LED products remain popular

The applications of LED products in the lighting industry have become increasingly prevalent. Besides consumers growing more environmentally conscious, the price drop of LED products and their easy integration with smart lighting systems helped the LED market to continue thriving and maintain a strong demand.

The Viribright brand under Hong Kong's Matrix Holdings Ltd has been participating in the Spring and Autumn Lighting Fairs with their energy-efficient LED bulbs since 2009. Eric Leung, Director of Matrix Holdings, stated that their latest LED product, the Viribright A19 bulb, has a colour rendering index (CRI) of 90 and a wide beam angle of 320 degrees, close to that of natural light. Buyers from the US, Australia and Europe had expressed their interest in the product.

Russian buyer Andrey Egoshin, Product Manager, UNIV(R)ERSAL, was primarily looking for LED bulbs, floodlights and panel lights. He said he had business negotiations with more than 30 suppliers from the Chinese mainland and Hong Kong. He pointed out that, as customers in Russia were becoming more price-sensitive, he was looking for products with prices and quality that met their requirements. He expected the company's first order with each new supplier to amount to US$100,000.

Smart home display attracts buyer attention

The "smart city and smart home" is recognised as a major development in the technology sector. The survey found that 92 per cent of respondents believe the development of smart technology will facilitate the lighting industry in the next two years. In particular, household lighting systems that are compatible with or controllable by smart phone/tablet applications are seen to have the greatest development potential (49%), followed by smart, energy-saving lighting systems for household/industrial/commercial purposes (46%) and industrial/commercial lighting systems that are compatible with, or controllable by smart phone/tablet applications (26%). The new Smart Lighting Product Display at this year's fair showcased a simulated home environment with a smart lighting system. Buyers could try out the applications of smart lighting products before making any decisions.

Hong Kong's Tronico Technology Co Ltd joined the fair for the first time this year and presented its KUJU Smart Home System and Devices, a DIY wireless home automation solution that can control household appliances through the Internet of Things (IoT). "The new Smart Lighting Product Display set up by the HKTDC allows buyers to see for themselves the strengths and features of our home environment," Alex Chan, General Manager, Tronico Technology, said. "Indeed, it is highly effective in promoting our product and attracting more customers to visit our booth. We have connected with buyers from Southeast Asia, Europe and the US. About five to six buyers from Southeast Asia are interested in KUJU products. We expect them to confirm their orders after testing our samples."

Mario Alter, President, Aller Iluminacion, from Argentina visited the display area. He said he had talked with some of the smart lighting solutions suppliers. Smart lighting is something new in Argentina, and he said he would like to bring it to the market as smart lighting is the next big trend.

New October expo to meet outdoor and industrial lighting demand

The fair featured various themed zones. The Hall of Aurora showcased lighting collections from more than 230 renowned brands, and LED & Green Lighting gathered energy-efficient products for indoor and outdoor uses from over 430 companies. The World of Professional and Industrial Lighting zone also attracted a good deal of attention from buyers with its display of situation-specific professional lighting fixtures and systems including emergency and safety lights, large-venue lighting and industrial environments.

The Australian company Lumn, an exhibitor at the World of Professional and Industrial Lighting zone, manufactures mainly commercial and industrial lighting including a complete range of high bay lights that are suitable for use in warehouses, distribution centres and retail stores. The high bay lights are currently sold only in Australia. Alistair Bailes, Director, Lumn Pty Ltd., noted that this was the first time it had taken part in the Lighting Fair and it was looking to develop partnerships with distributors. "Buyers from the Chinese mainland, the Middle East, the UK and the US have expressed interest in our high bay lights, and some of them will become our distributors after further negotiations. We are happy with the results so far. We have decided to have our first exhibition at this year's Autumn Lighting Fair." He said.

In view of the strong demand for outdoor lighting, the HKTDC will organise the first Hong Kong International Outdoor and Tech Light Expo from 26 to 29 October at AsiaWorld-Expo. Outdoor lighting, industrial lighting, advertising display lighting and lighting accessories and parts will be showcased at the fair to suit the market's needs. Meanwhile, the 18th edition of the HKTDC Hong Kong International Lighting Fair (Autumn Edition) will take place on 27-30 October at the Hong Kong Convention and Exhibition Centre.

Fair Website: http://www.hktdc.com/hklightingfairse/en

Download Link: http://bit.ly/1qfVlLs

To view press releases in Chinese, please visit http://mediaroom.hktdc.com/tc

Contact:

HKTDC
Communication and Public Affairs Department
Joe Kainz
Tel: +852 2584 4216
Email: joe.kainz@hktdc.org

Topic: Trade Show or Conference

Source: HKTDC
Sectors: Trade Shows, Retail & eCommerce, Consumer Electronics
https://www.acnnewswire.com
From the Asia Corporate News Network
Copyright © 2021 ACN Newswire. All rights reserved. A division of Asia Corporate News Network.