Applies Big Data to Drive Informatisation of Corporate Operation



HONG KONG, Nov 14, 2016 - (ACN Newswire) -

Neo Telemedia Limited ("Neo Telemedia" or the "Group"; stock code: 8167) announced that its wholly-owned subsidiary Guangdong Avatar Assets Management Limited* ("Avatar Assets") and Guangzhou-Air School Bus Services Ltd.* ("Guangzhou-Air School Bus") have become strategic partners on 18 October 2016. The establishment of Guangdong Bluesea Guangzhou-Air School Bus Services Ltd.* ("Bluesea Guangzhou-Air") will help drive informatisation of the school bus industry through its advantages in Big Data.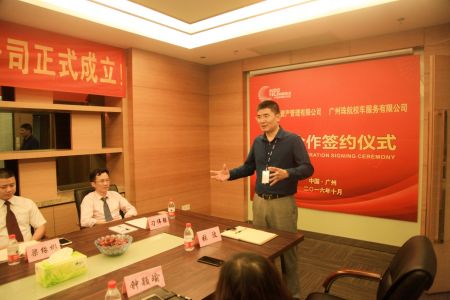 Mr. Zhang Bo, Chief Executive Officer of Avatar, delivers a speech during the signing ceremony.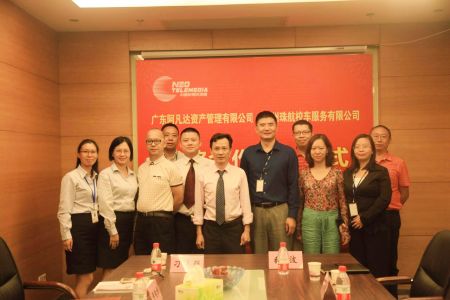 The senior management of Guangzhou-Air and Avatar Assets Management Limited join in a group photo following completion of the signing ceremony.


Listed on the Guangzhou Equity Exchange in May 2014, Guangzhou-Air School Bus possesses vast successful experience in school bus operation accumulated over years and outstanding service quality. Being the largest school bus operator in Southern China, its service covers the Pearl River Delta region and has been expanding gradually to peripheral areas of the Pearl River Delta as well as beyond Guangdong Province.

In view of the Group's technological edges and Big Data advantage as well as Guangzhou-Air School Bus' operational capability, the newly formed Bluesea Guangzhou-Air move in strides in promoting school bus as a kind of public transport. Bluesea Guangzhou-Air has more than 1,000 new high quality and international standard buses. These vehicles are equipped with school bus tracking Mobile App and expected to carry up to 100,000 students a day[1]. At the strong support of the Group and operating on a unified model, Bluesea Guangzhou-Air will continue to expand its school bus business in Guangdong and other provinces in China.

[1] The estimate is based on the round trips of 1,000 school buses each with a capacity of 56 seats

About Neo Telemedia Limited (stock code: 8167)

Neo Telemedia Limited and its subsidiaries (collectively, the "Group") is a telecommunication group focusing on the Internet and big data sectors. The Group has been included as a constituent stock in MSCI China Small Cap Index since November 2015. Its wholly-owned subsidiary, Guangdong Bluesea Mobile Development Company Limited, has partnered with Shangdong Inspur Group to form a joint venture, Guangdong Bluesea Inspur Cloud Computing Company Limited to establish a large cloud computing centre in Southern China. In early 2015, the Group signed several agreements to explore various opportunities in WiFi access services, application of cloud computing and cross-border e-commerce business in the PRC. Additionally, Avatar Wealth and Bees Financial offer internet finance platform business services. Shenzhou Aerospace Manufacturing Technology (Guangdong) Institute, which was jointly established by the Group, Shenzhou Aerospace Software Limited and Foshan Chancheng District People's Government, was registered as a non-profit organization at the Department of Civil Affairs of Guangdong Province on 23 October 2015. At the end of 2015, the Group completed a public offer and raised approximately HK$1.1 billion to be invested in the data center of Guangdong Bluesea Mobile Development Co., Ltd., including the Zhuxishugu project in Jiangmen.

For press enquiries
Strategic Financial Relations Limited
Joanne Lam Tel: +852-2864 4816 Email: joanne.lam@sprg.com.hk
Cecilia Shum Tel: +852-2864 4890 Email: cecilia.shum@sprg.com.hk
Jeffrey Tam Tel: +852-2864 4858 Email: jeffrey.tam@sprg.com.hk

Topic: Business Tieup
Source: Neo Telemedia Limited
Sectors: Media & Marketing, Daily Finance, IT Individual, Daily News
https://www.acnnewswire.com
From the Asia Corporate News Network



Copyright © 2021 ACN Newswire. All rights reserved. A division of Asia Corporate News Network.