| | |
| --- | --- |
| Monday, 17 July 2023, 18:07 HKT/SGT | |


Source: HKTDC
Over 2,000 business buyers from ASEAN keen to leverage Hong Kong platform



BANGKOK, July 17, 2023 - (ACN Newswire) -

Organised by the Hong Kong Trade Development Council (HKTDC), the signature promotion event in Bangkok, Think Business, Think Hong Kong (TBTHK), on 13-14 July received an enthusiastic response from Thai government officials and business leaders.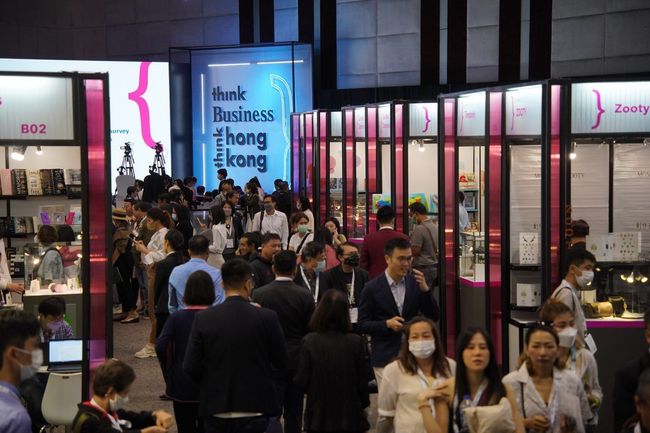 Think Business, Think Hong Kong in Bangkok, organised by the HKTDC, received enthusiastic response
from Thai government and business leaders, attracting over 2,000 buyers from 8 ASEAN countries,
including their local chambers and associations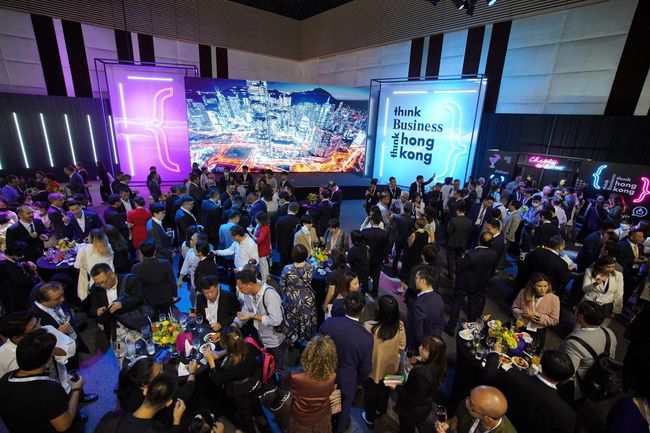 The exclusive Hong Kong Night Cocktail Reception was held on the first day of the event, for Thai,
ASEAN and Hong Kong business leaders to network and explore business opportunities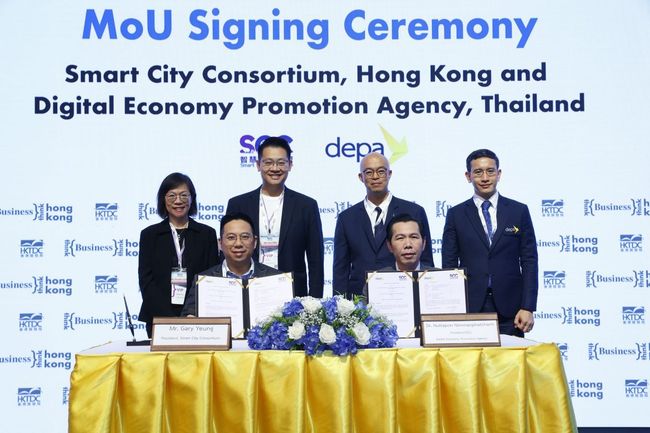 Smart City Consortium of Hong Kong and Digital Economy Promotion Agency of Thailand signed a
memorandum of understanding on the first day. The two parties will deepen smart city development
cooperation through a series of promotional campaigns


The two-day event attracted more than 2,000 buyers from 8 ASEAN countries, including their local chambers and associations, underscoring their interest in leveraging Hong Kong as a gateway to expand their business worldwide. This signature promotion event showcased Hong Kong's strengths and highlighted the city's latest developments and quality products and services, while demonstrating its role as a leading international business hub.

The exclusive Hong Kong Night Cocktail Reception held on the first day of the event brought together Thai, ASEAN and Hong Kong business leaders to network and explore business opportunities. Dr Peter K N Lam, HKTDC Chairman, opened the event, with Mr Algernon Yau, Secretary for Commerce and Economic Development of the Government of the Hong Kong Special Administrative Region, and Dr Chadchart Sittipunt, Governor of Bangkok, delivering speeches.

Dr Lam said: "We bring to Bangkok this time a focus on lifestyle. We also have experts sharing insights on e-commerce, sustainability and ESG and the future of retail at a series of Trade Talks, all topics of interest to Thai businesses and in line with Thailand's BCG growth strategy. Hong Kong's position as the gateway between the Guangdong-Hong Kong-Macao Greater Bay Area (GBA) and ASEAN, both fast-growing areas, provide many opportunities for Thai businesses and reinforce Hong Kong-Thailand economic ties."

Mr. Yau said that the ties between Hong Kong and Thailand have flourished over the years, fostering a robust partnership that has propelled mutual growth. Mr Yau highlighted Hong Kong's strengths in business under the one country, two systems principle: "By capitalising on our unique strengths, Hong Kong connects global investors with promising projects along the Belt and Road, while at the same time fostering collaboration and innovation within the Guangdong-Hong Kong-Macao Greater Bay Area."

Dr Sittipunt said: "Bangkok and Hong Kong are undoubtedly two thriving cities in Asia, each with its unique strengths and advantages. I would like to emphasise that our true potential lies in working together. By pooling our strengths, expertise, and resources, be it from the government, public or private sectors, we can create more opportunities and foster a business ecosystem that attracts investments, drives innovation and supports emerging industries in our region."

Thai companies sourced new and innovative quality lifestyle products and services from 120 Hong Kong exhibitors at the TBTHK Trade Expo. The Expo featured products and services from a wide range of sectors in fashion & lifestyle, health & wellness, home & living, toys & gadgets and smart city solutions, over 80% of which were new to the Thai market.

It was the first time for Hong Kong exhibitor EDIT & EDITECTURE to join TBTHK, which marked their debut in the Thai market. Ms Jacqueline Chak, Co-founder and Director of the company, which focuses on sustainable interior and architecture projects, said they joined the event to explore networking opportunities and find potential partners. "The result of the event has honestly exceeded our expectations. We see a lot of interest in what we do, even those outside of the design industry, like makeup and construction. An attendee said that they have been following us from overseas, but never reached out due to the high shipping expenses. It's nice to know that we can finally come here and do business directly in Thailand."

B. DUCK, the Hong Kong original brand and one of the largest domestic character IPs in Mainland China, also joined the event. Ms Rossukhon Lertvilai, Marketing Manager, said: "There are a lot of people who showed interest in our brand. We're looking for new partners and new opportunities in Thailand."

Central Food Retail Company Limited is the leading supermarket chain in Thailand operating since 1996. The company's Head of Sales and Product Development, Ms Maythinee Surapatatna said: "This is my first time joining an event like this and I find the Expo very impressive. As a buyer, I'm looking for ways to produce supplements products and it's not easy to find suppliers in Thailand, so I'm happy for this opportunity. Attending these events, I've found potential partners."

Riding on the Trade Expo, a series of Trade Talks was held, covering retail technology, licensing opportunities, e-commerce and cross-border logistics as well as sustainability & ESG. Experts from renowned retail groups, associations and innovative companies shared their market insights during the two-day event.

During the session of Innovating the Future of Retail - Empowering Business with Technology, one of the speakers Mr Anson Balley, Head of Consumer & Retail, APAC of KPMG China, pointed out that artificial intelligence (AI) will become the most disruptive technology. However, areas such as IoT security, virtual events, digital twins, sustainable fashion and packaging will be the next generation of companies.

"Everything is going to be connected in the future. So, if we look at IoT devices, in the next 2 years, there will be nearly 31 billion connected devices. So, everything will be connected like never before."

To highlight Hong Kong's dynamic lifestyle and wide variety of design-led products and fashion, the HKTDC partnered with Hong Kong-linked merchants and restaurants in Bangkok to stage a citywide promotion, providing Thai consumers with a range of promotional offers until the end of July. Participating merchants include well-known brands, such as Kam's Roast, Maxim's, City Chain and more. In collaboration with LINE MAN, the leading online food delivery platform in Thailand, select Hong Kong-style restaurants have exclusive dining offers until the end of the month as well.

Website
- Think Business, Think Hong Kong: https://www.thinkbusinessthinkhk.com/bangkok2023/en
- Trade Talks Programme: https://www.thinkbusinessthinkhk.com/bangkok2023/en/programe/trade_talk_programme.html
- Photo download: https://rb.gy/66ciw

About HKTDC

The Hong Kong Trade Development Council (HKTDC) is a statutory body established in 1966 to promote, assist and develop Hong Kong's trade. With 50 offices globally, including 13 in Mainland China, the HKTDC promotes Hong Kong as a two-way global investment and business hub. The HKTDC organises international exhibitions, conferences and business missions to create business opportunities for companies, particularly small and medium-sized enterprises (SMEs), in the mainland and international markets. The HKTDC also provides up-to-date market insights and product information via research reports and digital news channels. For more information, please visit: www.hktdc.com/aboutus. Follow us on Twitter @hktdc and LinkedIn

Media enquiries
For enquiries please contact:
Midas Communications International Co., Ltd.
Nawaporn Rojarayanont, Tel: 097-250-1603, Email: nawaporn@midas-pr.com
Wanrawee Kongkraphan, Tel: 088-887-9718, Email: namtarn@midas-pr.com

HKTDC's Communications & Public Affairs Department:
Janet Chan, Tel: +852 2584 4369, Email: janet.ch.chan@hktdc.org
Agnes Wat, Tel: +852 2584 4554, Email: agnes.ky.wat@hktdc.org

Topic: Press release summary
Source: HKTDC
Sectors: Trade Shows, Retail & eCommerce, Travel & Tourism, Daily News, Regional, Local Biz
https://www.acnnewswire.com
From the Asia Corporate News Network



Copyright © 2023 ACN Newswire. All rights reserved. A division of Asia Corporate News Network.