| | |
| --- | --- |
| Thursday, 20 July 2023, 05:00 HKT/SGT | |


Source: HKTDC
A 1-week cultural summer extravaganza



HONG KONG, July 20, 2023 - (ACN Newswire) -

The 33rd HKTDC Hong Kong Book Fair, organised by the Hong Kong Trade Development Council (HKTDC), opened at the Hong Kong Convention and Exhibition Centre (HKCEC) and will run until 25 July. The 6th Hong Kong Sports and Leisure Expo and the 3rd World of Snacks are being held concurrently with the Book Fair. Visitors can enjoy all three events with a single ticket, making it a must-visit summer attraction.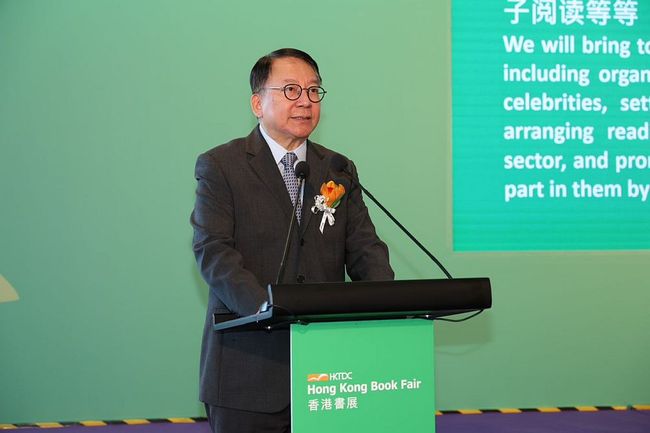 Mr Chan Kwok-ki, Chief Secretary for Administration of the HKSAR, attended the cocktail reception
as the guest of honour to mark the opening of the Hong Kong Book Fair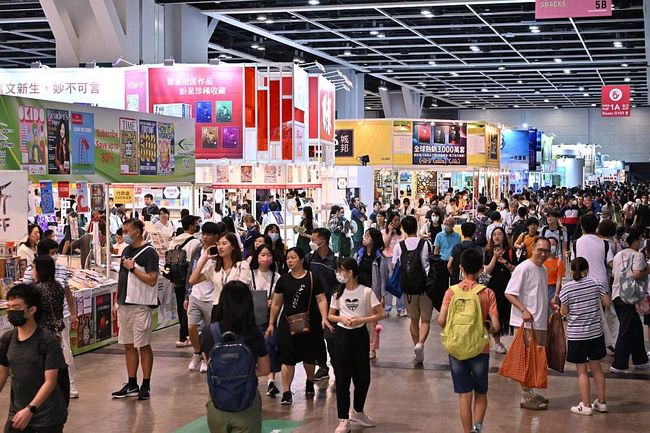 The Hong Kong Book Fair, Hong Kong Sports and Leisure Expo and World of Snacks feature close to
780 exhibitors from 36 countries and regions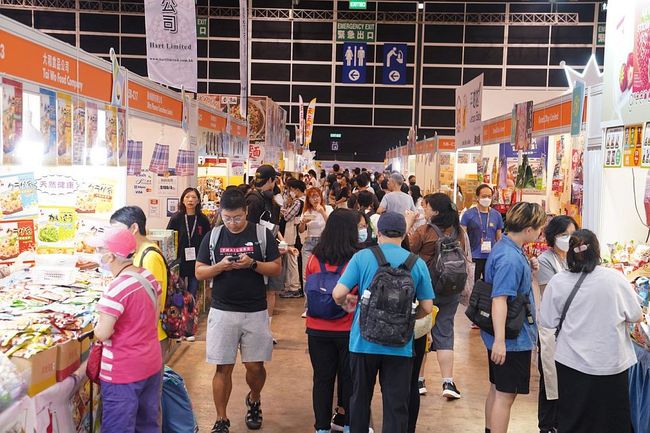 World of Snacks features more than 1,200 popular treats from across the globe


Mr Chan Kwok-ki, Chief Secretary for Administration of the Hong Kong Special Administrative Region (HKSAR), co-hosted the cocktail reception, with Dr Peter K N Lam, Chairman of the HKTDC, and Ms Margaret Fong, Executive Director of the HKTDC.

Dr Lam said: "The Hong Kong Book Fair, Hong Kong Sports and Leisure Expo and World of Snacks features close to 780 exhibitors from 36 countries and regions, serving as an important platform for the industry. They are also an ideal occasion for families to enjoy cultural and leisure activities. With the resumption of normal travel, renowned authors from Hong Kong, Mainland China, Taiwan and across the world will attend the Book Fair in-person to give talks. We hope many avid readers will attend the Fair and join us in promoting a culture and joy of reading."

The theme of this year's Book Fair is Children's and Young Adult Literature, with the tagline Reading the World: The Joy of Reading for Children and Youth, It aims to introduce visitors of all ages to authors and literary works from around the world in this genre, widening their horizons and igniting their imagination. More than 600 cultural activities and seminars take place on-site and off-site, featuring a plethora of distinguished authors sharing their many insights and stories.

Writers exhibition and Treasures of Lingnan Culture on display at Art Gallery

The Art Gallery is a popular session of the Book Fair, featuring two major exhibitions this year: Children's and Young Adult Literature Writers and Treasures of Lingnan Culture. The exhibition showcases selected works and priceless collections of nine writers, including A Nong, Chau Mat-mat, Wei Ya, Sun Wai-ling, Leong Monk-fung, Poon Ming-chu, Poon Kam-ying, and the late Quenby Fung and Ho Tsz.

Wei Ya will kick off the Theme of the Year seminar series on Friday, 21 July, which aims to reconnect fairgoers with the innocence of childhood. Later that same day, Poon Kam-ying and Poon Ming-chu will discuss the various genres of children's literature. A Nong, Chau Mat-mat, and Sun Wai-ling will analyse the importance of children's books to children in a seminar titled "The Timelessness of Children's Literature". On Saturday, 22 July, A Nong will speak about his past works in "Looking Back". On Sunday, 23 July, Carmen Ho, daughter of Ho Tsz, will engage in conversation with primary school principal Chan Shui-leung in a seminar titled "The Footprints of Growth - A taste of Ho Tsz's Story". The same day, Quenby Fung's close friends Justine Woo and Joanne Chan will speak about her work at a seminar titled "The Classics of Quenby".

The Treasures of Lingnan Culture exhibition showcases calligraphy works, paintings of the Lingnan School and Canton porcelain. Partner organisations include the Ling Ngai Art Association and Hong Kong Calligraphers' Association. Supported by the Create Hong Kong# (CreateHK) of the Government of the HKSAR, interactive installations are mounted to enhance visitors' experience and understanding of Lingnan culture. A special corner has been set up to celebrate the life of Wong Fei-hung, a prominent figure in Lingnan culture, which features books, martial arts magazines, film programme booklets and photos, among other collectibles.

In line with the Art Gallery theme, the Guangdong Province in Mainland China Pavilion highlights Lingnan in its design concept of "Fragrance of Cantonese Books and the Happiness of Reading", weaving the story of the people and culture of Lingnan into its showcase. The Inner Mongolia Autonomous Region showcases children's literary works and other cultural and creative products from the region. In addition, the pavilion also features artistic performances and photography exhibition with Inner Mongolian characteristics as well as its intangible cultural heritage, such as horsehead fiddles, erhus, saddles and horse equipment.

Brand-new World of Art & Culture zone to facilitate cultural exchange

The newly established World of Art & Culture zone, sponsored by CreateHK# and curated by a Hong Kong design team, depicts literature and cultural arts related to youth from close to 30 countries and regions, including France, Hungary, Korea, Kuwait, Mexico, Switzerland and more. Visitors can attend a variety of activities on-site, including A French rendez-vous through a fun speak-dating game by representatives of Alliance Francaise de Hong Kong and "The Little Prince" handicraft workshop.

Exploring creative journeys of writers at Eight Seminar Series

The Eight Seminar Series once again returns to the Book Fair, covering a diverse range of topics, such as Renowned Writers, English and International Reading, Children and Youth Reading, and Personal Development and Spiritual.

In partnership with Ming Pao and Yazhou Zhoukan, the HKTDC is again organising the Renowned Writers Seminar Series, hosted by leading Chinese-language authors. For the English and International Reading Seminar Series, renowned children's book authors include Jesse Q Sutanto, Theadora Whittington, Jane Houng, Libby Lam, Winston Chu, a lawyer with profound knowledge of Chinese and foreign poetry, and Mark O'Neill, an expert on Chinese history, who will share his story in Hong Kong and the appeal of Hong Kong to foreigners in terms of living and working. For more details on the seminars and the speaker line-up, please visit: https://hkbookfair.hktdc.com/en/Events/Event-Schedule.html.

The fun experiences of Sports and Leisure Expo

The Hong Kong Sports and Leisure Expo features eight thematic zones including Sports Hub, Outdoor Adventure, Health & Fitness and Board Games to provide an exciting experience to visitors.

The Sports Hub zone offers fun activities free of charge, including a 1:1 "Golden Sixty" Horse Sculpture presented by the Hong Kong Jockey Club, with Ellis Wong Chi Wang sharing his journey of becoming an apprentice jockey. A 4-metre-high mobile rope net, interactive boxing sandbag, a VR rowing boat experience and skateboarding trial classes are among the other offerings.

The Japan National Tourism Organization (JNTO) and 14 Japanese prefectures and cities have teamed up to form a Japan Pavilion promoting the country's attractions and culture. Events introduced different Japanese tourist spots, including "Visit Gifu by JR Trains!", "Japan - San'in Sanyo Area Sightseeing Guide" and "Discover Tokushima Japan", while tomorrow the pavilion will feature a Japanese traditional karate performance.

A number of exciting activities have been lined up during the Fair, including a preview of the 2023 IFBB Hong Kong Fitness Awards Charity Open Championship, artistic gymnastics, self-defence demonstration, Hong Kong eco-tourism tips and fishing for parents and children. Hong Kong mountaineer Tsang Chi-sing will share his experience of volcano hikes in Indonesia, among other scheduled events, while Cheng Kam Hing, a member of Hong Kong's 3x3 basketball team, will discuss the rise of this new sport.

World of Snacks offers delicacies from around the world

The World of Snacks features six thematic zones - Travel Delights, Chocolate and Sweet Factory, Oldie Snacks, Yummy & Healthy, Party Time and Snack Bar - gathering more than 1,200 popular treats from across the globe. There are workshops and activities on-site, including tasting sessions, introduction of summer speciality ice pop and hand-brewed coffee with Zen concept combined with meditation.

Visitors can purchase e-tickets with Book Fair ticketing partner AlipayHK App and Alipay App or Octopus at the entrance's toll booths. To ensure an even flow of visitors throughout the day, morning admission tickets and a special re-entry promotion are available. All ticketing details can be found below.

#Disclaimer: The Government of the Hong Kong Special Administrative Region provides funding support to the project only and does not otherwise take part in the project. Any opinions, findings, conclusions or recommendations expressed in these materials/events (or by members of the project team) are those of the project organisers only and do not reflect the views of the Government of the Hong Kong Special Administrative Region, the Culture, Sports and Tourism Bureau, Create Hong Kong, the CreateSmart Initiative Secretariat or the CreateSmart Initiative Vetting Committee.

HKTDC Media Room: http://mediaroom.hktdc.com
Photos of the exhibits, key speakers and other Book Fair highlights can be found at: https://bit.ly/43qHWCZ
Photo Download: https://bit.ly/44zqn58

About HKTDC

The Hong Kong Trade Development Council (HKTDC) is a statutory body established in 1966 to promote, assist and develop Hong Kong's trade. With 50 offices globally, including 13 in Mainland China, the HKTDC promotes Hong Kong as a two-way global investment and business hub. The HKTDC organises international exhibitions, conferences and business missions to create business opportunities for companies, particularly small and medium-sized enterprises (SMEs), in the mainland and international markets. The HKTDC also provides up-to-date market insights and product information via research reports and digital news channels. For more information, please visit: www.hktdc.com/aboutus. Follow us on Twitter @hktdc and LinkedIn.

Media enquiries
Should members of the press have any enquiries, please contact:

Hong Kong Book Fair
Yuan Tung Financial Relations:
Anson Wong, Tel: +852 3428 3413, Email: awong@yuantung.com.hk
Salina Cheng, Tel: +852 3428 5691, Email: salcheng@yuantung.com.hk
Agnes Yiu, Tel: +852 3428 5690, Email: ayiu@yuantung.com.hk

HKTDC's Communications & Public Affairs Department:
Katy Wong, Tel: +852 2584 4524, Email: katy.ky.wong@hktdc.org
Clayton Lauw, Tel: +852 2584 4472, Email: clayton.y.lauw@hktdc.org
Sunny Ng, Tel: +852 2584 4357, Email: sunny.sl.ng@hktdc.org

Hong Kong Sports and Leisure Expo, World of Snacks
HKTDC's Communications & Public Affairs Department:
Kate Chan, Tel: +852 2584 4239, Email: kate.hy.chan@hktdc.org

Topic: Press release summary
Source: HKTDC
Sectors: Trade Shows, Retail & eCommerce, Daily News, Local Biz
https://www.acnnewswire.com
From the Asia Corporate News Network



Copyright © 2023 ACN Newswire. All rights reserved. A division of Asia Corporate News Network.