EB Propsim(R) FS8 is Designed to Meet the Practical Needs of Operator Acceptance Testing



Oulu, Finland, Sept 4, 2012 - (ACN Newswire) -

EB, Elektrobit Corporation (NASDAQ-OMX: EBC1V), a developer of cutting-edge embedded technology solutions for the wireless and automotive industries, introduced today the EB Propsim FS8 radio channel emulator for testing the wireless performance of mobile devices and chipsets. The EB Propsim FS8 - with 8 RF channels and the capability to perform up to 4x4 bi-directional MIMO (multi-antenna technology) testing is a compact-sized MIMO emulator for the testing of 2G, 3G and 4G LTE technologies. The FS8 is compatible with both conformance and operator-specific test cases. The ability to easily evaluate the true product performance against operator requirements in the laboratory with the EB Propsim FS8 decreases the amount of field testing needed, which often yields to remarkable savings in the product development process.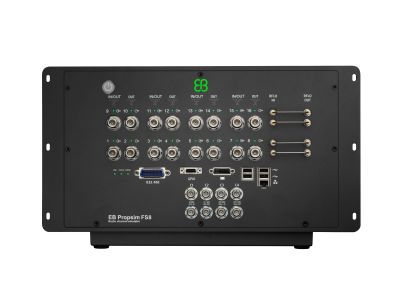 EB Launches A Compact-sized Radio Channel Emulator for 4G LTE Product Developers and Mobile Network Operators


The increased consumer demand for mobile broadband technologies requires mobile network operators and product developers to update their products from 2G and 3G to 4G LTE using MIMO technology. MIMO technology is expected to provide higher data capacity to the end user and the challenge for these product developers is to make sure that the ultimate MIMO gain is achieved. In MIMO technology, the radio channel characteristics are heavily exploited therefore requiring sophisticated radio channel emulation in 4G LTE mobile device and chipset development. The EB Propsim FS8 provides accurate and realistic MIMO radio channel modeling for 4G LTE product developers seeking to create mobile devices that truly meet both operator and consumer expectations.

"The EB Propsim FS8 complements our product offering in the area of radio channel emulation. Whereas the recently launched EB Propsim F32 is targeted for the network infrastructure and defense & security customers, the EB Propsim FS8 is designed for testing mobile devices and chipsets," said Janne Kolu, vice president of Test Tools at EB. "With the FS8, we can provide the convenience of compact size and smooth integration into mobile device test systems at an affordable price."

Product Features of the EB Propsim FS8:
- Compact size (6U)
- Accurate and sophisticated MIMO emulation capability
- Compatible with operator test cases
- Easy integration to test systems
- Priced affordably

The EB Propsim FS8 is now available for shipping. Learn more about the new EB Propsim FS8 radio channel emulator at www.elektrobit.com/ebpropsim .

About EB Propsim

The first EB Propsim radio channel emulator was introduced in 1995. EB's philosophy in designing radio channel test solutions has always been uncompromised technical performance for the best emulation accuracy and realistic propagation environment. EB's competence in radio channel test equipment is achieved with a long involvement at the forefront of international radio channel research and solid experience in designing and developing state-of-the-art wireless products and systems. The continuous development of EB Propsim radio channel emulators and their patented technology runs at the forefront of the new requirements set by the wireless industry development, in which EB is actively participating to. www.elektrobit.com/ebpropsim

EB, Elektrobit Corporation

EB develops advanced technology and transforms it into enriching end user experiences. EB specializes in demanding embedded software and hardware solutions for the automotive industry and wireless technologies. The company's net sales for the year 2011 totaled EUR 162.2 million. Elektrobit Corporation is listed on the NASDAQ OMX Helsinki. www.elektrobit.com

Further information:

Joakim Granholm
EB Wireless Business Segment
Tel. +358 40 344 3733
Email: joakim.granholm@elektrobit.com

Matthew Pennacchio
Finn Partners Public Relations for EB
Tel. 212 715-1613
Email: matt@finnpartners.com

Topic: New Product
Source: EB, Elektrobit Corporation
Sectors: Media & Marketing, Electronics, Optoelectronics
https://www.acnnewswire.com
From the Asia Corporate News Network



Copyright © 2021 ACN Newswire. All rights reserved. A division of Asia Corporate News Network.