| | |
| --- | --- |
| Friday, 25 March 2016, 18:00 HKT/SGT | |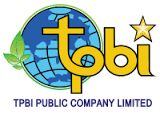 Source: TPBI PCL



BANGKOK, Mar 25, 2016 - (ACN Newswire) -

TPBI PCL (SET:TPBI), a leading environmentally-friendly and socially responsible packaging company, finished its much-anticipated SET introduction this week with shares at bid-only, +34%. Company management had enhanced investor confidence by highlighting the innovative production technology that will enable the company to supply value-added packaging products and secure leadership in the global packaging industry.

Following the Company's initial public offering (IPO) of 100 million shares at a par of THB 1 each, and subscription period from 16 to 18 March at THB 10.80 per share, TPBI began trading on the Stock Exchange of Thailand (SET) on 24 March, under the symbol TPBI.

Mr Somsak Borrisuttanakul, Chief Executive Officer of TPBI, explains the Company employs production processes that meet international standards and offers a diverse range of services, including product design and formula development, manufacturing and procurement and raw materials and product inspection.

TCBI satisfies demand from world-class industrial firms, modern-trade, retailers and supermarkets across different packaging products, including vest-carrier plastic bags, packaging for consumables, garbage bags (in flat packs or rolls) for household use, and bioplastic bags.

The company also supplies multilayer blown film and flexible packaging for use as materials in related industries. In particular, its flexible packaging products for consumables, e.g. ready-to-eat and frozen foods, meet growing demand from food producers and customers, and its eco-friendly packaging products, including those produced from petroleum and other natural materials and paper cups, are degradable by landfill methods.

"We can offer a full range of plastic packaging solutions to customers. We use engineering expertise in plastic production management to develop a great variety of premium products and respond effectively to the needs of our global customers and the demands for eco-friendly plastic packaging products," he said.

Mr Tanachai Banditvorapoom, head of investment banking, TISCO Securities Co., Ltd., the Financial Advisor and Lead Underwriter, added that demand for plastic packaging products remains high, supported by the global economic expansion and by the fact that the consumers now prefer eco-friendly products.

TPBI's two modern plants in Sam Phran (Nakhon Pathom Province) and Rayong have a combined capacity of 64,920 tons per year, and a separate plant for production of flexible packaging of consumables in Sam Phran has a capacity of 96 million metres (or 192 million packs) per year, he added.

Given such capacity, TPBI is ready to produce and supply immense volume of plastic packaging products to the world. It is now marketing products in new markets, such as the Asean and African markets, in addition to its major export markets as Australia, EU, US and Japan. Additionally, the production and sales of its high value-added products are increasing.

Contact:

Distributed by MT Multimedia for TPBI PCL.
Ornanong ("Fah") Pattaravejkul
Tel: +66 2 2612 2081 #129 
Mobile: +66 8 6884 4458
E-mail: ornanong.p@mtmultimedia.com

Topic: Press release summary

Source: TPBI PCL
Sectors: Print & Package
https://www.acnnewswire.com
From the Asia Corporate News Network
Copyright © 2021 ACN Newswire. All rights reserved. A division of Asia Corporate News Network.

Latest Press Releases
Vikrant Chowdhary Joins CleverTap as Company's First-ever Chief Growth Officer
Oct 26, 2021 10:00 HKT/SGT
Vikrant Chowdhary Joins CleverTap as Company's First-ever Chief Growth Officer
Oct 26, 2021 10:00 HKT/SGT
Yuexiu REIT Proposes to Acquire Yuexiu Financial Tower
Oct 26, 2021 08:45 HKT/SGT
Cloud Comrade is Finalist in 4 Categories in the Channel Asia Innovation Awards 2021
Oct 26, 2021 08:30 HKT/SGT
Blockchain-based Memorial Platform will Enable Users to Preserve Memories of Loved Ones
Oct 26, 2021 05:45 HKT/SGT
The Convergence of Network & Security: The Next Evolution in Enterprise Networking
Oct 25, 2021 21:09 HKT/SGT
India Gears Up for its Biggest Datacentre and Cloud Spectacle Ever
Oct 25, 2021 20:44 HKT/SGT
CEKD Posts 7.1% Increase in Full-Year Revenue to RM28.23 Million
Oct 25, 2021 18:00 HKT/SGT
Genetec Q2FY2022 PAT Up by Sixfold
Oct 25, 2021 18:00 HKT/SGT
TOYOTA GAZOO Racing READY FOR DESERT DOUBLE
Oct 25, 2021 16:12 HKT/SGT
More Press release >>