| | |
| --- | --- |
| Friday, 23 February 2018, 17:00 HKT/SGT | |


Source: HKTDC
Winning Entries Showcase Creativity and Craftsmanship



HONG KONG, Feb 23, 2018 - (ACN Newswire) -

From a small fishing village to an international metropolis, Hong Kong has developed a unique culture that fuses Eastern and Western influences, providing designers with a rich source of inspiration. At the 19th Hong Kong Jewellery Design Competition, designers' boundless creativity and impeccable craftsmanship, as well as their deep connection to the city, were reflected in their works created under the theme "The Vibrant Hong Kong." The winning entries were announced at a press conference yesterday for the Hong Kong International Jewellery Show and the Hong Kong International Diamond, Gem & Pearl Show.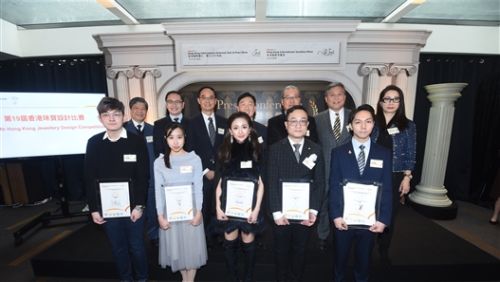 Winners and guests attend the awards presentation ceremony of the 19th Hong Kong Jewellery Design Competition, held yesterday (22 February) during the press conference of the Hong Kong International Jewellery Show and the Hong Kong International Diamond, Gem & Pearl Show.


Jointly organised by the Hong Kong Trade Development Council (HKTDC), Hong Kong Jewellers' & Goldsmiths' Association, Hong Kong Jewellery & Jade Manufacturers Association, Hong Kong Jewelry Manufacturers' Association and the Diamond Federation of Hong Kong, China, the Hong Kong Jewellery Design Competition aims to enhance the design quality of the local jewellery industry, identify talent, and promote Hong Kong jewellery products to international buyers.

A total of 166 entries were submitted this year under two categories: the Open Group and the Student Group. The nine-judge panel evaluated the entries based on: (1) creativity and innovation, (2) aesthetics, craftsmanship and wearability, (3) topic relevance and (4) marketability (applicable only to the Open Group).

- Open Group's Three Best of Show Awards demonstrate design diversity

Three Best of Show awards were given in the Open Group. Wong Wing Chung's entry, "Time," won the Best of Show Award as well as the Craftsmanship and Technology Award. The design features a rickshaw, once a key mode of transport in Hong Kong. Now part of Hong Kong's collective memory, rickshaws continue to hold special meaning for the city. Using 18K gold, 925 sterling silver and brass, Mr Wong created an exquisitely crafted rickshaw design, which conveys the rapid passage of time and a sense of nostalgia for the vibrancy of old Hong Kong. The design also serves as a reminder for people to cherish time. The sponsoring company of the piece, Vista Jewelry Ltd, also received the Craftsmanship and Technology Award, in recognition of the production team's excellence in jewellery craftsmanship.

With ultra-modern skyscrapers juxtaposed against historical buildings, Hong Kong's architecture brims with diversity, reflecting the blend of Eastern and Western influences. Another Best of Show Award winner, Sarah Zhuang, incorporated Hong Kong's world-renowned skyline into her four diamond and 18K gold rings in her design "Urban Reflection." Ms Zhuang said the rings are equally captivating whether worn as a single or multiple rings, on one or on multiple fingers. Notably, wearing two rings on the upper finger and two rings turned upside down on the lower finger creates the reflection of Hong Kong's iconic skyline.

The third Best of Show Award winner was Au Kwok Man. With a clever placement of buttons, Mr Au created an 18K white gold, diamond-studded necklace in his design "Linkup Fusion." The interlocking of traditional Chinese cheongsam buttons and Western buttons is creative and elegant, symbolising the East-meets-West characteristics of Hong Kong. The necklace's hanging gold chains sport clean lines, exuding an alluring charm.

- Student Group winners showcase traditional culture

Open to students of institutions registered in Hong Kong, the Student Group category aims to inspire more young people and aspiring jewellery designers to join the industry. The Hong Kong Design Institute's Ng Sin Kiu won the Student Group Champion with her ring design "Peace." Ms Ng drew inspiration from the Chinese lion dance. Seen as an auspicious animal that represents peace and luck, lions are represented in the traditional dance performed during festivities. The lion on the ring emanates vigour and vitality, and the bright colours of gold, silver and red emit a festive aura. Ms Ng said the ring is a lucky charm that brings peace and fortune.

The First Runner-up in the Student Group was Lam Wai Kin from the School of Continuing Education, Hong Kong Baptist University. His design, "KONG - Marriage (Dragon & Phoenix Bangle)," is about marriage, which he said is an excellent representation of Hong Kong as a melting pot of Eastern and Western cultures. Taking inspiration from the auspicious dragon and phoenix bangles, Mr Lam combined the Chinese characters for "East" and "West" and the English letters, "E" and "W", as key design elements. Using silver and 64 zircons, Mr Lam created this unique jewellery piece that fuses innovation and tradition.

The Student Group's Second Runner-up title was awarded to Hong Kong Design Institute student Lui Siu Ching. The entry entitled "Dragon Jumping" features a pair of rings, which sports a lively and dynamic fire dragon that radiates a distinctive Oriental charm. Ms Lui's design captures the moment when the dragon leaps out of the waves to chase a pearl, using the wave splash and the dragon's fire to symbolise Hong Kong's ceaseless vitality.

- Winning works on display at the Hong Kong International Jewellery Show

The three Open Group winners will be sponsored by the Hong Kong Japan Business Co-operation Committee to attend a five-day jewellery design study course in Japan. All the winning entries will also be exhibited at the Hong Kong International Jewellery Show in March to promote Hong Kong's unique designs to global jewellers and buyers.

Organised by the HKTDC, the 35th Hong Kong International Jewellery Show will be held on 1-5 March at the Hong Kong Convention and Exhibition Centre (HKCEC), while the fifth Hong Kong International Diamond, Gem & Pearl Show, also organised by the HKTDC, will take place from 27 February-3 March at the AsiaWorld-Expo. The two shows will gather a total of more than 4,550 exhibitors from 50 countries and regions, forming the world's largest jewellery trading platform.

Fair Websites:
Hong Kong International Diamond, Gem and Pearl Show: http://hkdgp.hktdc.com/
Hong Kong International Jewellery Show: http://hkjewelleryshow.hktdc.com/
Enhanced Security Measures for Buyers: http://bit.ly/2EIxhJa

Photo download:
Open Group: http://bit.ly/2D1oZhW
Student Group: http://bit.ly/2D1oZhW
Press Conference: http://bit.ly/2EYjQYZ

Contact:

HKTDC
Comms & Public Affairs
Agnes Wat, Tel: +852 2584 4554, Email: agnes.ky.wat@hktdc.org
Sunny Ng, Tel: +852 2584 4357, Email: sunny.sl.ng@hktdc.org

Topic: Trade Show or Conference

Source: HKTDC
Sectors: Watches & Jewelry
https://www.acnnewswire.com
From the Asia Corporate News Network
Copyright © 2021 ACN Newswire. All rights reserved. A division of Asia Corporate News Network.