Study Launching July 20 to Help Organizations Create Actionable Plans to Participate in the Circular Economy Using the Power of Platforms



VIENNA, VA., June 6, 2023 - (ACN Newswire) -

McFadyen Digital, the leading global ecommerce marketplace agency, is seeking participants for an in-depth collaborative study on the intersection of platforms and circular economy business objectives. This multi-client study is an exceptional opportunity for businesses to gain strategic insights into implementing sustainability and material security goals through innovative circular platform models.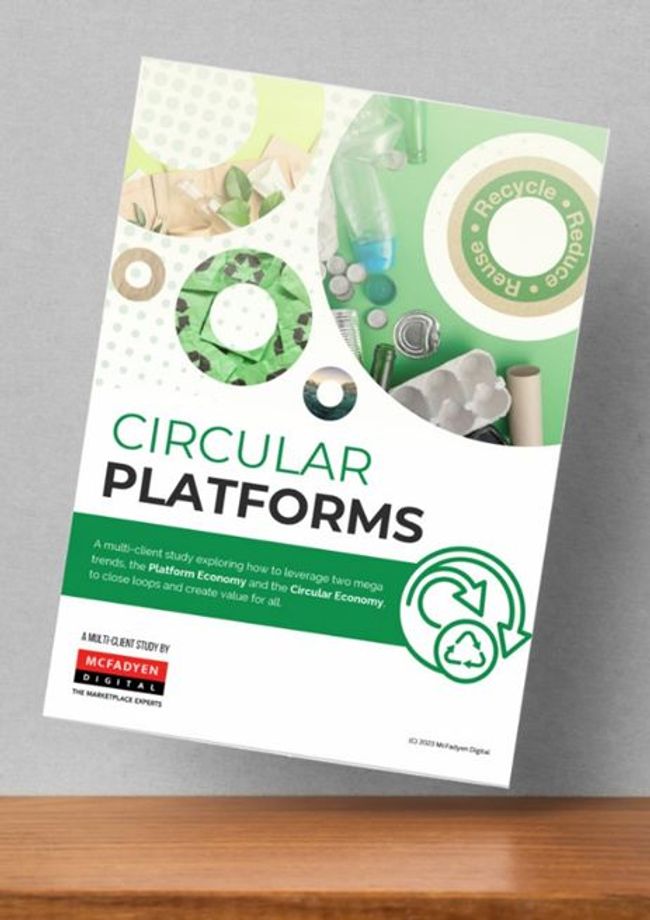 Circular Platforms Multi-Client Study Brochure - The brochure for McFadyen Digital's new Circular Platforms Multi-Client Study is shown on a wooden shelf against a grey background.


With an increasing focus on sustainable business practices, the study aims to bridge the gap between the Platform Economy and the Circular Economy. Companies participating in this study will have the unique chance to influence their growth and value by creating more circular business practices.

"Organizations across all sectors are starting to realize the potential that lies in harnessing the power of the circular economy through platform strategies," states Dr. Peter C. Evans, Chief Strategy Officer for McFadyen Digital. "This multi-client study represents an extraordinary chance to unearth how to leverage circular platforms for competitive advantage, building brand equity, and exploring the opportunities and challenges related to scaling circularity solutions via marketplaces."

The multi-client approach benefits participants by enabling them to fund in-depth research collaboratively, providing strategic insights quicker and at a fraction of the cost of an independent study. In addition to cost savings, it is collaborative. Participants can shape the study's focus and key questions. The study will identify and explore where circular marketplaces are most likely to succeed and under what conditions. It will be led by experts from McFadyen Digital along with select practitioners and other industry experts, all who have extensive expertise in platform strategy, advanced marketplace software, and brand transformation.

The study is designed for:
- Publicly traded enterprises operating in multiple industries and countries
- Family-owned businesses committed to ESG responsibility
- Ecosystem innovators seeking product opportunities
- Impact investors and family offices aiming to future-proof their investments.

Interested parties should download the study brochure and set up an onboarding meeting prior to the July 20, 2023, launch date to learn from the industry's brightest minds while setting a strategic direction towards sustainable business practices and value creation. https://mcfadyen.com/solutions/circular-platforms-multi-client-study/

About McFadyen Digital

McFadyen Digital is the leading global agency for ecommerce marketplace strategy and implementation. We create award-winning digital shopping experiences for the world's most prominent brands. Our clients seek to delight their customers with memorable online shopping experiences that scale, and we deliver those results on time and on budget. With over two decades of experience with large enterprise commerce projects, our strategy, technology, design, and ongoing innovation services delivered from our offices in the U.S., Brazil, and India provide scalable and repeatable results. For more information, visit www.mcfadyen.com or connect with us on LinkedIn.

Contact Information
Thomas Gaydos
Chief Marketing Officer
info@mcfadyen.com

Topic: Press release summary
Source: McFadyen Digital
Sectors: Environment, ESG
https://www.acnnewswire.com
From the Asia Corporate News Network



Copyright © 2023 ACN Newswire. All rights reserved. A division of Asia Corporate News Network.