SINGAPORE, June 28, 2023 - (ACN Newswire) - ALUXE, a Taiwanese luxury jewellery brand renowned for its unique designs and exceptional quality, is proud to announce the opening of its first Southeast Asian store in Singapore. Located in the prestigious ION Orchard, the new store marks a significant milestone in the company's global expansion plan.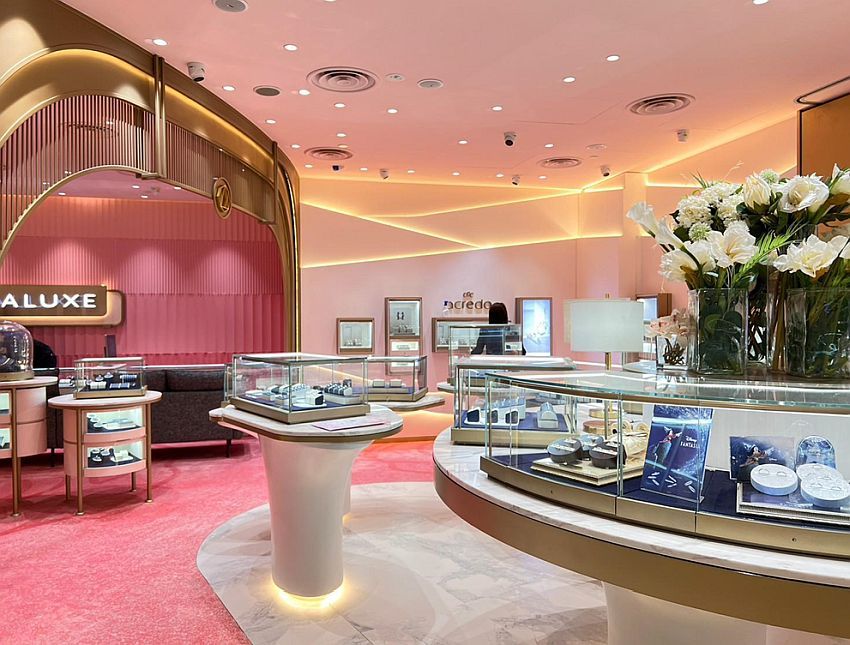 Derived from the phrase "A luxury moment," ALUXE perfectly encapsulates the essence of those incredibly refined and treasured moments shared between two individuals. It also represents the concept and style upheld by the brand.
Boasting an extensive collection of elegant and sophisticated jewellery pieces, ALUXE has gained a massive following of loyal customers who appreciate the brand's elegant designs and commitment to quality. As the leading wedding ring brand in Taiwan, ALUXE consistently achieves annual sales of over 30,000 wedding jewellery pieces. Additionally, it has become a go-to destination for couples in Taiwan who are embarking on their journey towards marriage.
"We are thrilled to be opening our first store in Singapore, a city that is vibrant and dynamic and is renowned for its fashion-forward culture, making it the perfect location for ALUXE's latest retail venture. This marks an important milestone in our global expansion plan, and we are excited to introduce our brand to new customers in this region," said John Yu, Founder and CEO of ALUXE.
Dedicated to creating exceptional jewellery pieces that add sparkle to every unique moment, ALUXE upholds the customer-centric business philosophy, providing every customer with the highest quality products, services and craftsmanship. Its expansion signifies the brand's commitment to global growth and dedication to bringing exclusive jewellery pieces to a new pool of customers.

Along with the grand opening, ALUXE is proud to feature two collections: Disney Collection and The Moment Collections.
The Disney Collection, one of the best-selling champions in Taiwan, features 12 iconic series, bringing to life the magic of beloved characters and iconic tales. This collection is a captivating fusion of timeless elegance and enchanting storytelling for all ages. Contrary to mere childlike designs, each piece in the Disney Collection captures the essence and symbolism of the stories, infusing the design process with a touch of magic and profound meaning. The collection is also the exclusive choice for Disney-themed wedding and bridal jewellery.
The Moment Collection, is a brand-new line known for its striking elegance and timeless appeal. The collection features exquisite pieces, while ingeniously incorporating blue diamonds into the design of the wedding rings. The colour blue represents infinite connection and trust, symbolising the unique and eternal nature of each diamond. Meticulously crafted in Japan, these rings showcase impeccable craftsmanship and elegant styles, capturing every blissful moment between couples.

Additionally, ALUXE is delighted to feature the acredo Collection, a collection of world-class craftsmanship with first-class settings, where each piece is meticulously crafted, allowing customers to fully customise their rings to reflect their unique style and preferences.
Drawing on the expertise of German artisans, the acredo Collection offers exquisite pieces that are truly one-of-a-kind. With an extensive range of precious metals, diamonds, engravings and free-hand drawings, customers can embark on a creative journey to bring their vision to life. Interested customers may book their 1-on-1 consultation with ALUXE's jewellery experts via the official website.
When one steps into the new ION store, they will be embraced by an inviting and luxurious atmosphere with a subtle pink interior adorned with marble and rose gold metal accents. Known for their warm hospitality, the ALUXE team wholeheartedly will ensure every customer who steps into the new ION store is greeted with top-quality service.
ION Orchard Store Details
● Address: ION Orchard, #B2-63, 2 Orchard Turn, Singapore 238801
● Opening Hours: 11am - 10pm Daily (Subject to changes)
● Telephone: +65-6015-0798
Website: https://www.aluxe.com/
Customers may call +65-6015-0798 to book an appointment and enjoy a personalised 1-on-1 consultation.
Topic: Press release summary

Source: ALUXE
Sectors: Regional, Watches & Jewelry
https://www.acnnewswire.com
From the Asia Corporate News Network
Copyright © 2023 ACN Newswire. All rights reserved. A division of Asia Corporate News Network.