SINGAPORE, Aug 1, 2023 - (ACN Newswire) - The World CX Summit, organized by Trescon, set to be hosted in Singapore on 2nd-3rd August 2023 at Marina Bay Sands Expo and Convention Centre. The Summit will bring together leading technology mavens, CX specialists and innovators to share their actionable insights and talk about successful use cases that are redefining the CX space.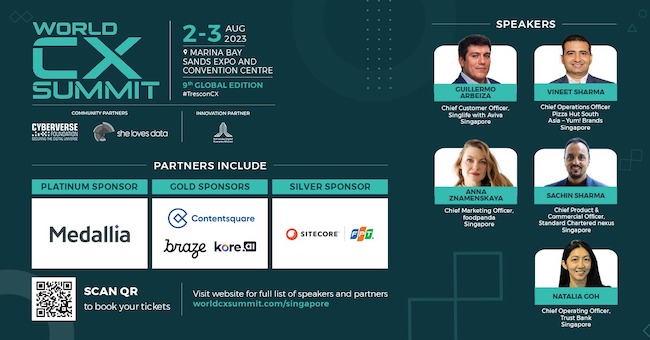 Over the past few years, businesses have pivoted their attention towards providing their customers with an immersive experience. Customer experience has played a critical role in changing the way businesses operate. Today, they consider the customer feedback as an integral part of their revenue model.
As per a recent Grand View Research study, the customer experience management market segment is expected to expand at a compound annual growth rate of 18.1% from 2022 to 2030. With the increasing competition, brands today are digitizing their operations and integrating their operations with artificial intelligence and emerging technologies.
The Asia-Pacific market continues to expand with growing awareness regarding conversational AI. According to a Research Dive report, the conversational AI market is forecasted to generate a revenue of US$ 3.022.4 million by 2028. This is attributed to the favorable government regulations and advanced ICT infrastructure in countries such as Singapore, India and Japan.
The summit will help accelerate the digital transformation of the economy by driving topics such as conversational AI & chatbots, enabling omni-channel customer communication, digital experience platforms and much more.
Naveen Bharadwaj, CEO of Trescon, highlighted the importance of the event, stating "Majority customers today are either digital natives or tech savvy and expect services to be delivered via omni-channels, available at their fingers tips anywhere, anytime and their overall experience has to be seamless. Our World CX Summit in Singapore will help businesses create unique CX strategies powered by emerging technologies to enhance customer satisfaction, attract more customers and become dominant customer-centric brands."
The World CX Summit is co-located alongside the 42nd global edition of the World AI Show and the 25th global edition of the World Blockchain Summit in Singapore.
The summit offers a wide spectrum of expert speakers and panelists such as:
Guillermo Arbeiza, Chief customer officer, Singlife with Aviva.

Achint Setia, Chief Revenue and Marketing Officer, Zalora.

Anna Znamenskaya, Chief Marketing Officer, foodpanda.

Nikki Taylor, Marketing Growth Strategy Director AMEA, UPS.

Denise Miura, Geo Vice President, APAC, Medallia

Raymond Tan, Assistant Commissioner, Taxpayer eXperience Division; Quality Service Manager, Inland Revenue Authority of Singapore (IRAS)

Vineet Sharma, Chief Operations Officer, Pizza Hut South Asia – Yum! Brands

Jana Marle-Zizkova, Co-founder & CEO, She Loves Data

Pavel Bulowski, Co-founder, She Loves Data

Sachin Sharma, Chief Product & Commercial Officer, Standard Charted nexus

Lino Ahlering, Group Chief Customer Officer, Daraz (Alibaba Group)

Natalia Goh, Chief Operating Officer, Trust Bank

Pamela Choong, Head of Customer Experience, JTC Corporation

Vikrama Dhiman, Head of Mobility Products, Gojek

Katja Forbes, Head of Client Experience CCIB, Standard Chartered Bank

Soo Huat Chew, Head, Biz Initiative and Enablement, DBS MidCap/SME

·

Natalia Goh, Chief Operating Officer, Trust Bank.
The 9th global edition of the World CX Summit is supported by:
About the World CX Summit
World CX Summit is a thought-leadership-driven, business-focused, global series of events that takes place in strategic locations across the world.
As a part of the world tour, this Singapore edition is gathering pre-qualified CX leaders, Marketers and tech experts under one roof to discuss how the latest technologies and customer insights can be combined to change CX as we know it.
The summit is hosting a combination of insightful sessions, keynotes, case studies and panel discussions sure to deliver actionable insights that attendees can apply to their Customer Experience strategies.
For more information, visit: https://bit.ly/3CJGNv6
About Trescon
Trescon is a pioneering force in the global business events and services sector, driving the adoption of emerging technologies while promoting sustainability and inclusive leadership.
Our summits, expos, and conferences create real economic impact by connecting and empowering the key ecosystem of government organisations, regulators, enterprises, corporates and more. With the help of our 250+ employees across offices in 6 countries, several of our clients have quadrupled their leads, shortened sales cycles by half or less, entered markets three times faster, closed deals within unimaginable timelines and grown their businesses ultimately. For more information about Trescon visit: www.tresconglobal.com.
For further details about the announcement, please contact:
Nupur Aswani
Head – Media, PR and Corporate Communications, Trescon
+91 95559 15156 | media@tresconglobal.com
Topic: Press release summary

Source: trescon
Sectors: Trade Shows, HR
https://www.acnnewswire.com
From the Asia Corporate News Network
Copyright © 2023 ACN Newswire. All rights reserved. A division of Asia Corporate News Network.