KUCHING, MALAYSIA, Aug 15, 2023 - (ACN Newswire) -

The 50-day countdown has begun for two highly-anticipated international technology congresses, the 27th World Congress on Innovation and Technology and the 6th International Digital Economy Conference Sarawak, collectively known as WCIT|IDECS 2023. Hosted by the Sarawak Government, the event is set to bring together visionaries, experts, and industry leaders from around the world, and is scheduled to take place simultaneously on 4-6 October 2023 at the Borneo Convention Centre Kuching (BCKK), Sarawak, Malaysia.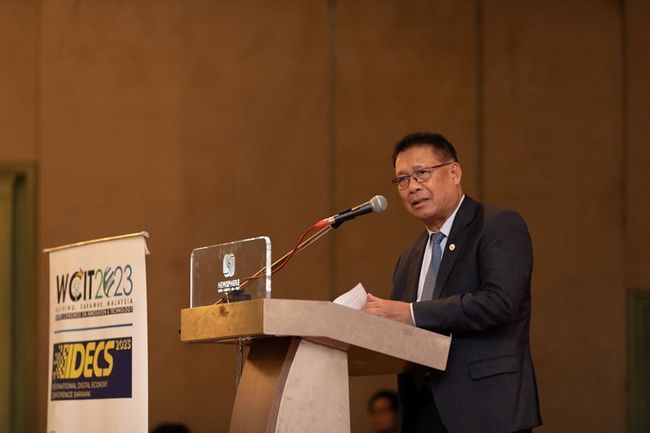 The Honourable Datuk Haji Julaihi Bin Haji Narawi, Minister for Utility and Telecommunication Sarawak (MUT) giving his welcome remarks at WCIT|IDECS 2023 50-Day Countdown


Present today to officiate the countdown launch event of WCIT|IDECS 2023 was Yang Berhormat (YB) Datuk Haji Julaihi Bin Haji Narawi, Minister of Utility and Telecommunication (MUT) Sarawak.

Speaking at the countdown launch event, YB Datuk Haji Julaihi said, "On behalf of the Sarawak Government, we are pleased to announce the countdown to WCIT|IDECS 2023. Final preparations for the Congress are underway, and WCIT|IDECS 2023 promises to set the stage for Sarawak to be a catalyst to accelerate sustainable development and economic prosperity for the businesses, communities and the nation. The convergence of both WCIT and IDECS makes the event a unique platform to bridge the gap and create opportunities to build a business environment and ecosystem driven by innovation, technology and sustainability."

WCIT|IDECS 2023 is expected to convene more than 10,000 attendees comprising industry experts, policymakers, and entrepreneurs from more than 80 countries around the world. Already, there are prominent speakers participating from over 22 countries. The event will explore thought-provoking discussions and provide an unparalleled opportunity to explore the latest trends, technologies and business models in the digital economy. Featuring a comprehensive programme and events comprising conferences, exhibitions, a Smart Cities masterclass, a Startup Village, a Global Leaders Round Table, business matching sessions, and a gala dinner awards night, WCIT|IDECS 2023 aims to explore various facets of the digital economy and its transformative impact on industries, business models, communities and the people.

Themed "Fulfilling the Promise of the Digital Age: Innovation and Technology Driving Economic Prosperity, Social Inclusivity & Environmental Sustainability" and "Advancing Digital Economy for Sustainable Development" respectively, WCIT|IDECS 2023 will see the Sarawak Government hosting keynote addresses, multidisciplinary plenary discussions, and networking sessions to facilitate international collaboration, knowledge and insights exchange around key topics such as artificial intelligence (AI), sustainability, 5G, autonomous, diversity & inclusivity, smart cities, global ICT policy, and space tech.

"WCIT 2023 is a global platform that not only drives innovation but also stimulates investment and interest
in the tech industry," said Dr Sean Seah, Chairman of WITSA. "In October, the trailblazers of the tech industry will be in Kuching, making Sarawak a focal point of global tech and innovation. The event will be welcoming international tech luminaries and stakeholders, and spotlighting Sarawak as a thriving hub of digital transformation." he added.

Host association PIKOM Chairman Ong Chin Seong encourages tech players from abroad and peninsular Malaysia to take the opportunity provided by WCIT|IDECS 2023 to discover the abundant opportunity that Sarawak and Borneo in general have to offer. "PIKOM's vision is for WCIT|IDECS 2023 to be a catalyst that will spur Malaysia's and Sarawak's Digital Economy to greater heights," he said.

In conjunction with WCIT|IDECS 2023, the Sarawak Government will also launch the inaugural She-Tech Asia Forum 2023 (the 'Forum'), which will be held on 3 October 2023. The Forum will serve as a pre-event to WCIT|IDECS 2023, with a focus on women's representation in the technology industry. The Forum aims to address the gender imbalance within the industry, serving as an impetus in shifting the gender conversation and empowering more women's participation in technology.

On the Forum, Malseni Jamal, Chief Operating Officer of SDEC said, "As the world shifts to an increasingly digitalised economy, empowering greater women participation in tech is key to fostering the continuous growth for our economy and social inclusivity. The need for action is critical, and all stakeholders across public and private sectors must come together to close the gender gap and create equal opportunities and platforms for women to play a role in advancing our digital economy aspirations."

Some of the key speakers of the Congress and She-Tech Asia Forum 2023 include:

- Mike Walsh, Futurist, Chief Executive Officer (CEO) of Tomorrow and author of three best-selling books;
- Professor Hiroshi Ishiguro, Japanese roboticist and professor at Osaka University, and ATR intelligent robotics and communication laboratories;
- Emma Yang, Founder of Timeless, three-time Carnegie Hall performer, MIT solver, and TEDx Speaker; and
- Tiffany Pham, Founder and CEO of Mogul, TV personality on TLC and History Channel, and WSJ best-selling author of 'You are a Mogul and Girl Mogul'.

YB Datuk Haji Julaihi concluded, "Sarawak is an attractive investment, business and tourism destination, and as the host of WCIT|IDECS 2023, we continue to reaffirm our commitment to advance Sarawak's vision to become a digital economy powerhouse for the country and region. The WCIT|IDECS 2023 platform will serve as one of the building blocks in advancing our digital economy agenda through innovation and technology, and is expected to create positive economic impact to the Sarawakian tech and startup ecosystem, through Foreign Direct Investments (FDI), business events and tourism, as well as sponsorships - which in turn will encourage greater job creation and business opportunities. Over the long-term, we want to be the go-to hub for investors looking to combine business with leisure, with the ultimate goal of uplifting the socioeconomics of the people."

Leading global organisations such as Huawei, Malaysia Digital Economy Corporation (MDEC), TVS, Sarawak Energy Berhad, Digital Nasional Berhad, NEC and Whale Cloud have signed on as key sponsors, Business Events Sarawak, Malaysian Technology Development Corporation (MTDC) and Maxis Berhad, among others, are supporting WCIT|IDECS 2023 as key partners. Official airline partner MAS is offering attractive discounted fares for early bird registrations.

Topic: Press release summary
Source: WCIT|IDECS 2023
Sectors: Telecoms, 5G
https://www.acnnewswire.com
From the Asia Corporate News Network



Copyright © 2023 ACN Newswire. All rights reserved. A division of Asia Corporate News Network.