JAKARTA, Sept 7, 2023 - (ACN Newswire) -

The ASEAN-Indo-Pacific Forum (AIPF), a flagship event of the 43rd ASEAN Summit, was officially opened by President Jokowi on Tuesday, Sept 5. On the occasion, PLN PD Darmawan Prasodjo emphasized the commitment to achieving Net Zero Emission by 2060 and accelerating the development of renewable energy and the green enabling ASEAN Power Grid project.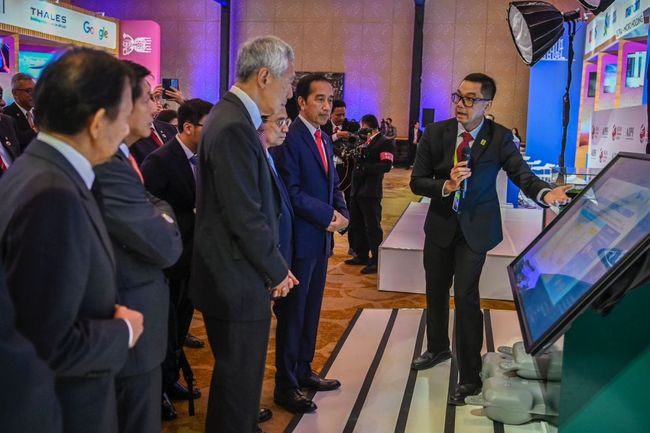 PLN President Director Darmawan Prasodjo presenting latest ASEAN Power Grid developments to President Jokowi and other ASEAN country leaders. [Image: ANTARA]


"AIPF has specific agenda of building green infrastructure and resilient supply chains through industrial downstreaming. The development of the electric vehicle ecosystem is a concrete example of regional supply chain development," President Jokowi said.

State-Owned Enterprises (SOE) Minister Erick Thohir said the AIPF is a part of the Indonesian government's efforts to build cooperation at the Asia-Pacific regional level to encourage sustainable economic development.

"The Government of Indonesia, through State-Owned Enterprises, is actively cooperating with global partners. This includes forming strategic alliances to build electric vehicle battery supply chains, expand cross-country interconnectivity, and participate in regional infrastructure development," Erick said.

PLN President Director Darmawan Prasodjo said the focus at AIPF was cooperation between countries and private sectors to realize the ASEAN mission in the interconnection of electricity systems. PLN is currently building a green enabling supergrid equipped with smartgrid and flexible generations.

Thus far, PLN has agreements for the ASEAN power grid with two Malaysian power companies: Sabah Electricity Sdn Bhd, to develop the Kalimantan-Sabah interconnection, and Tenaga Nasional Bhd, to develop the Sumatra-Semenanjung Malaysia interconnection. The agreements were signed at 41st ASEAN Ministers on Energy Meeting (AMEM) and ASEAN Energy Business Forum (AEBF) in Bali last August 25.

"We believe that the big dream of the ASEAN Power Grid can bring prosperity to Southeast Asian countries. This dream can certainly be achieved through collaboration," Darmawan said. "The Green Enabling Supergrid is an effeort balance the renewable energy scattered in Sumatra and Kalimantan, and the the demand center in Java. It will revive the region by creating a new economic epicenter.

"PLN supports the government's move to become an initiator in energy transition in the APAC community. The construction of Cirata Floating Solar Power Plant is proof of Indonesia's commitment to developing more environmentally friendly energy sources. It also shows that PLN is able to present attractive investment cooperation schemes so as to encourage investor interest in developing renewable energy projects in other regions," said Darmawan.

The Cirata Floating Solar Power Plant with a capacity of 192 MWp, by PLN in collaboration with the UAE renewable energy company Masdar, is currently entering the finalization process. The plant, which occupies an area of 200 hectares, will produce 245 million kWh of energy per year and can supply electricity equivalent to 50,000 households.

About PLN
PT PLN (Persero) is a state-owned electricity company that continues to be committed and innovative in carrying out a mission to illuminate and move the nation. With a vision to become a leading electricity company in Southeast Asia, PLN is moving towards becoming the number one choice for energy solutions. See https://www.pln.co.id.

Contact:
Gregorius Adi Trianto
Executive Vice President, Corporate Communications & CSR, PLN
PT. Perusahaan Listrik Negara (Persero) [IDX: PLN]

Topic: Press release summary
Source: PT PLN (Persero)
Sectors: Environment, ESG, Daily News, Alternative Energy
https://www.acnnewswire.com
From the Asia Corporate News Network



Copyright © 2023 ACN Newswire. All rights reserved. A division of Asia Corporate News Network.

PT PLN (Persero) Related News
Oct 9, 2023 09:00 HKT/SGT
PT PLN receives 2 Asian Experience Awards 2023, for Customer Service Innovation, Digital Transformation
Sept 29, 2023 10:00 HKT/SGT
AIIB, PT PLN and PT SMI Collaborate to Support Energy Transition in Indonesia
Sept 4, 2023 22:15 HKT/SGT
PLN Signs Cooperation with TANESCO to Develop Electricity Ecosystem in Tanzania
May 23, 2023 21:00 HKT/SGT
PLN to Cooperate with CCCC, an EPC Company, Focusing on Development of Renewable Energy
May 12, 2023 01:00 HKT/SGT
PLN and Government of East Nusa Tenggara commit to ensuring the success of the ASEAN Summit
More news >>