WICHITA, KS, 2023年4月13日 - (亞太商訊) -

weavix(TM) is set to showcase the latest innovations to its communications and productivity platform on April 17-21 at Hannover Messe 2023, a leading international conference specializing in industrial transformation for manufacturers.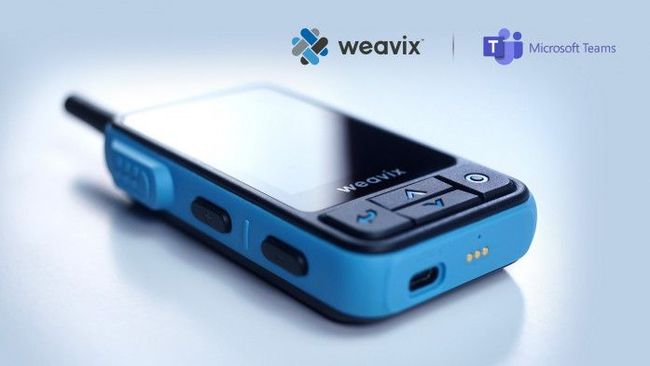 weavix and Microsoft Teams integration - walt smart radio showing the integration with Microsoft Teams


weavix will highlight its integration with Microsoft Azure Private 5G Core, which enables its platform to deliver enterprise-vital solutions, thus supporting the Internet of Workers platform with integration with Azure services, enhanced security, low latency and dependability.

Following the company's collaboration with Microsoft at Mobile World Congress earlier this year, weavix is rolling out its integration with Microsoft Teams(R). The goal is to leverage the connectivity and solutions provided by Azure Private 5G Core to allow for collaboration between office and frontline workers and address efficiency issues more directly.

"Microsoft has a long and tremendous history with communication technology for office workers," said Ben Burrus, Chief Product Officer at weavix. "The interoperability between Teams and weavix helps to break down the overt communication barriers that exist between the two distinct groups of workers and, in turn, makes the other 80% of the workforce more accessible. This pairing allows for a seamless and direct route for office workers to communicate using audio and video to frontline workers via the walt(TM) smart radio."

"Modernizing and empowering frontline workers represent a big opportunity in the evolution and advancement of the manufacturing industry," said Shriraj Gaglani, VP of Product Development, Microsoft. "Manufacturing personnel must be able to effectively communicate on-site and off to continue producing at optimal levels, and we are pleased to see weavix growing their portfolio of solutions using Azure private MEC and adding Microsoft Teams integration to address this opportunity and unmet need."

At the conference, manufacturing professionals and attendees can operate and test the walt smart radio and experience a complete demonstration of the platform's communication and productivity solutions.

Hannover Messe is an international hotspot for the latest in technological advances for industry, drawing in an estimated 200,000 manufacturing professionals, exhibitors, decision-makers and industrial pioneers.

weavix is exhibiting alongside Microsoft's other co-innovation partners in Hall 17 as part of the Intelligent Factory sector. To meet with weavix at Hannover Messe 2023 in Hannover, Germany, schedule a time here. https://weavix.com/schedule-a-meeting/

About weavix

weavix, the Internet of Workers(TM) platform, revolutionizes frontline communication and productivity on a global scale. Since its founding, weavix has shaped the future of work by introducing innovative methods to better connect and empower the frontline workforce, like Enterprise-Vital Push-to-Three (EVPT3) communication. weavix transforms enterprise by providing data-driven insights into facilities and teams to maximize productivity and achieve breakthrough results. weavix is the single source of truth for both workers and executives. Our mission is to empower workers around the world with disruptive technology. Visit https://weavix.com/ for more information.

Contact Information
Monica Poe
Marketing Director, weavix
mpoe@weavix.com
3165195912

Justin Nickel
Chief Marketing Officer, weavix
jnickel@weavix.com
3168662955 ext. 533

SOURCE: weavix

Topic: Press release summary
Source: weavix
Sectors: Trade Shows, Cloud & Enterprise, Digitalization, Manufacturing
https://www.acnnewswire.com
From the Asia Corporate News Network



Copyright © 2023 ACN Newswire. All rights reserved. A division of Asia Corporate News Network.