LONDON, 2023年6月14日 - (亞太商訊) -

HotelRunner, the leading travel and hospitality technologies platform, has launched HotelRunner Review Center, an innovative solution that will fundamentally change the way properties manage their online reputation and form the building blocks of technological transformation fueled by artificial intelligence.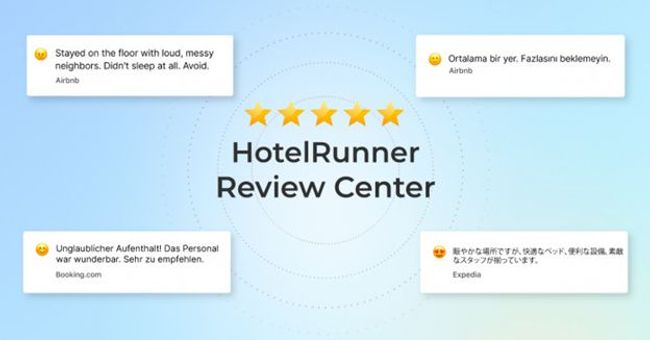 HotelRunner Review Center
HotelRunner Introduces AI-Powered Review Center for Enhanced Reputation Management in the Travel
and Hospitality Industry


In the highly competitive world of hospitality, reputation management is more critical than ever. Guests rely heavily on reviews when making decisions and hold the power to drive a property's successful reputation and exponential revenue growth.

As a company that draws its strength from its agility, HotelRunner proudly delivers an innovative solution to its partners and the industry after extensive research and development by observing the latest trends and anticipating the future that will be shaped around them.

HotelRunner Review Center is an advanced product that centralizes guest reviews, empowering properties to take control of their online reputation from a single user-friendly dashboard.

Thanks to HotelRunner's strategic partnerships and certified integrations with Booking.com, Expedia, and Airbnb, Review Center allows properties to view and reply to all their reviews in one place. The AI technology generates unique and personalized replies to guest reviews within seconds. This ensures that each review receives timely and tailored responses, leading to improved guest satisfaction, and a steady revenue stream. The product also helps overcome language barriers effortlessly with built-in Google Translate functionality, translating guest reviews into more than 133 languages instantly, and facilitating effective communication. Another great benefit is saving hoteliers valuable time and effort. They can save their favorite replies for future use, easily fine-tune the replies, and deliver customized messages to each guest. Last but not least, the Review Center provides comprehensive performance tracking. Since the product gathers all reviews in one dashboard, it offers properties a HotelRunner score across various categories, allowing properties to identify areas for improvement, monitor progress over time, and continuously enhance their service offerings.

Yigit Can Bacakoglu, Director of Engineering at HotelRunner, said, "The introduction of HotelRunner Review Center marks a pivotal moment in the fiercely competitive hospitality industry. Through its integrated AI assistance, properties can streamline the consolidation of their reviews, address guest feedback, and elevate guest satisfaction and loyalty. We take great pride in spearheading the deployment of this cutting-edge technology and will continue to enrich our platform with homegrown AI-based products."

Cihan Coskuntuncel, Director of Supply at HotelRunner, added, "Effective reputation management is the key to a lucrative sales strategy. We are delighted to unveil the HotelRunner Review Center, an AI-driven solution that empowers hoteliers to seize control over their online reputation. Equipped with advanced features and multilingual translation capabilities, Review Center ensures properties can promptly respond to reviews, enhance their online reputation, and never miss another reservation."

HotelRunner Review Center is now available to properties worldwide to take advantage of AI-powered reputation management. Click here to get detailed information about the HotelRunner Review Center.

Contact Information
Suheyla van Taarling
Head of Brand
suheyla@hotelrunner.com
00905314010303

Topic: Press release summary
Source: HotelRunner
Sectors: Cloud & Enterprise, Travel & Tourism, Wireless, Apps, Digitalization, Hospitality
https://www.acnnewswire.com
From the Asia Corporate News Network



Copyright © 2023 ACN Newswire. All rights reserved. A division of Asia Corporate News Network.