Seize Enormous Business Opportunity from More than 7,000 Small-Mid Sized Freight Forwarders in Greater China





HONG KONG, Mar 10, 2014 - (ACN Newswire) -

ASR Holdings Limited ("ASR" or "the Group;" stock code: 1803), a leading air freight solution provider of air cargo space, has today announced the launch of e-Platform, Asia's first online business-to-business (B2B) air cargo booking platform, a significant breakthrough for the freight forwarder industry in Asia.

After two years preparation which will be developed in three phases, such Asia's first-of-its-kind e-platform offers one-stop air cargo booking service for freight forwarders including real-time online quotation, air cargo space reservation and cargo tracking. Customers can promptly obtain the product information online, for instance, airlines, prices, times for delivery and routes, and directly make reservations through the e-Platform. The revolutionary e-Platform booking system is complementary to ASR's business operations, greatly enhancing its operational efficiency and enables the Group to seize more business opportunities from smaller freight forwarders, broadening its customer base and bringing in additional income streams.

Targeting more than 7,000 potential small-to-mid-sized forwarders in Greater China, the e-Platform is not only available bilingually at the designated website www.asr-e.com.hk, but also through smart-phone apps in iPhone and Android handsets. This offers an unbeatable convenience to customers who can truly place orders "anytime, anywhere" using an online instant payment system. Having a close business relationship with more than 45 airlines and integrated carriers, ASR has bundled a menu of air routes from different airlines so as to offer its customers the optimal air freight solution at the most competitive price, seamlessly over the internet.

Mr. Sunny Yu, Chairman and Executive Director of ASR said, "We are excited to introduce Asia's first logistics business-to-business air cargo booking e-Platform, a milestone both for our Group and the freight forwarding industry. Our new e-Platform provides an efficient and cost-effective air cargo space reservation process with a wide choice of products to a broad range of freight forwarders in Greater China region. We believe we have created a 'win-win' situation for our customers, thereby enhancing our customer base and creating an additional income stream."

Mr. Richard Mak, CEO, Logistics of ASR, added, "Our dedication to innovation has made e-Platform possible as the first-of-its-kind online air cargo booking portal within two years of our listing. Going forward, we will add more functionality to meet our customers' needs. The e-Platform strengthens our pioneering and distinctive position in the air cargo industry with the aim to become a leading air freight solution provider in Asia."

About ASR Holdings Limited

ASR Holdings Ltd is an air freight solution provider strategically positioning itself within the air cargo market. It is principally engaged in purchasing air cargo space from airlines or integrated carriers and selling this space to freight forwarders. Established in 1991, it has built its business through offering deferred air freight service and servicing destinations in developing countries. Headquartered in Hong Kong, it has 28 sales offices located mainly in the Asia-Pacific region with 19 of them in China and others spread across Hong Kong, Macau, Taipei, Osaka, Tokyo, Singapore, Kuala Lumpur and Helsinki. ASR has well-established business partnerships with more than 45 airlines covering almost every major airport with a strong customer base of more than 1,000 freight forwarder customers. ASR is a member of the Hong Kong Association of Freight Forwarding and Logistics Limited ("HAFFA") and an accredited cargo agent of the International Air Transport Association ("IATA").

Contact:
Strategic Financial Relations Limited
Heidi So:  (852) 2864 4826  

[email protected]


Maggie Au:  (852) 2864 4815  

[email protected]

 
Kate Kwan:  (852) 2864 4873  

[email protected]


Fax:  (852) 2527 1196



Source: ASR Holdings Limited
Topic: Press release summary
Sectors: Electronics, Daily Finance, Daily News
http://www.acnnewswire.com
From the Asia Corporate News Network
Copyright © 2018 ACN Newswire. All rights reserved. A division of Asia Corporate News Network.

Multimedia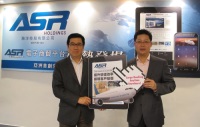 ASR Holdings Limited Launches Asia's First Logistics Business-to-Business (B2B) Air Cargo Booking
View Image