Service-based offering meets region's needs for enterprise visibility, efficiency and compliance; partners report savings for enterprises fleet consolidation and increasing service performance



SINGAPORE, Mar 18, 2014 - (ACN Newswire) -

In tandem with a record 54% year-on-year growth in Managed Document Services (MDS) customer base across South and Southeast Asia, Canon, kicked off 'FOCUS', the theme of MDS Day 2014 at Mandarin Orchard Hotel in Singapore, where leaders in IT, business and think tanks converged to discuss insights about harnessing technology and partnerships to drive strategies and growth, by focusing one's core competencies.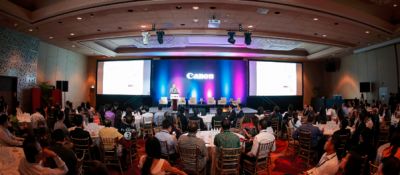 Canon solidifies Leadership in Business Services as Managed Document Services Customers Grow by more than 50%


"A leader in Gartner Magic Quadrant for managed document services, Canon has always sought to make services both easy to access and use," said Mr Kensaku Konishi, President and CEO, Canon Singapore Private Limited who oversees the South and Southeast Asian region. "As this region continues to grow, we see that enterprises of all sizes are looking to become more competitive by raising levels of productivity, and adopting Canon's business services is a key part of that journey."

Canon's services program, offers a comprehensive suite of solutions to help Asia-Pacific customers meet goals for cost management, improved efficiency and document accessibility. Since its launch, enterprises have benefited from significant savings in total cost of ownership.

"MDS makes a lot of sense from a cost perspective. From our experience, we have seen enterprises benefitting from up to 50% of savings from fleet consolidation and increasing service performance," said Brian Anderson, Vice President, Sales and Marketing of Netaphor Software. "There are six major cost areas where companies can optimize savings. These include fleet rationalization, inventory management, operational management, supplies management, service performance and administration." Validating these findings, Ed Crowley, CEO and founder of Photizo, a Managed Print Services (MPS) analyst group shared that, "our analysis of over 3,000 MPS engagements has shown an average reduction in cost of over 30% through MPS contracts."

Canon's Managed Document Services program offers three key benefits for enterprises. They are:

1. Service Excellence - Customers benefit from proactive services which, through a combination of monitoring systems and trained and capable technicians, deliver on virtually a 100% uptime of the entire print fleet and by ensuring that service response time is kept at optimal levels.

2. Print Management Solutions - Canon's uniFLOW system, when integrated with an enterprise's IT system, provides convenience and security to both users and their workplace. Since uniFLOW settings can be customized, enterprises may define preferred healthy print rules, including environmentally friendly practices such as double sided printing to reduce the unnecessary consumption of paper.

3. Continuous Optimization and Right Sizing - With the print fleet constantly monitored, Canon can assist organizations to optimize and right-size their print fleet as print requirements changes to keep pace with the needs of the enterprise.

Echoing the theme of Canon MDS Day 2014, Von Chan, Canon Singapore's Director and General Manager of Business Imaging Solutions and Business Solutions Division, shares that Canon's continued investment in growing its MDS offering solidifies its single-minded focus on customer centricity. "MDS changes how we transact business with our key customers. At the heart of MDS lies Canon's total commitment to partnering with our customers and enabling them to focus on their core business. With MDS, customers entrust Canon to take care of their document and printing needs, with the aim of driving savings and productivity, and realize positive business outcome on our customers' behalf."

About Canon Singapore Pte Ltd

Canon is a global leader in photographic and digital imaging solutions. Canon Singapore Pte Ltd is the headquarters for South & Southeast Asia driving sales, marketing and service strategies. Besides handling the domestic market, the company leads 18 other countries including subsidiaries in India, Malaysia, Thailand and Vietnam. The parent company Canon Inc has a global network of close to 300 companies and employs close to 200,000 people worldwide. It is dedicated to the advancement in technology and innovation and commits about 10% of its total revenue each year to R&D. Canon is consistently one of the top few companies to earn the most number of patents over the last 19 years. As a Fortune Global 500 company, Canon is guided by its kyosei philosophy that focuses on living and working together for the common good. More information is available at www.canon.com.sg

Media Enquiries
Canon Singapore Pte Ltd
Lee Eu Jin
Tel: +65 6796 3446
Email: eujin_lee@canon.com.sg

Ogilvy Public Relations
Sara Pereira
Tel: +65 6213 7769
Email: sara.pereira@ogilvy.com

Marcus Loh
Tel: +65 6213 6975
Email: marcus.loh@ogilvy.com


Topic: General Announcement
Source: Canon Singapore Pte. Ltd.
Sectors: Cloud & Enterprise, E-commerce, Consumer Electronics
https://www.acnnewswire.com
From the Asia Corporate News Network



Copyright © 2022 ACN Newswire. All rights reserved. A division of Asia Corporate News Network.