- TDK to discontinue its neon sign at Piccadilly Circus after 25 years
- Special video presentation takes a look back at the history of TDK's advertisement in this famous London landmark.



TOKYO, Mar 11, 2015 - (JCN Newswire) -

TDK Corporation displays a special video presentation advertisement that takes a retrospective look at the 25-year history of the TDK neon sign in Piccadilly Circus, London. The content will run until March 24, 2015.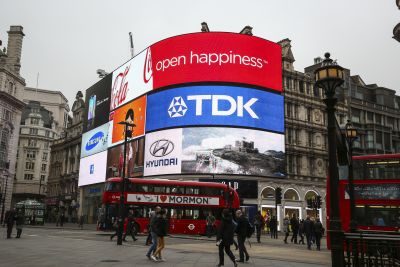 Special video presentation marks the discontinuation of the TDK neon sign at London's Piccadilly Circus


You can also access the content online: http://www.image.net/tdk2015_piccadilly

TDK has displayed its advertisement in the major global commercial and financial hub of London since 1990. In the first 15 years a standard neon sign displayed TDK's logo with the target to increase the corporate brand recognition. The company's focus at this time laid on the promotion of its Business to Consumer (B to C) operation, most notably its recording media products, such as cassette tapes and video tapes.

In 2005, TDK renovated the previous fluorescent tube neon sign into a more environmentally friendly and energy-efficient LED neon sign, which finally enabled the presentation of animated advertisement spots. After 25 years of advertising at Piccadilly Circus TDK has decided to discontinue its promotion. The decision is based on the company's shift towards Business to Business (B to B) operation, centered on the promotion of electronic components for applications in the ICT, consumer, automotive and industrial electronics world. This business is based on magnetic materials such as ferrite, a material that TDK has developed since its founding.

Over the long stretch of 25 years, TDK has been very proud to display the TDK neon sign in Piccadilly Circus, one of the world's most iconic city squares and a prominent London landmark. Furthermore, TDK wishes to convey its gratitude to the people of London and nearby areas, and to global visitors, who have seen the sign and to whom it has become a familiar sight.

In the spirit of gratitude, TDK has decided to display an video presentation with special content on the Piccadilly Circus neon sign as a farewell message. We encourage all visitors to have a look.

About the TDK Neon Special Content

The TDK neon sign has enjoyed popularity over many years as a familiar sight in Piccadilly Circus. With gratitude, the special content will begin by introducing TDK's historical billboards over the years. It will foster an appreciation of the shifting times from analog to digital technologies and portray TDK as a company heading into the future. Based on the currently displayed "With you always" video theme, the special content is a 30-second video presentation designed to convey the image of tomorrow's TDK through the key message of "With you always into the future."

You can also access the content online: http://www.image.net/tdk2015_piccadilly

Contact:

Mr. Yoichi OSUGA
TDK Corporation
+81-3-6852-7102
pr@jp.tdk.com

Topic: General Announcement

Source: TDK Corporation
Sectors: Electronics, Daily Finance, Cloud & Enterprise, IT Individual, Travel & Tourism, Daily News, Advertising
https://www.acnnewswire.com
From the Asia Corporate News Network
Copyright © 2023 ACN Newswire. All rights reserved. A division of Asia Corporate News Network.