HONG KONG, June 29, 2015 - (ACN Newswire) -

China Construction Bank (CCB) and Euroclear Bank (Euroclear) entered into a Memorandum of Understanding (MoU) at Chateau Val Duchesse close to Euroclear's headquarters in Belgium. The MoU commits both parties to fully cooperate in the development of offshore RMB financial products, financial infrastructure, and client resources, as well as the provision of high quality services to offshore RMB market participants. CCB Chairman, Wang Hongzhang and Euroclear Group Chairman Marc-Antoine Autheman and Chief Technology and Services Officer Lieve Mostrey, attended the signing ceremony. Prime Minister of the People's Republic of China, Li Keqiang, and the Belgian Prime Minister, Charles Michel witnessed this moment.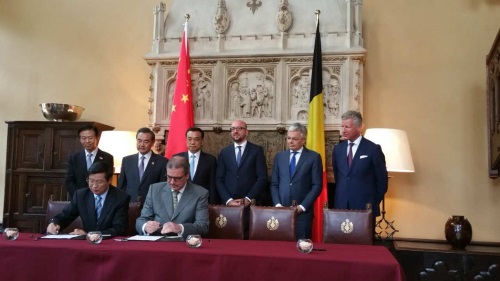 China Construction Bank and Euroclear Bank Jointly Promote Infrastructure of Hlobal RMB Financial Products Platform Sign Memorandum of Understanding


Under the MoU, both parties will endeavour to support CCB's RMB products multi-listing strategy , a multi-time zone, cross-jurisdiction, 24-hour trading offshore RMB fund, covering the key markets in Europe, Asia, North America and South America.

CCB has in recent years been actively expanding its overseas businesses, So far, it has established 22 tier-one overseas entities outside mainland China, covering 20 countries and regions. CCB is also a designated RMB clearing bank in the United Kingdom and Chile. In March 2015, Europe's first RMB RQFII money market ETF was listed on the London Stock Exchange.

Euroclear is the world's largest international central securities depository. Its business covers bonds, equities, derivatives and funds. Its clientele includes 90% of the world's top 50 banks, and over 100 central banks.

With the expansion of overseas businesses, the establishment of financial infrastructure is key to the successful development of offshore RMB products. On this occasion, this forward-looking and mutually supportive cooperation between CCB and Euroclear represents a significant breakthrough in CCB's offshore RMB business in Europe. By leveraging Euroclear's multi-time zone settlement and asset servicing network, it puts CCB in an advantageous position to be more proactive and comprehensive in developing market infrastructure in Europe and other offshore RMB markets around the world. This has great significance both at present and in the long term, in driving financial cooperation between China and Europe and the internationalization of the RMB.

For further information, please contact:

CCB International (Holdings) Limited

Ms Louisa Pi
Tel: (852) 3911 8701
Fax: (852) 2530 1496
E-mail: louisapi@ccbintl.com / pr@ccbintl.com

Ms Shirley Xiao
Tel: (852) 3911 8737
Fax: (852) 2530 1496
E-mail: shirleyxiao@ccbintl.com / pr@ccbintl.com




Topic: Press release summary
Source: CCB International (Holdings) Limited
Sectors: Daily Finance, Daily News
https://www.acnnewswire.com
From the Asia Corporate News Network



Copyright © 2021 ACN Newswire. All rights reserved. A division of Asia Corporate News Network.