HONG KONG, Sept 8, 2015 - (ACN Newswire) -

Alpha Peak Leisure Incorporated's management, together with the representatives of the People's Government of Ganzi Tibetan Autonomous Prefecture, Sichuan Province, held a press conference today (8 September, 2015) in Hong Kong to introduce Alpha Peak's tourism project in the Swallows' Gully in Ganzi, Sichuan Province.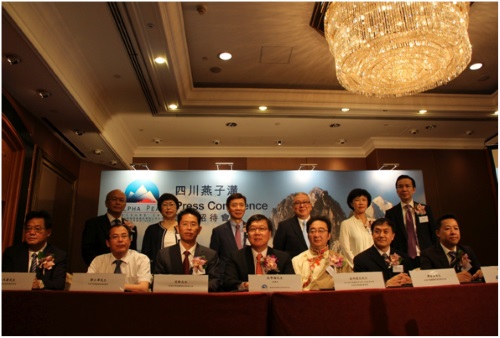 Alpha Peak Holds Press Conference in Hong Kong Today Introducing its Tourism Projects in the Swallows' Gully in Ganzi, Sichuan Province


Alpha Peak is listed on the TSX Venture Exchange (TSX-V:AAP). On June 26, 2015, Alpha Peak has completed its Qualifying Transaction and on July 2, 2015, Alpha Peak has resumed trading as a Tier 1 Industrial Issuer under the symbol "AAP" at the opening of the market.

After completion of the Qualifying Transaction, Gonga Terraferma Limited has become a wholly owned subsidiary of Alpha Peak. Gonga Terraferma has a 40-year operating and development right for Swallows' Gully together with the Hailuo Valley Scenic Area Administration. Located in Ganzi Tibetan Autonomous Prefecture in Sichuan and within a cluster of highly frequented tourist landmarks, Swallows' Gully encompasses an area of approximately 593km2, or 7 times the size of Hong Kong Island. It is recognized as one of the most pristine and beautiful scenic sights in China.

Bob Hot-Hoi Chong, Chairman of the Company, stated, "After more than 9 years of dedication and investment, we are finally ready to unveil our asset, the Swallows' Gully national scenic spot, within the public capital markets. I believe that Swallows' Gully, with its unique natural and cultural endowment, will grow into one of China's high growth and sought after nature destinations, and we have the right management team in place to fully capitalize on the asset's potential." We believe the monopolistic nature of our operating and development right will continue to position Swallows' Gully as a direct beneficiary of China's massive tourism market, burgeoning middle class spending, and highly favorable national and regional policy on infrastructure and tourism, over the longer term.

The site - Swallows' Gully

Swallows' Gully commenced commercial operations in 2013, and has been steadily gaining popularity since its opening. Swallows' Gully has seen meaningful year-on-year visitation growth - Swallows' Gully has received more than 12,000 visitors, representing 58% year-to-year growth. It has strategic collaboration with Hong Kong China Travel Services to jointly promote Swallows' Gully and China Travel would receive 220,000 share options exercisable in 4 years at CAD2.5 per share (38.9% above placing price). Together with its collaboration with Tong Cheng Network, one of the largest online travel reservation platforms in China, Swallows' Gully's direct visitation but also Swallows' Gully awareness regionally and nationally will grow.

Swallows' Gully, situated on the eastern slope of Gonga Mountain, resides in close proximity to Hailuo Valley, which was developed in the late 1980s and now attracts more than 600,000 visitors annually since 2012. Gonga Mountain, known locally as "King of Shu Mountains" and "Minya Konka", is the highest mountain in Sichuan and the third highest peak outside of the Himalayas. It spans 200 kilometers from north to south and extends from east to west for 100 kilometers.

Swallows' Gully boasts many unique geographic attractions, including low-elevation glaciers, virgin forests, rare flora and fauna, natural hot springs and unique rock structures formed over millions of years. There are over 400 wild species of plants and animals, including 30 animals under first or second degree national protection, and 40 species of plants classified as rare and precious. Due to its pristine natural environment and varying elevation, Swallows' Gully hosts a range of rare, unique vegetation and soil belts, grasslands, aromatic and colorful flowers of various breeds, and dense forestry that include Chinese larch, yew and dragon spruce. In addition, according to China's National Terrestrial Air Quality Index, its index is benchmarked against the air quality of Swallow's Gully.


Topic: Press release summary
Source: Alpha Peak Leisure Inc.
Sectors: Daily News
https://www.acnnewswire.com
From the Asia Corporate News Network



Copyright © 2021 ACN Newswire. All rights reserved. A division of Asia Corporate News Network.