HONG KONG, Mar 7, 2016 - (ACN Newswire) -

The third Hong Kong International Diamond, Gem & Pearl Show and the 33rd Hong Kong International Jewellery Show have concluded successfully. The two concurrent fairs featured more than 4,380 exhibitors from 54 countries and regions, and attracted over 80,000 buyers from 147 countries and regions, up 5.4 per cent over last year.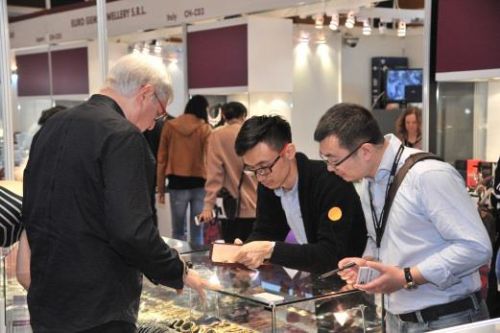 This year's jewellery fairs see a significant increase in overseas buyers from the Chinese mainland, India, the Philippines, Vietnam, the UK and Malaysia.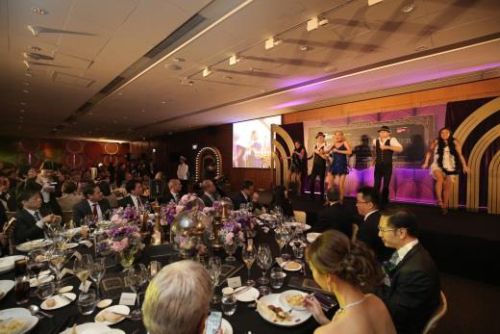 The Gala Dinner (above) is a highlight of the Hong Kong International Jewellery Show.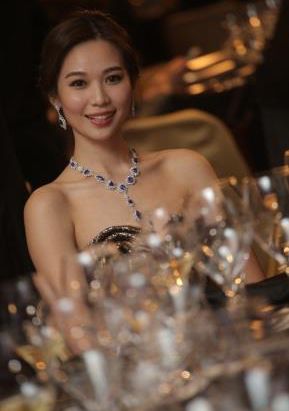 Local artists Vivien Yeo (centre) and Jessie Shum (below) attend the Gala Dinner on the first evening of the Jewellery Show.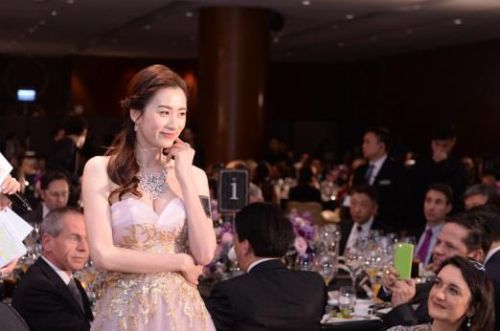 Watch the fair video: https://www.youtube.com/watch?v=3qYczm9KF6g

More than 31,000 buyers visited the Diamond, Gem & Pearl Show at AsiaWorld-Expo (1-5 March), while over 49,000 visitors attended the Jewellery Show at the Hong Kong Convention and Exhibition Centre (3-7 March). Both events are organsied by the Hong Kong Trade Development Council (HKTDC).

"Despite global economic challenges, the two shows continued to attract local and overseas buyers," said Benjamin Chau, Deputy Executive Director, HKTDC. "This demonstrates the international significance of the two shows, which form the world's largest jewellery marketplace, reinforcing Hong Kong's position as a proven global sourcing hub for the industry."

Among overseas buyers, attendance from the Chinese mainland, India, the Philippines, Vietnam, the UK and Malaysia recorded significant growth.

- Industry expects steady sales this year; Hong Kong suppliers rated highly

The HKTDC commissioned an independent onsite survey during the two shows, interviewing more than 1,200 buyers and exhibitors about their views on market prospects, products and industry trends. The survey found that nearly half (47%) of the respondents expect overall sales this year to be steady, while 15 per cent expect an increase, and 38 per cent predict a decrease in sales. Regarding expectations for retail prices, 64 per cent of respondents expect prices to remain steady. Apart from Hong Kong, respondents are most optimistic about the Chinese mainland market, followed by North America and Western Europe.

In terms of product materials, half of the respondents expect Gold- Karat white to be the most popular this year, followed by Gold- Karat rose (38%) and Gold- Karat yellow (31%). For gemstones, diamond (54%) remains the top choice, followed by pearl (17%) and ruby (15%). For product categories, survey respondents are mostly optimistic about the prospects for trendy & fashion jewellery followed by precious jewellery and jewellery for weddings and special occasions.

The survey also charted the industry's views on business operation this year. Here, 43 per cent of respondents expect that the major challenge will come from increases in operating costs, followed by sluggish mature markets (40%) and price fluctuations of raw materials (32%).*

The survey also showed that the majority of buyers have a positive impression of Hong Kong's position as a jewellery marketplace and a high regard for Hong Kong suppliers. Seventy-three per cent of respondents see Hong Kong as an ideal or very ideal market to source suitable suppliers. Buyers are also satisfied with Hong Kong jewellery suppliers, with a 90 per cent satisfaction rate in terms of quality, followed by design & technology (83%), variety (82%), craftsmanship (79%), and services (78%).

- Business beats expectation for local and international exhibitors

The two shows serve as a sourcing hub for global jewellery suppliers and buyers and help them expand their market. The Japanese exhibitor Crossfor Co. brought their patented "Dancing Stone" design to the show. Hidetaka Dobashi, CEO of the company, stated that during the show they had found 15-to-20 potential licensees from Europe, Hong Kong and the United States, and already signed licensing agreements with some of them. Customers from Europe and Southeast Asia had placed orders worth US$200,000 in total on just the first two days, exceeding the company's expectations. Alexander Leuenberger, CEO, ALine GmbH, Switzerland, has participated in every Hong Kong International Diamond, Gem & Pearl Show so far. He noted that, besides regular customers from France and the United Kingdom visiting them at the fairground to negotiate new orders, they also established contact with new customers from Hong Kong and the Chinese mainland. He believes that Hong Kong is an important hub for the company to expand their presence in Asia. Vipul Sutariya, Director of Sales & Marketing of local exhibitor Dharam, said that they had met a number of buyers from the Chinese mainland, Australia, Indonesia, Thailand, Korea, Taiwan and the US, with some of them placing orders on the spot. He believed the business generated was even better than last year.

- Overseas buyers: abundant options at the show

Increasing demand for jewellery in Asia and the Chinese mainland is a motivating force for buyers in the region. Cao Ying, from Dalian Friendship Shopping Center, said he was particularly looking for products decorated with rubies, sapphires and pearls, and had found five-to-six potential suppliers, mainly from Hong Kong. Visiting the Diamond, Gem & Pearl Show for the first time, Kirnesh Jain, Owner, Kamirus LLC, Russia, said that they had made contact with two exhibitors from Israel and India, and anticipated an order worth some US$150,000. Anand Datwani, Founder & CEO, KYRA Diamonds Fzco, UAE, said the show helped him identify trends for the coming year. He would place orders worth more than US$200,000 for engagement rings and wedding rings at the Jewellery Show, and bought US$500,000 worth of loose diamonds at the Diamond, Gem & Pearl Show. Visiting the Jewellery Show for the first time, Jason Paul Allum, Director, Allum & Sidaway Ltd, from the UK was impressed by the scale of the show and the variety of exhibits. He said the Jewellery Show is the best amongst those he has visited and he will place orders worth US$100,000 of diamond rings at the Jewellery Show to meet strong demand for engagement and wedding rings in the market.

- Staying abreast of industry trends and building networks

Other than providing a first-class platform for exhibitors and buyers to promote their products and place orders, the HKTDC also promotes intelligence-sharing about the industry and the market during its events. During the jewellery fairs, networking receptions enabled industry players to meet new contacts; seminars shed light on trends in technology, materials and products; and jewellery parades presented dazzling designs to buyers and stakeholders. A total of 35 activities were organised during the twin shows and attracted more than 5,000 participants.

Survey Outline: 
- Responding exhibitors and buyers: 1,241 - 

Expected 2016 Sales Performance
Increase                               15%
Steady                                 47%
Decrease                               38%

Expected Retail Prices Performance
Increase                               14%
Steady                                 64%
Decrease                               21%

Most Optimistic Market for Jewellery Products Next Two Years* (Top 5)
Chinese mainland                       42%
North America                          31%
Hong Kong                              29%
Western Europe                         27%
Australia and Pacific Islands          23%

Major Challenges for Business This Year*
Increase in operating costs            43%
Sluggish mature markets                40%
Price fluctuation of raw materials     32%
Keen competition within the industry   28%
Slowing growth in developing markets   24%
Difficulty in predicting market trend  14%
 
Category of Product with Most Growth Potential*
Trendy & fashion jewellery             71%
Precious jewellery                     39%
Jewellery for weddings and 
  special occasions                    24%
Collectible investment items           12%
Jewellery for men                       7%
Licensed jewellery items                5%
Jewellery items as corporate gifts      5%

Buyers' Satisfaction Rate for Hong Kong Suppliers
Quality                                90%
Design & Technology                    83%
Variety                                82%
Craftsmanship                          79%
Services                               78%
Brand                                  75%
Price                                  67%

* More than one answer is allowed

Fair websites:
- Hong Kong International Diamond, Gem & Pearl Show: http://www.hktdc.com/fair/hkdgp-en

- Hong Kong International Jewellery Show: http://www.hktdc.com/fair/hkjewellery-en

Fair photo download link: http://bit.ly/1X6H7Hq

To view press releases in Chinese, please visit http://mediaroom.hktdc.com/tc.

About HKTDC

The Hong Kong Trade Development Council (HKTDC) is a statutory body established in 1966 to promote, assist and develop Hong Kong's trade. With 50 offices globally, including 13 in Mainland China, the HKTDC promotes Hong Kong as a two-way global investment and business hub. The HKTDC organises international exhibitions, conferences and business missions to create business opportunities for companies, particularly small and medium-sized enterprises (SMEs), in the mainland and international markets. The HKTDC also provides up-to-date market insights and product information via trade publications, research reports and digital news channels. For more information, please visit: www.hktdc.com/aboutus. Follow us on Twitter @hktdc and LinkedIn

Contact:
HKTDC
Communication & Public Affairs Dept.
Joe Kainz
Tel: +852 2584 4216
Email: 

[email protected]





Source: HKTDC
Topic: Trade Show or Conference
Sectors: Trade Shows, Retail/eCommerce
http://www.acnnewswire.com
From the Asia Corporate News Network
Copyright © 2020 ACN Newswire. All rights reserved. A division of Asia Corporate News Network.