| | |
| --- | --- |
| Tuesday, 22 March 2016, 14:00 HKT/SGT | |


Source: HKTDC
Debut of "Plum, Orchid, Bamboo, Ganoderm and Rock" Masterpiece



HONG KONG, Mar 22, 2016 - (ACN Newswire) -

"A Vision of Harmony: The Art of Dominic Man-Kit Lam" exhibition opened today and continues through 30 March at Design Gallery in the Hong Kong Convention and Exhibition Centre. Around 20 of Professor Dominic Lam's masterpieces are on show at the exhibition. The highlight is the Chinese painting entitled "Plum, Orchid, Bamboo, Ganoderm and Rock" (Replica). This is the world famous collaborative masterpiece created by Masters Zhang Daqian, Zhao Shao'ang, Guan Shanyue and Professor Lam in 1982-83. This piece symbolises the unity of all Chinese people around the world.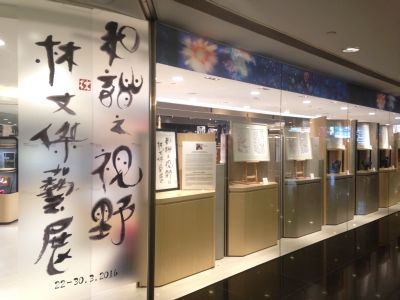 "A Vision of Harmony: The Art of Dominic Man-Kit Lam" exhibition is held at Design Gallery from today until 30 March. Around 20 of Professor Lam's masterpieces will be showcased. This exhibition aims to bring the public to Professor Lam's world of art and share his belief of harmony.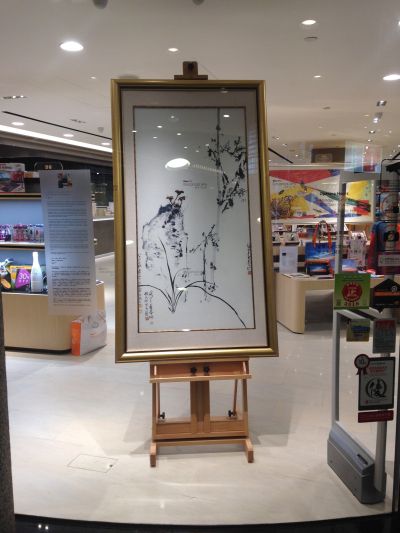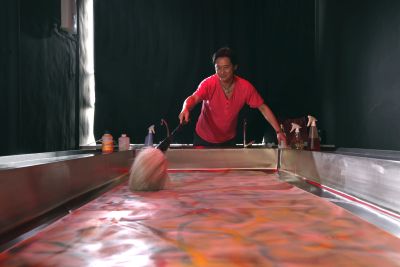 Professor Dominic Lam


Other pieces featured in the exhibition include: a series of eight poetry-calligraphy-painting works (Replica) commemorating the 50th anniversary of diplomatic relations between China and France. It is a combining eight poems by Mao Zedong with illustrations of the poems by Salvador Dali. Other pieces include the sculpture series named "Life Series" (2001) and the Chinese calligraphy painting "The Bliss of Beauty" (2015). Some of these pieces feature the unique Chinese calligraphy style of Professor Lam referred to as "Calligraphy of the Mind".

Professor Lam is an extraordinary talent in art and science and a very successful businessman and philanthropist. He is also a world renowned artist and is widely recognised as one of the eight greatest contemporary artists in Hong Kong. He has been aptly named the "Renaissance Man" by Professor Leo Ou-Fan Lee of Harvard University for his talent. He is also known for inventing Chromoskedasic Painting (or Nano Art) in 1991, a technique in which colour images are produced using only black and white photographic paper and solutions.

Professor Lam aims to bring the public to his world of arts and share his belief of harmony: "In today's world, it is only through the mutual respect and harmony between heaven, earth and man that world peace and prosperity can be attained." He hopes that through art, complemented by science and charity, mutual understanding between different people will be enhanced.

Design Gallery introduces a range of merchandise inspired by the masterpieces of Professor Lam, including watches, scarves, bags, garment items and more. He aims to share his art with the public, and to create a lifestyle which is enriched with art. During the exhibition, items from the DOMINIQUE collection by Dominic Lam are available with discounts of up to 25 per cent.

"A Vision of Harmony: The Art of Dominic Man-Kit Lam" Exhibition

Date: 22-30 March, 2016
Address: G/F, Hong Kong Convention and Exhibition Centre, 1 Harbour Road, Wan Chai, Hong Kong
Opening hours: Monday - Saturday: 10:00 am to 7:30 pm; Sunday & Public Holidays: 11:00 am to 7:30 pm
Enquiry: +852 2584 4146
Website: www.hkdesigngallery.com
Facebook: www.facebook.com/HKTDC.DesignGallery

About the artist: Professor Dominic Lam

Medical, Business and Philanthropic Endeavours

Born in Swatow, China, Professor Lam grew up in Hong Kong and began his post-secondary studies in Canada at the age of 16. He received his bachelor, master and doctorate degrees within six years and then went on to study at Harvard Medical School under two Nobel Laureates: Professors Torsten Wiesel and David Hubel. He began to teach at Harvard medical School at the age of 24. He later became Professor of Ophthalmology at the Texas Medical Center in Houston. In 1985, Professor Lam started the first biotechnology company in Texas and subsequently took it public in the US in 1988. In 1992, he invented "Edible Vaccines", which were selected as one of 10 most important developments for the 21st century by Time Magazine in 2000. He was later awarded the US High Tech Entrepreneur of the Year Award, the US Presidential medal of Merit and the Asia Society's "Man of the Year" Award.

Professor Lam also had many philanthropic endeavours. In 1982, Professor Lam brought Project Orbis, the Flying Eye Hospital to China for the first time. In 1999, Professor Lam founded the World Eye Organization (WEO) for the research, prevention and treatment of eye diseases in China. WEO has established nine eye centres in China and has organised hundreds of "WEO Tour of Vision" events to provide eye-care in poor rural regions of China.

Artistic Endeavours

Dominic Lam began painting at the age of six. As early as 1982, Lam's artistic talent was acknowledged by the great Chinese painting masters Zhang Daqian, Zhao Shao'ang and Guan Shanyue. Together they collaborated on a painting entitled "Plum, Orchid, Bamboo and Ganoderm" symbolising the fusion between Chinese cultures in China, Taiwan and Hong Kong. In 1980, he serendipitously invented the Chromoskedasic process; a new painting method in which fully coloured images are produced on black and white photographic paper by using only chemical solutions normally associated with black and white photography without any dyes or pigments. In 2000, Professor Lam was invited by the Chinese Foreign Ministry to create two large paintings entitled "A Galaxy on Earth" (8x8.8m) and "This Land is Our Land" (2.5x9.5m) for permanent display at the Diaoyutai State Guesthouse in Beijing. In 2008, Professor Lam painted "Olympic Spirit: Ode to Happiness" for the Beijing Olympic Committee. In 2011, Professor Lam was invited by the London Olympic Arts Committee as a featured artist for the 2012 Olympic Games. His painting, "Millennium Olympic Odyssey II: Form the Great Wall to the River Thames - Embrace the World", was exhibited in the Barbican Centre, London during the 2012 Olympic Games and was awarded a gold medal at the Olympic Fine Arts Exhibition. In 2012, Professor Lam had a solo exhibition at the Shanghai Art Museum and in 2013 Professor Lam was also invited to hold a solo exhibition at the Louvre in Paris, France.

Professor Lam aspires to support vision and other social welfare causes through his visual arts to bring more happiness to the world.

Photo Download link: http://bit.ly/1XJ8tUg

Media Registration: Media representatives wishing to cover the event may register on-site with their business cards and/or media identification.

To view press releases in Chinese, please visit http://mediaroom.hktdc.com/tc

Contact:

HKTDC
Communication and Public Affairs Department
Joe Kainz
Tel: +852 2584 4216
Email: joe.kainz@hktdc.org

Topic: Trade Show or Conference

Source: HKTDC
Sectors: Trade Shows, Retail & eCommerce, Design & Art
https://www.acnnewswire.com
From the Asia Corporate News Network
Copyright © 2021 ACN Newswire. All rights reserved. A division of Asia Corporate News Network.