To Become No.1 Brand of Aviation Industrial Towns
Transforms and Upgrades to Introduce New Business Momentum



HONG KONG, Sept 12, 2016 - (ACN Newswire) -

China VAST Industrial Urban Development Company Limited ("China VAST" or the "Group", Stock code: 6166), the pioneer integrated service developer in planning, investment development and operation of large-scale industrial towns in China, is going to unveil its 16,000-sq.m. International Aviation Engineering Center, in which the Group has invested RMB 330 million, at the "2016 Shijiazhuang International General Aviation Exhibition" on 13 September 2016. It was where the opening ceremony of the exhibition was held and will serve as the permanent venue for general aviation exhibitions in Northern China. It stands as a testament to the Group's determination and enthusiasm to claim its place in the general aviation industry and transform and upgrade its business.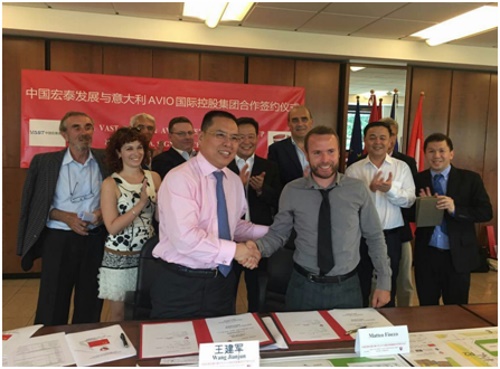 Mr. Wang Jianjun, Chairman of the Board of China VAST Industrial Urban Development Company Limited (left) and Italian-based AVIO International Group Holding S.A., sign a strategic cooperation agreement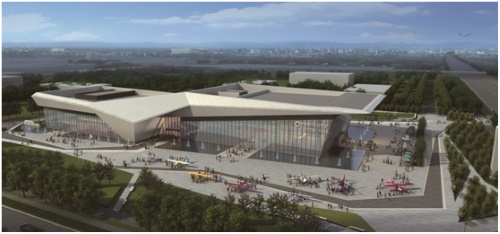 The Shijiazhuang International Aviation Engineering Center


In recent years, the Group has strived to seize the opportunities bred by national strategies in relation to the coordinated development of Beijing-Tianjin-Hebei and the Yangtze River Delta economic zone. It has established and expanded 12 industrial town park projects, with an aggregate planned area of 128 sq. km., in seven cities in Hebei Province, Anhui Province and Hubei Province. These successful experiences are being used by China Vast in the development of general aviation industrial towns. It participates in joint development projects of general aviation industrial parks in Luancheng District, Shijiazhuang and the Chengde Airport Economic Zone, with the aim of grooming aviation towns and hastening business transformation. Aviation towns are special towns with infrastructure that caters to aviation business and are equipped for including manufacturing, residential and commercial activities, as well as leisure, tourism, convention and exhibition endeavors, etc. In addition to building related infrastructure, the Group also contributes in four major areas, namely formulation of development plan for the general aviation industry, establishment of a general aviation industrial development fund, building and perfecting the talent pool, and soliciting business and investment.

Apart from signing a RMB 1 billion strategic cooperative agreement with AVIO General Aviation Helicopter Manufacturing Company(AVIO International Co., Ltd.)in Varese, Italy this July to commence a development project that spans 300 acres for producing mainly two aviation products, namely SK-1 twin power two-seat helicopter and F-22 Pinguino aircraft, the Group is also working with Primoco UAV from the Czech for a new drones production project in Shijiazhuang. The move is seen as a signpost achievement marking the accelerated development of general aviation industry in China and the establishment of an important general aviation industrial base in the country.

Mr. Wang Jianjun, Chairman of the Board of China VAST, said, "We hope that the staging of the Shijiazhuang International General Aviation Exhibition and the joint development of aircraft and new UAV with two international giants are going to aid the Group's transformation and upgrade as well as its structural reform, and ultimately provide new momentum for the long-term stable development of the Group's industrial parks. This in turn will allow it to contribute to the industrial transformation and upgrade commanded by the coordinated development of Beijing-Tianjin-Hebei and turn China VAST into the no.1 brand of aviation industrial towns in China."

At present, China's general aviation industry still has enormous room for growth relative to its counterparts in developed countries. As at the end of 2015, China had more than 300 general use airports, most of which were temporary landing/takeoff sites, and afforded 732,000 hours in total annual flight time in 2015. The US, which has the most developed general aviation industry, operated 15,000 general use airports in 2015, managing a total annual flight time of more than 28,000,000 hours. With the Chinese government directing more efforts into promoting the development of the country's general aviation industry, more than 500 general use airports are expected to be built and completed in China by 2020, with an estimated total annual flight time capacity of more than 2,000,000 hours.

Mr. Wang concluded, "There are clear signals in the country's macroeconomic policies that the general aviation industry is considered as an effective means to help the country with growth stabilization, development transformation, structural adjustment and development faciliation. To take advantage of this opportunity, the Group will step up cooperation with strategic partners such as the Aviation Industry Corporation of China, China Aviation Industry General Aircraft, Beihang, Joy Air, AVIO and Czech Incoff, with the aim of mapping out a development blueprint that integrates regional resources with such industries as aviation, tourism, property, construction, finance, culture and transportation. Our aspiration is to be able to apply our resources and service advantages to aid the construction of airports, provide ancillary facilities, secure projects, build our brand, and develop a group of small towns with aviation elements thereby create high value-added returns to shareholders."

Contact:

Strategic Financial Relations Limited
Mandy Go     +852 2864 4812  mandy.go@sprg.com.hk  
Angel Li     +852 2864 4859  angelok.li@sprg.com.hk
Elaine Wang  +852 2114 2821  elaine.wang@sprg.com.hk
www.sprg.com.hk


Topic: Press release summary

Source: China VAST Industrial Urban Development Co. Ltd
Sectors: Daily Finance, Daily News
https://www.acnnewswire.com
From the Asia Corporate News Network
Copyright © 2022 ACN Newswire. All rights reserved. A division of Asia Corporate News Network.