HONG KONG, Sept 21, 2016 - (ACN Newswire) -

The mega promotion, "In Style Hong Kong", is making its debut in the Thai capital Bangkok, starting this month. Organised by the Hong Kong Trade Development Council (HKTDC), the campaign will engage business leaders and entrepreneurs, as well as consumers in Thailand to showcase Hong Kong's vibrant lifestyle and creativity and explain how the city's world-class services can help Thai companies expand overseas, especially to the Chinese mainland.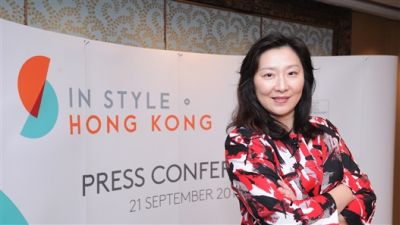 "In Style Hong Kong", a mega promotion organised by the Hong Kong Trade Development Council (HKTDC), is making its debut in the Thai capital Bangkok, starting this month.


"Thailand is the second-largest economy in Southeast Asia. As the country's capital, Bangkok is a commercial hub in Asia with a thriving retail market," said Dannie Chiu, Regional Director, Southeast Asia & India, HKTDC, at today's press conference. "With the establishment of the ASEAN Economic Community (AEC), we can expect to see greater potential for cooperation between Hong Kong and Thailand. "In Style Hong Kong" aims to strengthen economic and trading ties between Hong Kong and Thailand, capitalising on all forms of growth opportunities. We look forward to bringing the best of Hong Kong's services and products to Thailand as the HKTDC celebrates its 50th anniversary."

The "In Style Hong Kong" Symposium, on 6 October, will highlight Hong Kong's advantages as a trendsetting hub, and reveal the potential of Hong Kong services sectors as partners for Thai companies. An invitation-only Gala Dinner will be held for 450 members of the business community, while a citywide promotion will combine retail and gourmet specials at venues across Bangkok for the public.

The promotion aims to deepen the already strong trade links between Thailand and Hong Kong, which is consistently rated as the world's freest economy by the United States-based Heritage Foundation. In 2015, bilateral trade between the two economies reached US$17.18 billion.

Services under the spotlight

Rimsky Yuen, Secretary for Justice of the Hong Kong Special Administrative Region (HKSAR) Government, will officiate at the opening session of "In Style Hong Kong" (6 Oct) at the Plaza Athenee Bangkok. Following the opening session, Hong Kong business leaders including Royce Yuen, CEO, MaLogic; Jason Chiu, CEO, cherrypicks; Dr King Fai Pang, Group President and Executive Director, VTech Holdings Ltd; and Chansak Fuangfu, Senior Executive Vice President and Director, Bangkok Bank Public Company Ltd, will offer insights on how Hong Kong can facilitate the business expansion of Thai companies.

Services sector leaders and professionals from Thailand and Hong Kong will speak at five thematic sessions:

- The Fast Track to E-commerce Logistics
The establishment of the AEC is helping to fine-tune Asia's supply chain network. Meanwhile, cross-border trade, particularly e-commerce development, is also driving huge changes in the traditional logistics industry and distribution networks. Hong Kong can facilitate Thai companies to tap these opportunities. Participants of this session will include moderator, Ruth Banomyong, Associate Professor, Department of International Business, Logistics & Transport, Thammasat University; and speakers Gary So, Deputy Managing Director, Kerry Logistics; Vincent Cheung, President, BPS Global Group; Michelle Leung, Senior Vice President, Fung Omni Services; and James Chang, Chief Operations Officer, Cross-border, Lazada Hong Kong.

- RMB Internationalisation and Corporate Treasury
As the premier offshore renminbi centre with proximity to the Chinese mainland, the session will explain Hong Kong's advantages to attract companies to set up their corporate treasury centres in the city, in turn deepening the offshore renminbi capital markets. Speakers will include Yuthadej Putamanonda, Managing Director and Head of Transaction Banking, Standard Chartered Bank Thailand; Chen Shuang, Executive Director and CEO, China Everbright Ltd; Council Member, Financial Services Development Council, Hong Kong; and Kanit Si, Executive Vice President, Bangkok Bank Public Company Ltd.

- The Belt and Road Initiative: Digital Framework for Connecting Smart Cities
At this seminar, experts will share the latest developments in cross-border payment instruments, smart identity, smart-city infrastructure, interoperability and legal framework, which are essential in strengthening connectivity among smart cities. Eva Chan, Vice Chairperson, Hong Kong Public Key Infrastructure and Surangkana Wayuparb, Executive Director & CEO, Electronic Transactions Development Agency, Ministry of Information and Communication Technology, Thailand will deliver remarks. Speakers will include Clarence Hui, Senior Manager, Financial Infrastructure Development, Hong Kong Monetary Authority; Chaichana Mitrpant, Deputy Executive Director, Electronic Transactions Development Agency, Ministry of Information and Communication Technology, Thailand; and Eric Yeung, Convener, Smart City Consortium.

- Integrating Creativity with Innovation
Unlock Asia's Business Success in the Digital Era with Jason Chiu, CEO, cherrypicks Ltd as the moderator and Tommy Li, Creative Director, Tommy Li Design Workshop Ltd; Keith Lam, co-founder, Dimension Plus; and Francis Kwok, founder and CEO, Radica Systems Ltd as speakers, Thai companies will gain insights into digital marketing, including innovative branding strategies, big data and new media with art and design.

- Legal Risk Management: Key to International Trade and Investment
Experts will share tips on how Thai enterprises can protect their intellectual property and settle cross-border business disputes through arbitration in Hong Kong. Speakers will include Denis Brock, Council Member, The Law Society of Hong Kong; Pui-Ki Emmanuelle Ta, Counsel of the Secretariat, International Court of Arbitration of the International Chamber of Commerce - Asia Office; Winnie Tam, SC, Barrister-at-law, Arbitrator and Mediator, Chairman of the Hong Kong Bar Association.

(Please see the complete list of symposium speakers at http://symposium.instyle-hk.com/en/about-symposium/speakers.html.)

Gala Dinner showcasing Hong Kong: "Day and Night"

An invitation-only gala dinner, to be held on the evening of 6 October, at the Siam Kempinski Hotel Bangkok, will welcome about 450 business leaders from Thailand and Hong Kong. Under the theme, "Hong Kong: Day and Night", a "Thai Silk Crossover" fashion parade will be a highlight of the gala dinner. Six Thai silk-themed fashion collections by celebrated Hong Kong designers, Doris Kath Chan, Bonita Cheung, Koyo William Cheung, Polly Ho, Henry Lau and Mountain Yam will be showcased during the parade. Miss Hong Kong 2015, Louisa Mak has been invited to be among the models in the fashion parade. The gala dinner will also feature "Lifestyle Chemistry", an interactive display window graced by live models, to present selected lifestyle brands from the HKTDC Design Gallery. A unique culinary experience featuring Hong Kong and Thai star chefs: Albert KK Au, Group Executive Chef (Chinese Division), Lai Sun F&B Management Ltd and James Norman, Executive Chef, Siam Kempinski Hotel Bangkok, who will collaborate on a fusion menu with dedicated wine-pairing by the Hong Kong Sommelier Association.

Hong Kong lifestyle for everyone

The centrepiece of the citywide promotion is a Hong Kong galleria at the Siam Paragon shopping mall (3-9 October), spotlighting Hong Kong fashion, and lifestyle and gourmet products. Thai consumers can try on collections presented by the six Hong Kong designers and take photos using an e-wardrobe. Selected lifestyle products from the HKTDC Design Gallery via Lazada.co.th and hktdc.com Small Orders will also be featured, bringing a convenient O2O shopping experience to Thai consumers.

Complimentary tea tasting by Hong Kong's premium tea brands - Contact Design, Gianna, MingCha and OrTea(TM) - and food tasting sponsored by Lee Kum Kee, will also be available. As part of an extended In Style Hong Kong campaign, a range of products from the HKTDC's Design Gallery will be sold at Betrend and The Selected from September to December 2016, offering local consumers a chance to experience Hong Kong's design and creative excellence in lifestyle and household products.

Meanwhile, a "Hong Kong Lifestyle Products" promotion is underway in Bangkok, with well-known Hong Kong fashion brands Bossini, Episode, Esprit, Giordano, G2000 and Jessica, as well as popular retail watch brand City Chain and optical boutiques eGG and Optical 88 offering discounts and other consumer incentives. To enjoy these offers, simply pick up a Citywide Promotion coupon booklet at more than 100 participating outlets across Bangkok, featuring over 30 Hong Kong and local brands from 1 September to 31 October, or visit Hong Kong Galleria in Siam Paragon from 3 to 9 October. More exciting Hong Kong products and gourmet can also be found at online retailer Lazada Thailand and gourmet website Openrice Thailand.

Website and social media:
In Style Hong Kong http://www.instyle-hk.com
Follow us on Facebook: HKTDC Bangkok https://www.facebook.com/HKTDC.Bangkok
Follow us on LinkedIn: HKTDC https://www.linkedin.com/company/hong-kong-trade-development-council
HKTDC Photo Link: http://bit.ly/2cTPo0l

Contact:

Hong Kong:
HKTDC
Communication and Public Affairs Department
Joe Kainz
Tel: +852 2584 4216
Email: joe.kainz@hktdc.org

Bangkok:
Vero Public Relations
Piyachat Nambundid
Tel: +66 2684 1552-2 ext 21
Mob: +66 86 093 9019         
Email: piyachat@veropr.com

Papatsorn Pisutpunya
Tel: +66 2684 1551 ext. 19
Mob: +66 89 499 8349
Email: papatsorn@veropr.com

Topic: Trade Show or Conference

Source: HKTDC
Sectors: Trade Shows, Retail & eCommerce, Daily News, Advertising, PE, VC & Alternatives
https://www.acnnewswire.com
From the Asia Corporate News Network
Copyright © 2023 ACN Newswire. All rights reserved. A division of Asia Corporate News Network.