| | |
| --- | --- |
| Monday, 7 November 2016, 19:00 HKT/SGT | |


Source: HKTDC
MoU, Exhibition & Networking to Foster Closer Business Links



HONG KONG, Nov 7, 2016 - (ACN Newswire) -

The fourth HKTDC Lifestyle Expo in Dubai opened yesterday (6 November) and continues through today at the Hyatt Regency Dubai. Jointly organised by the Hong Kong Trade Development Council (HKTDC) and the Department of Commerce of Guangdong Province, the Lifestyle Expo features a wide range of stylish products from more than 100 Hong Kong and mainland Chinese companies.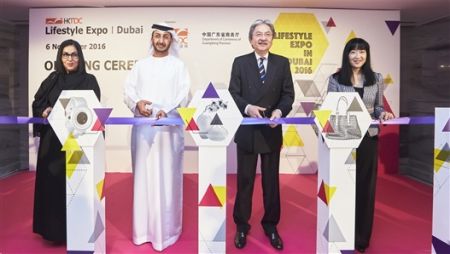 Opening ceremony for the fourth edition of the HKTDC Lifestyle Expo in Dubai (6/11). Officiating guests: HKSAR Financial Secretary John Tsang (second right), Undersecretary of the Ministry of Economy, UAE, HE Abdullah Ahmed Al Saleh (second left), HKTDC Executive Director Margaret Fong (first right) and Consul-General, Consulate General of the United Arab Emirates in Hong Kong Nabila Abdelaziz Nasir Saeed Alshamsi



A highlight of the expo was yesterday's (6 November) networking luncheon organised by the HKTDC and Hong Kong Special Administrative Region (HKSAR) Government and supported by the Ministry of Economy, United Arab Emirates. The luncheon was attended by The Hon John Tsang, Financial Secretary of the HKSAR and His Excellency Abdullah Ahmed Al Saleh, Undersecretary of the Ministry Sultan Al Mansouri, and more than 300 business leaders.

Belt and Road opportunities

Speaking at the networking luncheon, Mr Tsang said the grand and visionary Belt and Road Initiative will become "a driving force of our global economy in this 21st century. Dubai is the business hub of the Gulf Region and the gateway to the fast-rising, resource-rich Middle East." He added that Hong Kong is the ideal gateway to the Chinese mainland and Southeast Asia. "Both the UAE and Hong Kong have what it takes to be a key business and logistics hub for the Belt and Road region. There is huge and clear synergy in expanding business collaboration between Hong Kong and the UAE, to achieve more under the Belt and Road Initiative."

In her remarks, Margaret Fong, Executive Director, HKTDC, highlighted the importance of the Belt and Road Initiative and the immense opportunities presented for Hong Kong and Dubai. "Hong Kong and the HKTDC's engagement with the Middle East are set to deepen further as a new 21st Century model for globalisation emerges - a model that takes its cue from the ancient Silk Road and is driven by the new Belt and Road Initiative."

The China-led Belt and Road Initiative, covers more than 60 countries spanning Asia, the Middle East, Africa and Europe. It represents a huge market of about 4.4 billion potential consumers and accounts for over 35 per cent of global merchandise trade.

Ms Fong added that turning this grand vision into real business deals and economic growth will require a high degree of collaboration. "Hong Kong stands as a pivotal node along the Belt and Road - a city that serves as an entry point to the Chinese mainland and a business and financial centre in Asia, while the UAE is regarded as one of the best positioned countries for implementing the Belt and Road Initiative with its prime location and sophisticated economy."

High-level delegation to explore opportunities in Dubai

Concurrently, Mr Tsang is leading a high-level delegation to visit Dubai (6-7 November). Business leaders from finance, information and communications technology, infrastructure development and real estate services and logistics sectors form the 30-plus delegation.

Among them are Chairman of Financial Services Development Council Laura Cha, President of Hong Kong University of Science and Technology Professor Tony Chan, Chairman & Chief Executive Officer of China Mobile International Limited Dr Li Feng, Executive Director of Gammon Construction Limited Kevin O'Brien, Chairman of Crown Worldwide Holdings Limited James Thompson, the Deputy Chairman of Federation of Hong Kong Industries Jimmy Kwok and the Vice Chairman of the Hong Kong Exporters' Association Benson Pau.

MoU strengthens business ties between Hong Kong and UAE

Mr Tsang called on the Minister of Economy, UAE, HE Sultan Bin Saeed Al Mansouri this morning (7 November). Both sides agreed to boost bilateral trade and enhance cooperation to seize the new opportunities under the Belt and Road Initiative in various areas, including finance, logistics and maritime transport, professional services, cross-border investment, infrastructure development and international trade.

In their presence, a memorandum of understanding (MoU) between the Ministry of Economy, UAE, and the HKTDC was signed to promote trade, investment, entrepreneurship, and small and medium-sized enterprise cooperation between Hong Kong and the UAE. Under the MoU, Hong Kong and the UAE will foster closer cooperation on the Belt and Road Initiative and encourage UAE companies to participate in related activities.

Big on small orders

The Lifestyle Expo features two main zones: the Style zone and the Home and Living zone, showcasing quality products ranging from consumer electronics and ICT products, gifts & premium, household products & electrical appliances to fashion and fashion accessories, and watches & clocks.

In addition, the hktdc.com Small Orders showcase at the expo allows buyers to place small quantity orders of between five and 1,000 pieces. This enables companies, especially small- and medium-sized enterprises, to test the market for new products with minimal risk.

Over 1,000 importers, distributors, mass retailers, mail-order houses, department stores and specialised stores from the UAE, Iran, Africa and other neighbouring countries and regions are taking part in the two-day Lifestyle Expo in Dubai.

Several e-tailers and importers from the region are taking part at the "reverse exhibition" to meet with Hong Kong and mainland suppliers to explore future cooperation.

Hong Kong-UAE trade links

The UAE is Hong Kong's largest trading partner in the Middle East. The value of total bilateral trade in 2015 was over US$10 billion. In the first nine months in 2016, Hong Kong's exports to the UAE were valued at US$6 billion, representing a 16 per cent year-on-year increase.

To view press releases in Chinese, please visit http://mediaroom.hktdc.com/tc

Photo Download: http://bit.ly/2eE5zCR

About HKTDC

The Hong Kong Trade Development Council (HKTDC) is a statutory body established in 1966 to promote, assist and develop Hong Kong's trade. With 50 offices globally, including 13 in Mainland China, the HKTDC promotes Hong Kong as a two-way global investment and business hub. The HKTDC organises international exhibitions, conferences and business missions to create business opportunities for companies, particularly small and medium-sized enterprises (SMEs), in the mainland and international markets. The HKTDC also provides up-to-date market insights and product information via trade publications, research reports and digital news channels. For more information, please visit: www.hktdc.com/aboutus. Follow us on Twitter @hktdc and LinkedIn

Contact:
HKTDC
Communication and Public Affairs Department
(Dubai) Sarah Al Jundi
Tel: +971 4 3298975
Email: 

[email protected]

 

(Hong Kong) Joe Kainz
Tel: +852 2584 4216
Email: 

[email protected]




Source: HKTDC
Topic: Trade Show or Conference
Sectors: Trade Shows, Retail/eCommerce, Travel & Tourism
http://www.acnnewswire.com
From the Asia Corporate News Network
Copyright © 2020 ACN Newswire. All rights reserved. A division of Asia Corporate News Network.