| | |
| --- | --- |
| Wednesday, 9 November 2016, 08:50 HKT/SGT | |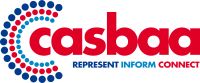 Source: CASBAA



MACAU, Nov 9, 2016 - (ACN Newswire) -

The CASBAA Convention annual conference got underway today at its exciting new venue, Studio City, Macau. This year marks the 25th anniversary of CASBAA which is dedicated to representing key players from the cable and satellite broadcasting industry under the motto 'represent, inform, connect'. Today's sessions looked at the deals being made in the industry today, as well as the tools to aggregate and measure audiences. As ever, content was hotly discussed, with a focus on how content is evolving in the digital age.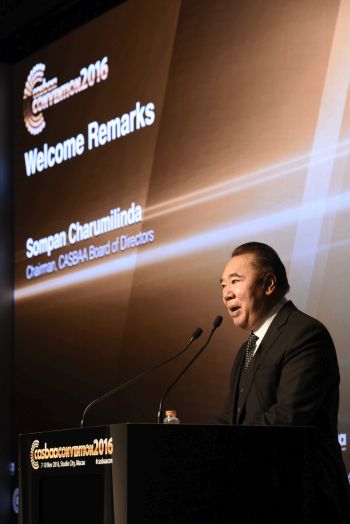 CASBAA Chairman, Sompan Charumilinda, kicks off at the CASBAA Convention 2016 and congratulates the 25th anniversary of CASBAA



Following opening remarks by Sompan Charumilinda, Chairman for CASBAA, Irwin Gotlieb, the Global Chairman for GroupM, was first to take to that stage to discuss the changing nature, and measurement of viewing behaviors. He also touched upon how the way to reach audiences via the marketing funnel is the same but a granularity of data can now inform decisions for each stage of the funnel. He underscored how media will continue to play a role becoming more targetable, addressable and eventually part of the transaction process. Also on the subject of measurement, Ben Reneker of S&P Global Market Intelligence highlighted how machine-driven predictive measurement models are now able to inform strategic decisions on marketing and investment.

Oliver Wilkinson, managing director for PricewaterhouseCoopers, provided statistics to illustrate that pay-TV is not dead, despite what the headlines say, and that it remains a primary form of entertainment. Yet, with digital players increasingly on their turf, content and channel providers should look to diverse and digitalize their offer. Doing deals in China was the topic for Bennett Pozil, EVP of East West Bank, who discussed the migration of content both ways as well as some of the pros and cons of doing business in China. Vivek Couto, Executive Director at Media Partners Asia, flagged the rise of digital players with the forecast that pay-TV growth would slow to about 3% as content providers looking to establish more direct to consumer offerings.

Reaching a vast audience through tailored video and gaming content was the topic for Chad Gutstein, CEO of Machinima who highlighted that their most valued content was when viewers felt they had a connection to the creation of it. On a video note, Ricky Ow from Turner International predicted that Machinima's e-Sports will be as successful as the English Premier League.

James Schwab, Co-President of VICE announced the opening of the company's first full-service office in Asia, in Jakarta, Indonesia. He discussed how their local content policy over digital channels has helped the company grow exponentially over the last few years. The recent move into TV has been important for VICE as it gives them the ability to invest more in content.

Localized and Asian content was flagged by Henry Tan, COO of Astro, for being one of the main drivers that has seen the provider defy the trend of decline in time spent on TV, reporting healthy growth in this respect. A true understanding of the complexities of the Malaysia audience demographic is key to content that works for Astro's market. Tan also discussed the effectiveness of current measurement models with Nick Burfitt, MD, APAC, Kantar Media. On the global stage, compelling content that tells a great story is the wining formula for Thom Beers of BoBCat whose male-oriented programmes like "Deadliest Catch" and "Monster Garage" have achieved success the world over. Norman Lao, VP International of Leyard showcased how MR - mixed reality comprising a kind of virtual reality that reacts with real physical events - will shape the content of the future.

Piracy cropped up in conversation throughout the day with opinions polarized on whether this would continue to be an issue. In a session devoted to the subject, Avigail Gutman, Programme Director, Operational Security, CISCO, advised that the industry needed to 'follow the money' in combating piracy. Lucia Rangel, VP Latin America, Asia Pacific & Worldwide Game Strategy and Operations Warner Bros. agreed the problem was worldwide and that ISD boxes formed a critical part of the problem as many consumers were not even aware of the illegality of these and other streaming mechanics. A global effort was needed to fight the pirates, she commented. Desmond Chan, Deputy GM, Legal and International Operations, TVB highlighted the tangible impact piracy had already made to their business. Nickhil Jakatdar of Vuclip talked about how the content provider's strategy was to provide a better experience than that available from pirate outfits.

Different models of OTT content streaming were also a hot topic. Jakatdar illustrated how Vuclip's Viu platform was a direct to consumer offering while David Weiland, EVP Asia, BBC Worldwide discussed how the 'Beeb' had instead opted to stream their new OTT app via their operator, Starhub. With all the different streaming options available, it was concluded that consumers could hardly keep up and would want a 'one-stop' shop when seeking out their viewing content.

"Today's Convention was a hot bed of debate on key issues facing our members today," said Christopher Slaughter, CEO of CASBAA. "With issues on deals, revenue, appealing content, measurement, piracy and OTT streaming models all on the agenda, we hope our delegates found the sessions useful and informative, and that the information shared will be of help as they shape their business models for the fast-changing landscape in which they operate."

The CASBAA Convention 2016 is generously supported by sponsors including: ABS, APT Satellite, AsiaSat, Australia Channel, BBC Worldwide, Brightcove, Celestial Tiger Entertainment, Cisco, CLUB TV, Conax, Deutsche Welle, Diagnal, Disney, Eutelsat, FashionTV, Fenez Media, Fox Networks Group, France 24, Haldanes, Ideal Group, INsight, InvestHK, Irdeto, Kantar Media, Leyard, Lightning International, Love Nature, Macao Trade and Investment Promotion Institute, Macau Cable TV, MEASAT, MX1, Olswang, ONE Championship, PCCW Media, RTL CBS Asia Entertainment Network, Scripps Networks Interactive Asia Pacific, SES, Sony Pictures Television, Telstra, Time Warner, TrueVisions, Turner Asia Pacific, TV5MONDE, Verimatrix, Viaccess-Orca, VICELAND and World Teleport Association.

Patrons for the CASBAA Convention 2016 include: A+E Networks, Astro, Bloomberg Television, Discovery Networks Asia-Pacific, Encompass Digital Media, HBO, INVIDI Technologies, NBC Universal International Networks, PwC and STAR India.

For further information about the CASBAA Convention 2016, please visit www.casbaaconvention.com.

About CASBAA - www.casbaa.com

CASBAA is the association for multichannel TV in Asia. Established in 1991 CASBAA has grown with the industry to include digital multichannel television, content, platforms, advertising and video delivery. Covering Asia and encompassing some 500 million connections within a footprint across the region, CASBAA works to be the authoritative voice for multichannel TV promoting even-handed and market-friendly regulation, IP protection and revenue growth for subscription and advertising, while promoting global best practices. To view the full list of CASBAA members please visit www.casbaa.com/membership/.

Media contacts-

Cynthia Wong
Member Relations & Marketing Director
CASBAA
Tel: +852 3929 1711
Email:

[email protected]



Daphne Li / Rouhui Wong
Ogilvy Public Relations
Tel: +852 2884 8227 / +852 2884 8908
Email:

[email protected]

/

[email protected]




Topic: Press release summary
Source: CASBAA
Sectors: Broadcast, Film & Sat, Satellite
https://www.acnnewswire.com
From the Asia Corporate News Network



Copyright © 2021 ACN Newswire. All rights reserved. A division of Asia Corporate News Network.