Participate the Equity of Jinchuan International and Establish Several Joint Ventures in Shanghai for Comprehensively Carrying Out Trading Commodities, Factoring Business and Financial Leasing




HONG KONG, Dec 6, 2016 - (ACN Newswire) -

Jinchuan Group International Resources Co. Ltd (the "Company", together with its subsidiaries, collectively referred to "Jinchuan International", HK:2362) entered into a Strategic Framework Agreement with Junhe Holdings Limited ("Junhe Holdings"), in which Junhe Holdings will make equity investment in the Company by either subscribing for new shares of the Company or by acquiring existing shares of the Company, and establish several Joint Ventures in Shanghai with Junhe Holdings for different businesses, including a trading joint venture for trading commodities including non-ferrous metals, precious metals and chemical raw materials, a factoring joint venture and a financial leasing joint venture.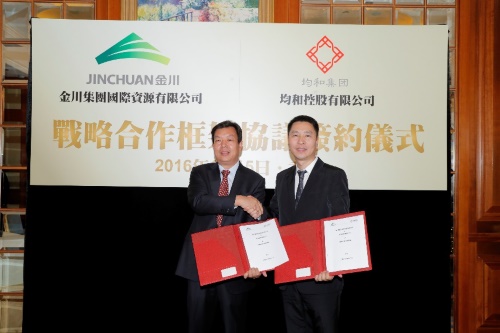 Mr. Chen Dexin, Executive Director and CEO of Jinchuan International (left) Mr. Yang Ying, Vice President of Junhe Group (right)


Junhe Holdings is a 84.14% subsidiary held by Shanghai Junhe Group Co., Ltd ("Junhe Group"), which is an integrated conglomerate established in Shanghai and a one of the well-known private enterprises in the mainland of China which engages in various segments of business as supported by Shanghai's robust investment environment and capital flow, including (i) the global trading of non-ferrous metals, precious metals, energy products (such as petrochemicals, wood pulp, coal, mineral resources and other international and domestic trades); (ii) industry investment (such as manufacturing and sales of aviation equipment and heavy machinery); (iii) financial services (such as financial leasing, factoring, fund management, internet finance and supply chain finance). Junhe Group ranked 39th amongst the top 500 private enterprises in the PRC and 23rd amongst top 100 enterprises in Shanghai this year. It also received the title of "Enterprise of Contractual Performance and Creditworthiness" from the State Administration for Industry and Commerce of the PRC on numerous occasions and ranked 2nd amongst the top 100 private enterprises in Shanghai.

Mr. Chen Dexin, Executive Director and CEO of Jinchuan International said, "The cooperation with Junhe Holdings will leverage competitive advantages of both parties, realizing organic integration of brands, channels, resources, capital and talents and achieving strategic and synergetic effect as a whole. The move today signifies two companies cooperating to build for future. It also actualizes the Jinchuan culture of "honesty" and "win-win", alliance of two strong forces and mutual beneficial rationales. It even lays a strong foundation for healthy growth with stability and sustainability."

About Jinchuan Group International Resources Co. Ltd
Jinchuan International is a Hong Kong listed company established by the Jinchuan Group Co., Ltd for the purposes of accelerating the establishment of the mining group's multinational operational strategy and elevating Jinchuan Group's global investing, financing and operating capabilities. By virtue of Hong Kong's advantages as an international financial and trade center, and through the Company's focus on an internationalized operating strategy, the Company has established itself as the flagship platform for the Jinchuan Group to develop its overseas non-ferrous metal mining business. The Company is primarily engaged in the development of overseas mining resources projects, capital operation and assets management of overseas mining resources projects, as well as trading of raw materials and products of nickel, copper, cobalt and precious metals.

About Jinchuan Group Co., Ltd ("Jinchuan Group")
Jinchuan Group Co., Ltd, founded in 1958, is a state-owned enterprise with its majority interest held by the People's Government of Gansu Province. Jinchuan Group specializes in mining, concentrating, metallurgy, chemical engineering and further downstream processing. Jinchuan Group is widely recognized as a renowned mining corporation and is the fourth largest nickel producer and second largest cobalt producer in the world and the third largest copper producer in the PRC.

Media Contacts:
Angel Yeung
Jovian Communications
Tel: +852 2581 0168
Fax: +852 2854 2012
Email: jinchuan@joviancomm.com


Topic: Press release summary
Source: Jinchuan Group International Resources Co., Ltd.
Sectors: Metals & Mining
https://www.acnnewswire.com
From the Asia Corporate News Network



Copyright © 2023 ACN Newswire. All rights reserved. A division of Asia Corporate News Network.