| | |
| --- | --- |
| Monday, 20 February 2017, 18:00 HKT/SGT | |


Source: HKTDC
About 4,480 Exhibitors to Showcase Exquisite Gems and Jewels



HONG KONG, Feb 20, 2017 - (ACN Newswire) -

The world's largest jewellery marketplace will be formed in Hong Kong next week. The 4th edition of HKTDC Hong Kong International Diamond, Gem & Pearl Show opens on 28 February and continues through 4 March at the AsiaWorld-Expo, while the 34th HKTDC Hong Kong International Jewellery Show will be held at the Hong Kong Convention and Exhibition Centre (HKCEC) from 2 to 6 March. The twin shows gather a record of about 4,480 exhibitors from 53 countries and regions.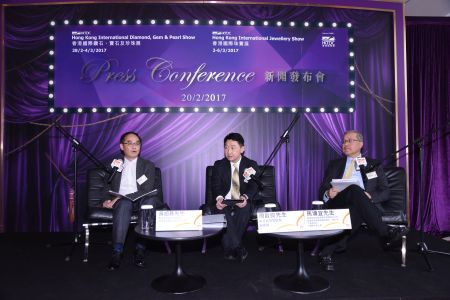 (From left) Kent Wong, Chairman of the HKTDC Jewellery Advisory Committee, Benjamin Chau, Deputy Executive Director, HKTDC and Lawrence Ma, Chairman of the shows' organising committee


Positive sentiment for the jewellery industry

"Despite global economic uncertainties, the strong participation of exhibitors and buying missions at the shows is evidence that the jewellery industry remains optimistic about business prospects and sees Hong Kong as an important sourcing platform for jewellery and raw materials," said Benjamin Chau, Deputy Executive Director, HKTDC. "Recent figures from the United States show that the economy there is gradually recovering and jewellery retailers are registering good sales. And, with the "double spring with a leap month" making the current Year of the Rooster a good year for marriage according to the Chinese calendar, the demand for jewellery for the local and Chinese mainland markets is expected to rise. Undoubtedly the industry must also keep an eye on commodity price fluctuations and the trade policy of the US." The HKTDC will organise more than 110 buying missions comprising over 7,400 companies from some 70 countries and regions to the shows this year.

Exquisite gems and jewels at AsiaWorld-Expo

This is the fourth year that the HKTDC is using the "two shows, two venues" format. At the AsiaWorld-Expo, the Hong Kong International Diamond, Gem & Pearl Show features three signature zones, including Hall of Fine Diamonds, gathering top diamond suppliers, Treasures of Nature, where precious gemstones will be showcased, and Treasures of Ocean, presenting exquisite pearls. The show will also feature 22 group pavilions showcasing dazzling diamonds and gemstones from Australia, the Chinese mainland, Colombia, Germany, India and Thailand. Representative industry institutions, such as Antwerp World Diamond Centre, International Colored Gemstone Association and The Tanzanite Foundation will also set up pavilions to introduce various raw materials for jewellery.

Global exhibitors to showcase luxury finished jewellery

Opening next Thursday (2 March), the Hong Kong International Jewellery Show will gather renowned local and global jewellery brands as well as new designer brands. At the Hall of Fame, buyers can find renowned jewellers from all over the world, including The Fifth Season by Roberto Coin and Giorgio Visconti from Italy, Kuwayama from Japan and Highend from Thailand. Other exhibitors include Frank Wu and Lao Feng Xiang from the Chinese mainland, as well as local brands CO88 COLLECTION and Infinity Cross.

The Hall of Extraordinary will present a series of high-end fine jewellery pieces. The local brand Butani Jewellery will showcase a pear-shaped yellow diamond necklace. Valued at HK$25,000,000, the necklace has a 57-carat pear-shaped yellow diamond pendant as its centrepiece, accompanied by oval-shaped blue diamonds, pear-shaped pink diamonds and radiant white diamonds. The Belgian exhibitor Sanket will bring a series of jewellery made with "Scintillating Diamonds" set using unique techniques, which allow the diamonds to "float" freely delivering a sparkling effect. Other highlight brands in the zone include Yoko London from the United Kingdom, Crossfor from Japan, which has patented the "Dancing Stone" setting technique, Hans D. Krieger from Germany as well as Gembros Jewelry from Korea.

Global buyers demand designer brands with creative and bold new designs. The Hong Kong International Jewellery Show will also feature the Designer Galleria presenting hip collections from designers from all over the world. Other themed zones include World of Glamour, which is dedicated to Hong Kong jewellers, Wedding Bijoux, where bridal jewellery take centre stage, Treasures of Craftsmanship, celebrating the blend of jewellery and art, as well as Antique & Vintage Jewellery Galleria, which displays jewellery from bygone eras. The show will feature 20 group pavilions from the Chinese mainland, France, Germany, Italy, Israel, Peru and so on, as well as the newcomers Portugal and the Philippines.

Networking activities abound

To enrich the buyers' sourcing experience and facilitate industry exchange, a number of events will be organised during the twin shows. The highlight of the Jewellery Show is the Gala Dinner on the first day (2 March). Under the theme of "Tribute to Movie Queens", guests will enjoy menu prepared by Robert Fontana, ASEAN Chairman of Disciples Escoffier International Asia, while appreciating jewellery parades and other performances. The award presentation ceremony of the biennial International Jewellery Design Excellence Award will also be held on the same evening. A number of jewellery parades will also be held during the show period to allow buyers to examine selected items from exhibitors. Jewellery craftsmanship demonstrations and themed seminars will help the industry to get a hold of the latest market information as well as crafts and product trends.

The 18th Hong Kong Jewellery Design Competition, jointly organised by the HKTDC, Hong Kong Jewellers' & Goldsmiths' Association, Hong Kong Jewellery & Jade Manufacturers Association, Hong Kong Jewelry Manufacturers' Association and Diamond Federation of Hong Kong, China Ltd, received 260 entries this year. The competition aims to promote local jewellery design and enhance the industry's design capability. The theme of this year's competition is "Follow Your Heart". Winning pieces will be presented to global jewellers and buyers during the International Jewellery Show (Hall 1D Concourse) to showcase the best of local jewellery designs.

In order to facilitate buyers transiting between the two shows, during the fair period of the Hong Kong International Diamond, Gem & Pearl Show, free shuttle bus service to and from AsiaWorld-Expo and downtown areas (including HKCEC) will be provided. Please consult the fair website for more details.

Fair websites:
HKTDC Hong Kong International Jewellery Show: http://www.hktdc.com/hkjewelleryshow
HKTDC Hong Kong International Diamond, Gem & Pearl Show: http://www.hktdc.com/hkdgp

Photo Download: http://bit.ly/2lBI7KO

Media Registration:
Media representatives wishing to cover the event may register on-site with their business cards and/or media identification.

To view press releases in Chinese, please visit http://mediaroom.hktdc.com/tc

Contact:

HKTDC
Communication and Public Affairs Department
Joe Kainz
Tel: +852 2584 4216
Email: joe.kainz@hktdc.org

Topic: Trade Show or Conference

Source: HKTDC
Sectors: Trade Shows, Retail & eCommerce
https://www.acnnewswire.com
From the Asia Corporate News Network
Copyright © 2021 ACN Newswire. All rights reserved. A division of Asia Corporate News Network.