| | |
| --- | --- |
| Sunday, 12 November 2017, 18:00 HKT/SGT | |


Source: HKTDC
Mainland online retail to gain momentum



HONG KONG, Nov 12, 2017 - (ACN Newswire) -

With eyewear now a key style accessory, the market is among the fastest-growing industries. Organised by the Hong Kong Trade Development Council (HKTDC), the 25th edition of the Hong Kong Optical Fair (8-10 November) invited two experts from GfK, a renowned German research institute specialising in market and consumer behaviour research, to analyse the latest market trends and consumer habits in the European and Chinese mainland markets, offering important insights for industry players and buyers attending the fair.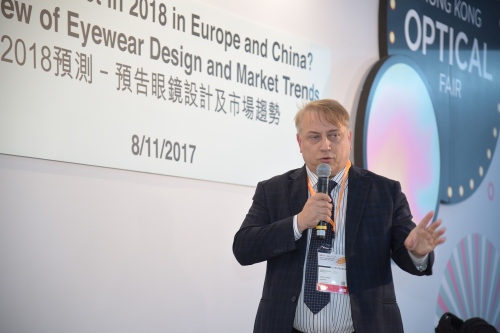 Gianni Cossar, Global Director Optics & Eyewear, GfK Retail & Technology Italy, GfK Consumer Choices, says the European and Chinese eyewear markets are flourishing and that online retail remains a fast-growing trend.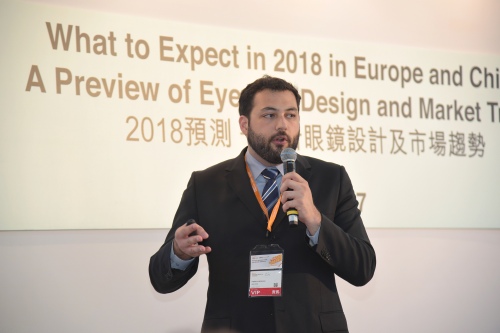 Fabricio Medeiros, APAC Regional Manager Optics & Eyewear, GfK Retail & Technology, GfK Consumer Choices, urges small-scale retailers to embrace online retail trends and cater to consumer trends when refining their business strategy.



Online retail a fast-growing trend

Gianni Cossar, Global Director Optics & Eyewear, GfK Retail & Technology Italy, GfK Consumer Choices said that despite the persistently weak European economy during 2008 to 2016, sales of optics products were relatively strong during the same period. Spectacle lenses recorded comparatively strong growth in sales, with a 12 per cent increase in average sold price. Contact lenses also recorded satisfactory sales and ranked second in growth. According to retail figures for the 2016 European optics market, pure optic products comprised the largest market share at 30.4 per cent, followed by womenswear brands, fashion and accessory brands, optic design brands and sports brands.

"The new generation has grown up in a digital environment, and their consumer habits are also changing." Mr Cossar said that as the new generation is accustomed to shopping online, it may impact the consumer decision-making process of their families. It is expected that by 2020, the digital generation of consumers will comprise 40 per cent of the total consumers in the United States, Europe and the four BRIC countries.

Bright prospects for high-end eyewear

Mr Cossar noted that in Asian markets such as the Chinese mainland and India, spectacle frames are the top-selling product category, as spectacle frames are regarded as fashion trends and stylish accessories. "Sunglasses have relatively poor sales in Europe, but they are highly sought after in the Chinese mainland market, where it has recorded strong positive growth." He noted that mainland consumers are particularly fond of brands that represent a sophisticated lifestyle. Among the 10 most recognised brands by Chinese consumers, six are luxury brands, with Chanel occupying the top spot on the list. International sports brands also hold considerable interest to Chinese consumers.

Fabricio Medeiros, APAC Regional Manager Optics & Eyewear, GfK Retail & Technology, GfK Consumer Choices, said that China's slower GDP growth is still higher than the global average, with the country's population stabilising. The two sets of data reflect that the country's population has grown increasingly wealthy, and its purchasing power is expected to continue rising. Citing GfK's combined research data of 10 major mainland cities, he pointed out that the mainland eyewear retail market is performing strongly. From 2013 to 2016, retail sales (excluding online retail) of various categories, including sunglasses, spectacle frames, contact lenses, and lenses, all recorded continuous growth.

Mr Medeiros noted that local brands and trade brands make up the vast majority of eyewear retail products on the mainland, comprising 83 per cent of the total number of products. However, he believed that international brands, particularly high-end products, still have a strong presence in the market. "The Chinese mainland market is demonstrating significant purchasing power, and it has tremendous potential," he particularly noted the bright prospects for high-end eyewear products.

Changing consumption patterns

With online retail prevalent in the Chinese mainland, many trendy mainland eyewear brands, including Inmix, Loho and Leimi, have opened online stores and are using social media marketing. Their products are competitively priced at about 20 per cent lower than the products available in physical stores, sparking intense competition. He urged small-scale retailers to embrace online retail and cater to consumer trends when refining their business strategy.

"Retailers may consider enriching the product variety in their physical stores and the consumer experience, to distinguish themselves from online retail. It will help further expand their room for profit." Mr Medeiros added that from the perspective of consumer behaviour theory, Chinese consumers are placing ever-great emphasis on shopping locations. Their preference for shopping in popular locations has led to many eyewear retailers moving from street-level stores to shopping centres.

Fair Website: hkopticalfair.hktdc.com
Photo Download: http://bit.ly/2jdXGc6

About HKTDC

The Hong Kong Trade Development Council (HKTDC) is a statutory body established in 1966 to promote, assist and develop Hong Kong's trade. With 50 offices globally, including 13 in Mainland China, the HKTDC promotes Hong Kong as a two-way global investment and business hub. The HKTDC organises international exhibitions, conferences and business missions to create business opportunities for companies, particularly small and medium-sized enterprises (SMEs), in the mainland and international markets. The HKTDC also provides up-to-date market insights and product information via trade publications, research reports and digital news channels. For more information, please visit: www.hktdc.com/aboutus. Follow us on Twitter @hktdc and LinkedIn

Contact:
HKTDC
Communication and Public Affairs Department
Christine Kam
Tel: +852-2584-4514
Email: 

[email protected]




Source: HKTDC
Topic: Trade Show or Conference
Sectors: Retail & eCommerce
http://www.acnnewswire.com
From the Asia Corporate News Network
Copyright © 2020 ACN Newswire. All rights reserved. A division of Asia Corporate News Network.