--Strategically Strengthens Cooperation to Operate Preschool Centres under the MindChamps Brand in China--




HONG KONG, Feb 21, 2018 - (ACN Newswire) -

China First Capital Group Limited ("CFCG"; HKEx:1269) entered into a Joint Venture agreement on 15 February 2018 with Singapore's MindChamps PreSchool Limited ("MindChamps PreSchool") to establish a China Preschool Fund (the "Fund"), with its investment objective of establishing and acquiring preschools in the People's Republic of China (the "PRC").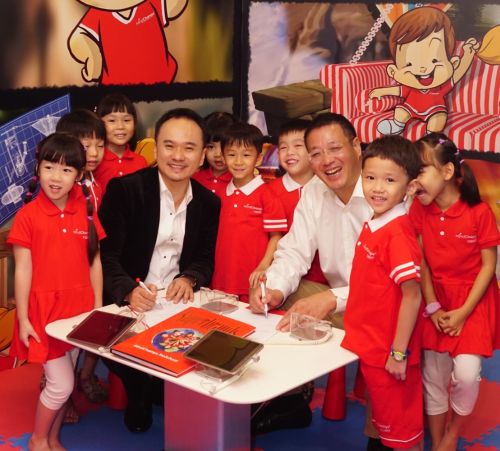 Mr. David Chiem, Founder CEO & Executive Chairman of MindChamps PreSchool Limited, and Dr. Wilson Sea, Chairman & Executive Director of China First Capital Group Limited, having fun with young Champs


Pursuant to the Agreement, the China Preschool Fund targets to raise an initial tranche of US$200 million. The Limited Partners of the China Preschool Fund will comprise third party investors and directly or indirectly owned companies of the Group and MindChamps PreSchool, and the General Partner will be a company owned by the Group and MindChamps PreSchool as to 50% each. While First Capital Asset Management Limited (a corporation licensed to carry out type 1, 4, 9 regulated activities under the SFC), will be appointed as the investment advisor to the Fund.

Pursuant to the Agreement, an Operation Company to be owned 51% by the Group and 49% by MindChamps PreSchool will serve as MindChamps PreSchool's master franchisee in the PRC to facilitate, among others, the operation, training and upgrading of the newly established or acquired preschools under the "MindChamps" brand in the PRC.

MindChamps PreSchool is the largest operator and franchisor of premium range preschool centres in Singapore and is listed on the Main Board of Singapore Exchange Securities Trading Limited (CNE.SI). It has a global presence that includes premium preschools and enrichment centres in Singapore, Australia, the United Arab Emirates and the Philippines, and it is also expanding its preschool network to China, Vietnam and Myanmar. CFCG, holding 4.99% of the issued shares of MindChamps PreSchool, has been the cornerstone investor of MindChamps PreSchool since its initial public offering in Singapore in November 2017.

The establishment of the joint venture is expected to provide the Group with investment opportunities arising from the expansion of school network of MindChamps Preschool in the PRC; and the China Preschool Fund and the Operation Company will serve as a strategic platform of the Group's education operation business in the PRC. This will enable CFCG to bring high quality education from Singapore into China, as well as fulfil the Group's commitment of providing the best education from around the world to students in China.

Dr. Wilson Sea, Chairman and Executive Director of CFCG, said, "China First Capital Group has been looking all over the world for the best education solutions and we are very confident that MindChamps PreSchool can help elevate China's preschool standards to a whole new level. We highly value the ties with MindChamps PreSchool and see the joint venture as an important strategic platform of the Group's education operation in China. The Group is fully committed to working closely with MindChamps PreSchool on this latest joint endeavour and believes that the cooperation will reap long term benefits to the Group."

Mr. David Chiem, Founder CEO and Executive Chairman of MindChamps PreSchool Ltd, said, "At the official Olympic Cultural Event 'What Makes a Champion?' Forum of the 2008 Beijing Olympics 10 years ago, Professor Snyder, who was leader of the research on the topic, came to the conclusion that the Champion Mindset can be learned. Since then, the professor and our team have integrated the Champion Mindset into our unique early childhood curriculum. Backed by solid research findings and successful implementation in Singapore, we are excited to now launch this breakthrough education model in China and are confident that it will make a difference in learning to children in China and the world at large."

About China First Capital Group (HKEx:1269)

China First Capital Group focuses on consolidating education industry operation and our advantages from owning various financial service licenses. Through the coordination of financial services businesses, the Group strives to establish an operation, investment and financing platform for education business guided by its "Education Operation plus Financial Services" dual-pronged strategy, with the expectation of the education investment business to be the key driver of the Group's focus. Currently, the Group wholly owns First Capital Securities Limited (with a license for Type 1 and 4 SFC-regulated activities), First Capital Asset Management Limited (with licenses for Type 1, 4, and 9 SFC-regulated activities), First Capital International Finance Limited (with a license for Type 6 SFC-regulated activities), First Capital Finance Limited and First Capital International Holdings Limited. Thus the Group provides services such as dealing in securities, asset management, merger and acquisition, financial consultancy, credit financing and immigration financial services. First Capital Fund Management Company Limited, the subsidiary of the Group, focuses on exploring and investing in excellent educational projects in coordination of the financial services business, and is dedicated to advance the Company to become a well-known international education brand. The Group is a component of the MSCI China Small Cap Index and was recently selected as a constituent of Hang Seng Composite Index Series and Hang Seng Stock Connect Hong Kong Index Series, all together comprising seven major indices. For more information about CFCG, please visit the website: www.cfcg.com.hk

About MindChamps PreSchool Ltd (SGX:CNE)

MindChamps PreSchool holds the Number One position in market share of premium range preschools in Singapore, with a market share of 38.5 per cent. Its growing global presence includes premium preschools and enrichment centres in Australia, UAE, the Philippines and soon Myanmar, Vietnam and China. Based on a cutting-edge scientifically-researched curriculum, MindChamps PreSchool is helmed by a highly-experienced management team and is supported by an esteemed World Advisory Board which is chaired by World-Renowned Neuroscientist Professor Emeritus Allan Snyder (Fellow of the Royal Society). MindChamps PreSchool is the only educational institute to collaborate with Professor Snyder on the empirical research of the 3 minds model of education - the Champion, the Creative and the Learning minds, which is uniquely built into the MindChamps curriculum. MindChamps PreSchool's unrelenting commitment to excellence in cultivating young minds has led to the organization being honoured with some of the most sought-after industry awards in the Singapore education sector, as well as industry-wide recognition in the fields of intellectual property, franchise management and branding. Please visit www.mindchamps.org.

Media Contact:
Strategic Financial Relations Limited
Heidi So, +852 2864 4826, heidi.so@sprg.com.h
Kylie Chan, +852 2114 4990, kylie.chan@sprg.com.hk
Jenny Lam, +852 2864 4883, jennysy.lam@sprg.com.hk
Fax: +852 2527 1196


Topic: Joint Venture
Source: China First Capital Group
Sectors: Daily News, Education
https://www.acnnewswire.com
From the Asia Corporate News Network



Copyright © 2023 ACN Newswire. All rights reserved. A division of Asia Corporate News Network.