| | |
| --- | --- |
| Monday, 19 March 2018, 18:00 HKT/SGT | |


Source: InvestHK



HONG KONG, Mar 19, 2018 - (ACN Newswire) -

Invest Hong Kong (InvestHK) and Apex-Brazil signed an MOU in Sao Paulo on Friday aimed at enhancing mutual co-operation in generating more direct investment between the two regions. The MOU was signed by the InvestHK Director-General of Investment Promotion Mr Stephen Phillips, and the President of Apex-Brasil, Government of the Federative Republic of Brazil, Mr Roberto Jaguaribe.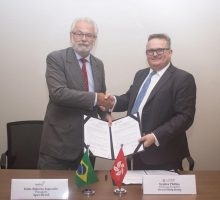 President of Apex-Brazil, Government of the Federative Republic of Brazil, Mr Roberto Jaguaribe, and Director-General of Investment Promotion, InvestHK, Mr Stephen Phillips.


The MOU provides a framework to enhance the close relationship of the HKSAR and Brazil by further promoting both inward and outward investment in the two jurisdictions. Mr Phillips also met with mayor of Sao Paulo, Mr Joao Doria, and a wide range of Brazilian business leaders from various quarters, including the WTC Business Club.

The signing of the MOU marked the end of a five-day visit by Mr Phillips, who also visited Auckland, New Zealand and Santiago, Chile, to promote Hong Kong's new business opportunities arising from Mainland China's Belt and Road Initiative, and the Hong Kong Special Administrative Region (HKSAR) government's latest HK$50 billion innovation push.

Earlier, in Auckland, Mr Phillips met with business leaders and was one of the key speakers at a business seminar jointly organised by the Hong Kong Economic and Trade Office, Sydney, and the Auckland Chamber of Commerce, at which he updated around 100 business executives on the latest business developments in Hong Kong.

While in Santiago, he met with heads of leading banks, the Chile China Business Council and the Chilean National Fruit Exporters Association, as well as with leaders of key industries such as aviation, innovation and technology and business services.

Concluding the visit, Mr Phillips said, "I have explained to each of the local business communities Hong Kong's unique position in the Belt and Road Initiative. In this connection, Hong Kong as an international financial and business centre plays an active role in terms of fundraising and professional services, as will be required by many Belt and Road projects.

"I've also provided an update on the latest financial boost from our government for innovation and technology development in Hong Kong, as set out by the Financial Secretary in his Budget speech. I believe the latest financial measures will help InvestHK lure more foreign investors to set up in Hong Kong in the arena of innovation and technology to add to the diversity of our economy.

####

Media contacts:
For Auckland-
Luca De Leonardis
Head, Investment Promotion
Tel: +61 2 9283 3222
Luca_De_Leonardis@hketosydney.gov.hk

For Santiago-
Veronica Medina
Principal Consultant (Santiago)
Tel: +56 2 2530 3600
VMedina@investhk.com.hk

For Sao Paulo-
Thiago Cruz Silveira
Principal Consultant (Rio de Janeiro)
Tel: +55 21 98862 2629
TSilveira@investhk.com.hk

For Hong Kong-
Antoine So
Head of Public Relations
Tel: +852 3107 1035
ASo@investhk.gov.hk

Eva Chan
Manager of Public Relations
Tel: +852 3107 1071
EChan@investhk.gov.hk

Topic: Investment
Source: InvestHK
Sectors: Exchanges & Software, Daily Finance, Daily News, Local Biz
https://www.acnnewswire.com
From the Asia Corporate News Network



Copyright © 2022 ACN Newswire. All rights reserved. A division of Asia Corporate News Network.