| | |
| --- | --- |
| Thursday, 22 March 2018, 19:30 HKT/SGT | |


Source: HKTDC
World's Latest Film and TV Productions Showcased; Cross-media, Cross-sector Cooperation Fostered



HONG KONG, Mar 22, 2018 - (ACN Newswire) -

The 22nd edition of Hong Kong International Film and TV Market (FILMART), organised by the Hong Kong Trade Development Council (HKTDC), drew to a successful close today. The 4-day event attracted more than 8,700 buyers, up 9% from last year. More than 60 scheduled events, including professional seminars, new film launches and networking activities, were held to facilitate exchange and business matching.



The 22nd edition of the Hong Kong International Film and TV Market (FILMART) draws to a successful close today after attracting more than 8,700 buyers during its four-day period, up nine per cent from last year.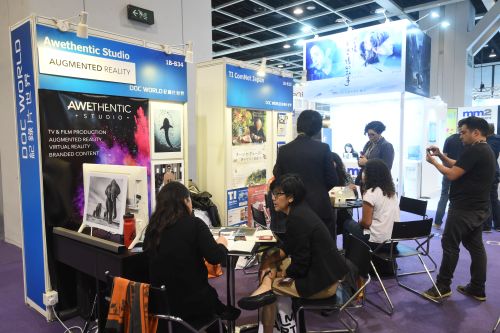 The Doc World and the Global Filming Support zones debut this year to meet the diverse needs of industry players.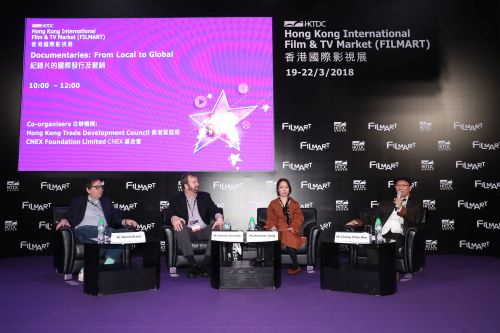 The thematic seminars feature an impressive line-up of heavyweights from the film, digital entertainment, animation and other sectors to share their insights.


Major film and TV production companies announced new projects on-site, including China 3D Digital Distribution Ltd, Emperor Motion Pictures, Mega-Vision Project Workshop, Mei Ah Entertainment, Sun Entertainment Culture and Television Broadcasts Ltd. There were also over 300 screenings, including more than 100 world, international or Asia premieres and numerous award-winning productions.

- International exhibitors win orders on-site

Silly Monks, a digital entertainment company from India, showcased a TV series titled "Chanakya" that drew the attention of buyers from around the world. By mid-morning on the second day of FILMART, the company had already secured a US$500,000 transaction on TV and Internet rights for Chinese territory. Silly Monks expected to sign further contacts with potential buyers from Korea, Japan and Southeast Asian countries.

TVP Polish Public Television, a repeat exhibitor from Poland, returned with the aim of further expanding into the Asia market. Company representative Aleksandra Kazmieruk said that the TV broadcaster, having sold 16 film productions and three TV series to TV stations from the Chinese mainland and Japan last year, achieved satisfactory results this year.

- Thematic seminars feature impressive line-up of industry heavyweights

FILMART's thematic seminars featured an impressive line-up of heavyweights from the film, digital entertainment, animation and other sectors. The 14 seminars organised by the HKTDC solely or in conjunction with other institutions attracted an attendance of more than 3,000.

Speakers included Kang Hye Jung, CEO of Filmmakers R&K and producer of Korean blockbuster film The Battleship Island; David Kosse, President, STXinternational, STX Entertainment and executive producer of Oscar-winning films The Theory of Everything and Room; Juno Mak, a renowned local director whose works included Sons of the Neon Nights and Rigor Mortis; Shuzo John Shiota, executive producer of animation series Transformers and Ajin: Demi-Human; as well as Michael Uslan, producer of Batman v Superman: Dawn of Justice. A first-time FILMART participant, Mr Uslan believes that the event is an ideal platform for exchanges among industry players.

- The Battleship Island producer eyes cooperation with Hong Kong directors

During a Filmmaker Spotlight seminar, Ms Kang disclosed that she had discussed partnership opportunities with producers from Vietnam, Malaysia and Indonesia. She added that she admires the works of Hong Kong and Chinese directors Johnnie To and Peter Chan and wishes to cooperate with them in future.

At another Filmmaker Spotlight session, David Kosse suggested that Arab countries, with their huge populations, could be the next big market that promises substantial growth. He noted that film producers are constantly exploring new audiences, and that with today's technology, films can be released and distributed through digital channels in addition to being shown on big screens. As such, Mr Kosse remarked, the market is no longer dominated by large-scale productions with big casts, but there is room for medium-scale productions. Social media platforms also allow quicker and lower-cost promotion of films, he said.

- Mainland TV/online video industry leaders examine latest developments

Opportunities abound in the mainland film and TV market, with IP dramas adapted from popular online novels, animations and even video games enjoying strong ratings on TV and online platforms. At a seminar titled "Navigating the Chinese TV Market", held on the first day of FILMART, representatives from leading mainland TV and online video platforms shared their insights on the latest developments. Catherine Liu, Associate General Manager of Entgroup Solution Centre, Beijing EntGroup Century DataTechnology, led off with an analysis of the current situation of the mainland TV sector. She said that the volume of mainland TV drama transactions has been growing in the last eight years. Ma Zhong-jun, Chairman/President of Ciwen Media Co Ltd, said that online content such as novels and articles has become an invaluable source of film and TV IP adaptations.

Documentaries were in focus at this year's FILMART, which featured more than 200 exhibitors related to this market segment, as well as a seminar with the theme "Documentaries: From Local to Global" (held on the second day, 20 March). Other seminars such as "Digital Entertainment Summit 2018" and "VR/AR: What Will This Change the Animation Industry" were also organised to provide the latest industry information.

FILMART: www.hkfilmart.com/filmart
Entertainment Expo: http://www.eexpohk.com
Photo Download: http://bit.ly/2FTr7KV

Contact:

HKTDC 
Comms & Public Affairs Dept.
Banbi Chan
Tel: +852 2584 4525, Email: banbi.yc.chen@hktdc.org
Sunny Ng
Tel: +852 2584 4357, Email: sunny.sl.ng@hktdc.org

Topic: Trade Show or Conference

Source: HKTDC
Sectors: Trade Shows, Broadcast, Film & Sat
https://www.acnnewswire.com
From the Asia Corporate News Network
Copyright © 2023 ACN Newswire. All rights reserved. A division of Asia Corporate News Network.