| | |
| --- | --- |
| Wednesday, 18 April 2018, 13:00 HKT/SGT | |


Source: HKTDC
ICT Expo Seminar Explores Next-Generation Solutions



HONG KONG, Apr 18, 2018 - (ACN Newswire) -

How will smart cities become even smarter? The answer lies not in simply integrating advanced technology, such as artificial intelligence and cloud computing, but in making the system work for individual societies.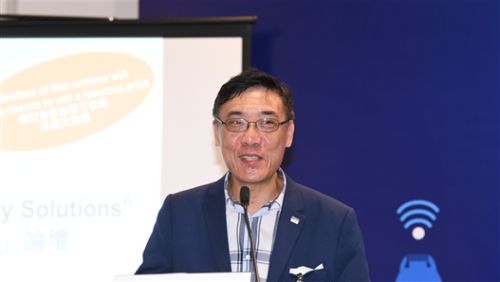 Emil Chan, Chairman of FinTech Committee, Smart City Consortium and Founding Chairman of the Association of Cloud and Mobile Computing Professionals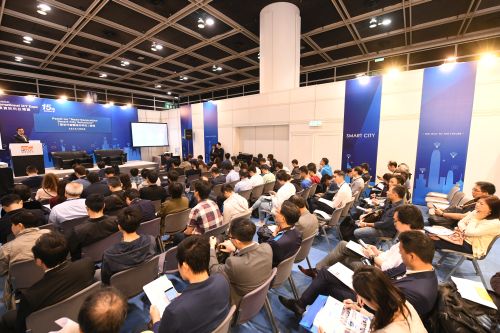 Panel on "Next-Generation Smart City Solutions" at the HKTDC International ICT Expo



This was the key message at the 16 April seminar "Next-Generation Smart City Solutions," organised by the HKTDC during the 15th edition of the International ICT Expo at the Hong Kong Convention & Exhibition Centre (HKCEC). Three prominent experts from leading US, Japanese and Chinese tech companies explored where smart city technologies are headed.

Moderator Emil Chan, from the Smart City Consortium, which assists the Hong Kong SAR Government in developing Hong Kong as the region's leading smart city, set the tone by proposing that "making cities both smarter and happier" is the ultimate goal. Beyond the technological vision, the aim is also to educate by "making smarter people and changing the general mindset."

Empowering cities with 'Microsoft CityNext Solutions' --

Continuing the theme, Hong Kong ICT industry veteran Fred Sheu, National Technology Officer at Microsoft Hong Kong Ltd, explained how the US tech giant's CityNext Solutions is empowering cities to be "more sustainable, prosperous and inclusive."

CityNext connects civic systems and services with world-class technology through safe and secure cloud computing that makes smart city solutions "more affordable and economically viable than ever before," he said.

Microsoft recently signed a memorandum of understanding to promote and help Hong Kong's Smart City vision "move forward into the future" under six key areas: smart mobility, smart living, smart environment, smart people, smart government and smart economy.

With a growing list of around 70 initiatives underway, Mr Sheu said "smart lamp posts" are not far off, with HK$20 million earmarked to explore how the lamp posts can incorporate 5G and audio-video surveillance.

Parking management solutions will also simplify parking, with sensors notifying drivers of available spaces via digital sensors and apps, and electronic payment through the same vehicle devices. "Motorists can even book parking space online in advance, saving a lot of time driving around looking for somewhere to park," he said.

Intelligent care for the elderly is also becoming a reality - "especially beneficial in Hong Kong, where a lot of elderly people prefer to live at home." Motion and environmental sensors monitor movement and conditions at home, raising the alarm in emergencies. Cloud-based health information management systems are already making health records more readily accessible to doctors and clinics.

But Mr Sheu is convinced that "education is the real key" to the future of smart cities, and urged more training on the technology - not only at universities, but also at high schools, equipping the younger generation for a very different future.

Among Microsoft's own educational initiatives is its AI School (aischool.microsoft.com), a free programme explaining next-generation solutions that "extend software beyond the app... to learn how to be an expert supporting Hong Kong's smart city development."

NEC's Artificial Intelligence for Smart Cities --

Gary Tai, Business Director, NEC Hong Kong, introduced the Japanese multinational's initiatives in smart city technologies, along with their accompanying social obligations. Best-known in Hong Kong as a market leader in smart TVs, NEC also leads the market globally in artificial intelligence (AI) solutions, and is "on a mission as a social value creation company contributing to the future of societies," he said. "In the face of serious social issues worldwide, we want to make life easier and more efficient for everyone."

In earthquake-prone Japan, for example, casualty rates are lowest on train networks equipped with NEC sensors that detect tremors, raising instant alerts. Partnering with governments around the world, the company has developed technology such as CCTV camera systems that not only observe streets, but also detect inconsistent and unusual behaviour, such as walking back and forth, or loitering beside cars. In the crime-plagued Argentine city of Tigre, which suffered a tourism slump as a result of its reputation, NEC's intervention reduced car thefts by 80 per cent in five years.

In Singapore, "smell sensors" identify offensive street stalls in the tourist centre of Orchard Road, "keeping a decent area decent." In Hong Kong, two out of the three main bus companies use NEC technology that improves safety and eases congestion, while improving absenteeism rates. "Our technology can even establish the attention level of drivers," he said.

Empowerment of cities also extends to Santander City in Barcelona, with "smart waste collection" reducing vehicle emissions, improving traffic flow and cutting operating costs by 15 per cent, by efficiently monitoring waste volumes and adjusting collection intervals accordingly. "We look forward to working with more utility companies, authorities and governments in the future," said Mr Tai.

ZTE Exporting China 'Smart City Vision and Concepts' Globally --

Meanwhile, Renchu Bai, Marketing Director of Government & Enterprise Department from Chinese multinational telecommunications and systems giant ZTE, explained the thinking behind the company's 'Smart City Vision and Concepts'.

He noted that ZTE's solutions for improving public services extended across 160 cities in 45 countries powered by 40 big data centres worldwide.

Projects "making public services more efficient" range from education and pollution to traffic control and public safety - extending to India, Bangladesh and Indonesia in Asia, Brazil, Uruguay and Argentina in South America, Ethiopia and Egypt in Africa, and Germany, France, Hungary, Romania and Holland in Europe.

"Smart city development should be looked at from three perspectives," he said, with the software and hardware of the latest IT and communications technology - such as 5G, IoT, AI and blockchain, integrated through cloud connectivity and big data - serving as a means to an end.

"You can't build smart cities in a day," he said. "You need to take it step by step, ultimately integrating everyone in the smart city ecosystem. Most of the technology is already there; the challenge is finding a way to use it, and a business model that makes it become a reality."

The Smart City Seminar Series, held during the HKTDC Hong Kong International ICT Expo 2018, featured industry experts exploring such topics as Internet security, Fintech, developing smart business through IoT applications, as well as how disruptive technology is driving smart city development, smart mobility and logistics, smart home trends and electronic ID.

15th Hong Kong Electronics Fair (Spring)
2,950 exhibitors, 24 countries and regions
Website: http://hkelectronicsfairse.hktdc.com
Startup Zone: https://goo.gl/1YH5iz
Highlights: https://goo.gl/LNwp78

15th International ICT Expo
600 exhibitors,10 countries and regions
Website: http://ictexpo.hktdc.com
Smart City zone: https://bit.ly/2EoFukK
Startup Zone: https://goo.gl/1YH5iz
Highlights: https://goo.gl/STgHRp

Photo Download: https://bit.ly/2EQAPIP

HKTDC Communications & Public Affairs Department -
Joshua Cheng, +852 2584 4395,

[email protected]


Angela Cheu, +852 2584 4546,

[email protected]



Topic: Trade Show or Conference
Sectors: Alt. Energy, Const/Eng
http://www.acnnewswire.com
From the Asia Corporate News Network



Copyright © 2020 ACN Newswire. All rights reserved. A division of Asia Corporate News Network.