HONG KONG, June 26, 2018 - (ACN Newswire) -

Organised by Hong Kong Trade Development Council (HKTDC), the 29th edition of the Hong Kong Book Fair will be held from 18-24 July at the Hong Kong Convention and Exhibition Centre (HKCEC). A record number of about 680 exhibitors will present a wide range of books from 37 countries and regions. About 310 cultural events catering to different interests and age groups will also take place during the week-long fair period to raise public cultural awareness and interest in reading.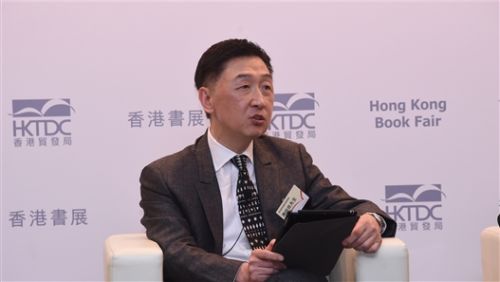 HKTDC Deputy Executive Director Benjamin Chau says, "The Hong Kong Book Fair Cultural Events Advisory Panel selected Romance Literature as the theme of the year for the Book Fair"



Theme of the Year: Romance Literature
"The Hong Kong Book Fair Cultural Events Advisory Panel selected Romance Literature as the theme of the year for the Book Fair, with the tagline 'Reading the World, What on Earth is Love?'" said HKTDC Deputy Executive Director Benjamin Chau. "Continuing to be in love with books this summer, we will showcase distinguished works of romance literature at the Hong Kong Book Fair," said Mr Chau. "We hope that through these books, readers will gain a more in-depth understanding of love, which will nourish the mind and bring greater reading pleasure.

"What is so impressive about romance literature is that it often brings out the story of a place or an era, enabling readers to learn more about these at the same time," continued Mr Chau. "Hong Kong is a fertile breeding ground for romance literature talents." He added that the HKTDC will bring publishers and cultural promotion institutions from around the world to organise a series of cultural events, enabling readers to learn about the cultures of different countries while bringing different cultures closer together.

Love between the Lines
In line with the Romance Literature theme, this year's Book Fair Art Gallery, to be located at Hall 3 concourse, will showcase a thematic exhibition "Love between the Lines". The exhibition will feature famous Hong Kong romance writers in two categories - those who launched their writing careers before the 1990s, including Eileen Chang, Su Xu, Yi Shu, Johnny Yip and Eunice Lam; and those who started during or after the 1990s, namely Zita Law, Lam Wing Sum, Sirena Cheng, Tin Hong and Middle. The gallery will display rare collections from these 10 writers, including out-of-print novels and manuscripts. Some of these romance authors will share their thoughts and experiences at a series of seminars, while film and theatre performance clips of their adapted works will also be showcased.

Photo Gallery of Silk Road
In collaboration with National Geographic, the Art Gallery will also feature an exhibition titled "Photo Gallery of Silk Road" to showcase beautiful photos taken along the Silk Road. Apart from lending visitors a glimpse of the stunning scenery along the route, the photos will enable them to learn about the cultures and customs of the places concerned.

A Journey to Zhejiang
Another exhibition to be held at the Art Gallery, "A Journey to Zhejiang", will introduce the cultural history of Zhejiang province, which was the birthplace of Wuyue culture. Visitors will be able to view remarkable paintings by the province's late renowned painter and cartoonist Feng Zikai, books made of silk and other precious exhibits. Mai Jia, a reputable writer and President of the Zhejiang Association of Writers, together with Chen Wei, a Zhejiang native and personal assistant to Alibaba founder Jack Ma, will host a sharing session with readers. Performances including Zhejiang Yue opera and demonstrations of woodblock printing and bamboo paper production will be staged.

A Gem of Chinese Culture - Cantonese Opera
Rounding out the Art Gallery will be a display themed "A Gem of Chinese Culture - Cantonese Opera" introducing this significant cultural heritage of Hong Kong. Originating in Guangdong, Cantonese Opera is rich in local colour, featuring strong Hong Kong arts and cultural elements. Jointly presented by the HKTDC and the Chinese Artists Association of Hong Kong, the display will spotlight a diverse collection of exhibits such as costumes, special magazine issues and promotion leaflets.

Renowned Writers from Around the Region
The Book Fair will feature an international line-up of writers sharing their insights at eight seminar series. The HKTDC is collaborating with Ming Pao and Yazhou Zhoukan once again to co-organise the Renowned Writers Seminar Series, featuring influential authors in Chinese literature. They include Zhang Kangkang, Bei Dao, Mang Ke, Li Zhuang, Ye Fu, A Yi, Yu Xiuhua, Duo Yu, and Li Xin from the Chinese mainland, while Lung Yingtai, Lo Yi-chin, Ji Mi, Lolita Hu, Tsai Chih-heng and Lee Kan from Taiwan, Leo Lee Oufan, Li Yuying, Ma Kafai and Zhou Jieru from Hong Kong, and Li Changsheng from Japan and Dai Xiaohua from Malaysia will. A special seminar will be organised to pay tribute to celebrated novelist Liu Yichang, a giant of modern literature in Hong Kong, who passed away recently.

English Reading and Creative Writing Seminar Series
The Book Fair encourages the public to broaden their horizons through books in other languages as well. Sponsored by international online bookstore Book Depository, the English Reading and Creative Writing Seminar Series will feature young adult thriller writer M. A. Bennett from the United Kingdom, Deborah Rogers Writer's Award winner Sharlene Teo and up-and-coming writer Balli Kaur Jaswal from Singapore. Denise Ho, Assistant Professor of History at Yale University, and veteran Hong Kong journalist and writer Mark O'Neill will also give talks.

World of Knowledge Seminar Series
The World of Knowledge Seminar Series, supported by the Consulate General of France in Hong Kong & Macau, will feature acclaimed French literary writer Chantal Thomas, who will give a talk on the social status and power of women in the 18th century. The Consulate General of Spain in Hong Kong has also lined up Maria Jose Pareja Lopez, Mexican children and youth literature writer Diana Coronado and Nashua Gallagher, founder and Director of Hong Kong-based literature organisation Peel Street Poetry, for a sharing session on Baroque love poetry and prose from the Spanish-speaking world. Moreover, the European Union Office to Hong Kong and Macau has also invited Latvian award-winning writer Janis Jonevs to share with readers his advice on writing.

In addition, celebrities from various sectors in Hong Kong will also share with readers their personal stories, including Dr Edward Leong, who is active in public service; Soji Shimada Mystery Award winner Chan Hokei; and famous singer Agnes Chan, who wrote a book about sending her three sons to Stanford University. Tommy Li, known widely as "Brand Doctor", and marketing professional Vincent Tsui also count among the speakers at the fair.

Sharing Sessions on Theme of the Year
A number of romance writers will speak at the Theme of the Year: Romance Literature Seminar Series. Among them, Eileen Chang's estate executor Roland Soong and literary critic Tom Fung will speak about Eileen Chang's works. Professor Wong Nim-yan and writer Peter Dunn will discuss the works of Yi Shu and Johnny Yip during the 1960s. Writer Chip Tsao will have a dialogue with media veteran Kam Kwok-leung on Eunice Lam's 1970s viewpoints on love. Middle, a popular young writer, will talk about the significance of missing someone. Zita Law and Sirena Cheng will also share their thoughts on love and writing at their seminars.

Other seminar series include the "Children and Youth Reading Seminar Series" covering children education, parent-child reading and children's literature; and the "Personal Development and Spiritual Growth Seminar Series" where Joseph Sung, former Vice-Chancellor of the Chinese University of Hong Kong, scholar Ambrose King, comic artist Ma Wing-shing and cross-media creator Erica Li will share their takes on positive living. Also on the schedule are the "Lifestyle Seminar Series", where TV artist Steve Lee, commentator Gary Cheng and veteran cook Lisa Fong will share their cooking tips, and Benjamin Au Yeung (Ben Sir) will share his interesting findings about sports vocabulary. At the "Hong Kong Cultural and Historical Seminar Series", famed movie posterist Yuen Tai-Yung and seasoned animation artist Neco Lo will explore local comics, lyricist Cheng Kwok Kong will talk about how he became a Cantonese opera playwright, and cross-media expert Eileen Cha will share the legend of Hong Kong's first mahjong parlour. For more details and registration for the seminars, please visit the Hong Kong Book Fair website.

In addition, the International Publishing Forum to be held on the first day of Book Fair, with leading publishing industry players examining the latest developments in the sector, including Natasha Leung, Senior Publishing Manager of Pearson and Fang Jun, a knowledge services expert and Partner of KChain Lab.

The International Cultural Village at the Book Fair will feature 31 countries and regions. Austria, the Czech Republic, Greece and Ireland will debut at the European Union Pavilion, joining returning participants from France, Germany, Italy and Poland. They will showcase their cultures through books as well as offering a wide range of events for the public to experience European culture. The popular Japan Pavilion will return with the largest number of participants ever. Exhibitors from 17 cities and prefectures including Tottori, Shikoku, Okinawa, Kansai and Iwate will team up with the Japan National Tourism Organisation and the Kadokawa Corporation to showcase various aspects of Japanese culture and introduce popular anime and manga spots.

Alongside the seven-day Book Fair, the HKTDC will partner with cultural institutions, libraries, museums, educational institutions, shopping malls and cafes to organise the "Cultural July" citywide campaign with more than 330 cultural events from the end of June until the end of July to promote reading and encourage public participation in diverse cultural events. Members of the public are welcome to sign up and attend.

One Ticket, Two Fairs
Tickets to the Book Fair, which also offers same-day admission to the concurrent Hong Kong Sports and Leisure Expo, are now available for purchase. Visitors can also buy tickets during the fair period at the ticket office on-site. To be held on 5/F of the HKCEC, the second edition of the Hong Kong Sports and Leisure Expo will showcase about 130 exhibitors representing over 160 brands of sports and leisure products and services. It will feature free trials for a range of activities and products, including archery, indoor rock climbing, street workout, lawn bowls, golf simulators, dragon boat and rowing machines, augmented reality (AR) combat, photography workshops and Anime Pilgrimage. The Hong Kong Tourism Board will provide visitors with the opportunity to experience e-sports. Chen Yuen-ting, the first female coach of a men's professional association football team in Hong Kong; Wong Hiu-ying, a Hong Kong Gymnastics athlete; Steve Lo, the first Hong Kong person to complete the Grand Slam of ultra-marathon; Tim Fung, famous Marathon coach; Chan Ka-ho and Yiu Kit-ching, Hong Kong Athletic Team members; Ada Tsang, the first Hong Kong woman to have conquered Mount Everest; and many more other celebrated athletes will host sharing sessions during the expo.

Media registration:
Media representatives wishing to cover the event may register on-site with their business cards and/or media identification.

Book Fair Website / Mobile app
http://www.hkbookfair.com
http://hkbookfair.hktdc.com/HKBookfairApp.html
(For details and seminar registration)
Cultural July Website http://hkbookfair.hktdc.com/CulturalJuly
Hong Kong Sports & Leisure Expo Website www.hktdc.com/hksportsleisureexpo
Photo download: https://bit.ly/2K69R7g
Other Book Fair and Art Gallery Photos Download: https://bit.ly/2M4DsdS

About HKTDC

The Hong Kong Trade Development Council (HKTDC) is a statutory body established in 1966 to promote, assist and develop Hong Kong's trade. With 50 offices globally, including 13 in Mainland China, the HKTDC promotes Hong Kong as a two-way global investment and business hub. The HKTDC organises international exhibitions, conferences and business missions to create business opportunities for companies, particularly small and medium-sized enterprises (SMEs), in the mainland and international markets. The HKTDC also provides up-to-date market insights and product information via trade publications, research reports and digital news channels. For more information, please visit: www.hktdc.com/aboutus. Follow us on Twitter @hktdc and LinkedIn.

Contact:
Sunny Ng, Tel: +852 2584 4357, Email: 

[email protected]


Angel Leong, Tel : +852 2584 4194, Email: 

[email protected]


Joshua Cheng, Tel: +852 2584 4395, Email: 

[email protected]




Source: HKTDC
Topic: Trade Show or Conference
Sectors: Trade Shows, Design & Art
http://www.acnnewswire.com
From the Asia Corporate News Network
Copyright © 2020 ACN Newswire. All rights reserved. A division of Asia Corporate News Network.