| | |
| --- | --- |
| Monday, 27 August 2018, 16:00 HKT/SGT | |


Source: JCB / OCB



HO CHI MINH CITY & TOKYO, Aug 27, 2018 - (ACN Newswire) -

Orient Commercial Joint Stock Bank (OCB), a commercial joint stock bank in Vietnam, and JCB International Co. Ltd., the international operations subsidiary of JCB Co., Ltd. (JCB), today announced the launch of OCB-JCB Credit and Debit Card in Vietnam.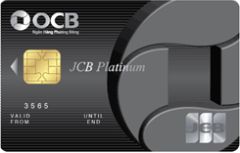 OCB-JCB Platinum Credit Card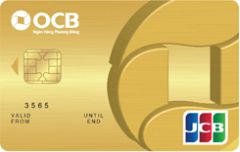 OCB-JCB Gold Credit Card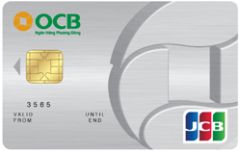 OCB-JCB Standard Credit Card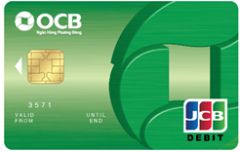 OCB-JCB Standard Debit Card


The holders of OCB-JCB Card can access the JCB acceptance network with about 30 million merchants in the world, and enjoy a lot of benefits provided by OCB, special privileges at selected merchants, and customer service at JCB Plaza, an overseas service counter.

Moreover, OCB-JCB Platinum Credit Cardholders are entitled to a number of other privileges such as the access to over 73 airport lounges in Japan, China, Hong Kong, Singapore, Korea, Thailand and Vietnam; and 24/7 global support through a free hotline when booking car rental, hotel, restaurant, and golf in Japan.

In addition, OCB offers free annual fee during the validity period for the JCB Credit Card and free for the first year for the JCB Debit Card. For first 3 weeks since launching on Aug 27th 2018, OCB is also implementing a promotion program offering newly issued cardholders with gifts.

About OCB

Orient Commercial Bank (OCB) was established on June 10, 1996. Through 22 years of operation and development, OCB has affirmed its prestige in the financial market. In 8/2018, OCB was ranked by Moody's (one of the three most prestigious credit rating agencies in the world) to increase its Long-term Counter-party Risk rating from B2 to B1. This indicator reflects the ability and prestige of OCB to perform its financial obligations to its partners. In addition, OCB has received two awards from the International Financial Magazine (IFM) include: Most Innovative Digital Bank of Viet Nam 2018 and Best New Omni Channel Platform.

OCB is in the process of implementing the business strategy development for the period 2015 - 2020, bringing OCB to become a modern bank leading in retail and SME in Vietnam.

About JCB

JCB is a major global payment brand and a leading payment card issuer and acquirer in Japan. JCB launched its card business in Japan in 1961 and began expanding worldwide in 1981. As part of its international growth strategy, JCB has formed alliances with hundreds of leading banks and financial institutions globally to increase merchant coverage and card member base. As a comprehensive payment solution provider, JCB commits to provide responsive and high-quality service and products to all customers worldwide. Currently, JCB cards are accepted globally and issued in 24 countries and territories. For more information, please visit: https://www.global.jcb/en/
Note: Statistics about JCB are as of June 2018.

Contact
OCB
Customer Service Center
Tel: 1800 6678
Email: dvkh@ocb.com.vn

JCB Co., Ltd.
Kumiko Kida
Corporate Communications
Tel: +81-3-5778-8353
Email: jcb-pr@info.jcb.co.jp

Topic: Press release summary
Source: JCB / OCB
Sectors: Cards & Payments, Daily News, Local Biz
https://www.acnnewswire.com
From the Asia Corporate News Network



Copyright © 2022 ACN Newswire. All rights reserved. A division of Asia Corporate News Network.

Latest Press Releases
Revolutionary Blockchain-based Dancing Platform, DANSA to Be Launched Soon
Aug 10, 2022 21:00 HKT/SGT
CleverTap Raises US$105M in Series D Funding Round Led by CDPQ
Aug 10, 2022 21:00 HKT/SGT
CleverTap Raises US$105M in Series D Funding Round Led by CDPQ
Aug 10, 2022 21:00 HKT/SGT
TTI Delivers Strong 2022 First Half Results
Aug 10, 2022 19:25 HKT/SGT
Bintai Kinden to Market O&G Equipment in Indonesia
Aug 10, 2022 13:00 HKT/SGT
Society Pass backed Thoughtful Media Group Announces New CEO and Vision to be the Leader in Digital and Social Commerce in SEA
Aug 10, 2022 12:00 HKT/SGT
India's top BFSI experts Unite to Reshape India's Banking Landscape at #TresconBFSI
Aug 9, 2022 20:42 HKT/SGT
SKYX Achieves Historic U.S. Standardization Approval Vote - a Major Milestone Towards Mandatory Status for Safety of Consumers and Professionals
Aug 9, 2022 20:31 HKT/SGT
Virios Therapeutics: The 'Virus Hypothesis' That Stands to Change the Lives of 10M Americans
Aug 9, 2022 20:30 HKT/SGT
Eisai and Lifenet Enter Into Capital and Business Alliance Agreement Aimed at Building Ecosystem to Reduce Burden of Medical and Nursing Care
Tuesday, August 9, 2022 5:09:00 PM
More Press release >>