TOKYO, Sept 21, 2018 - (JCN Newswire) -

NEC Corporation (TSE: 6701) today announced that it has joined Information Technology for Public Transport (ITxPT), a Belgium-based association that supports the deployment of standards for onboard plug-and-play IT-systems applied to public transport. NEC is the first Japan-based company to join the ITxPT, a non-profit association which consists of 90 members from 17 countries.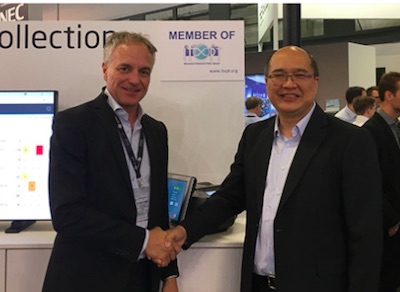 Anders Selling, Secretary General, ITxPT (left), Brian Foo, General Manager, HK Public Sector Division, NEC Hong Kong



The ITxPT was established in 2013 under the guidance of the Union Internationale des Transports Publics (UITP), an international association of public transport. ITxPT members have access to the ITxPT platform for testing their devices and applications in real operational conditions. This supports the adoption of plug-and-play systems by limiting the risks associated with the integration stage.

Additional benefits of membership to the ITxPT include the sharing of best practices in the implementation of solutions, support for the evolution of international standards and cooperation in working groups that contribute to the ITxPT's knowledge.

NEC is a leader in the support of open data standards in public transport and its membership to the ITxPT will foster the development and production of products for customers throughout the world.

"This move to standardized architectures not only increases the options for customers when selecting systems, it helps drive down the costs of delivering these valuable data systems. This is good for our industry, our customers and ultimately our cities because it will promote greater efficiency and cost savings," said Elsa Wong, head of NEC's Transport Center of Excellence.

"Today ITxPT is being implemented by several cities and operators and the association grows very quickly. Public transport clearly demands a shift to interoperability between systems, not only for cost reasons but to manage the next steps of digitalization. ITxPT will increasingly become an enabler for future mobility services through making the access to data possible," said Anders Selling, Secretary General of ITxPT.

About ITxPT

ITxPT develops and delivers specifications of a standardized IT architecture with open interfaces enabling interoperability for on-board, over-the-air and back-office IT-systems in public transport. The non-profit association federates public transport authorities, public transport operators as well as IT suppliers and vehicle manufacturers. The association is growing quickly and today has 90 Members in 18 countries.

The mission of the ITxPT Association is to enable interoperability between IT systems in Public Transport by offering a public specification of an IT architecture based on standards with open interfaces for on-board, over-the-air and back-office IT-systems.

About NEC Corporation

NEC Corporation has established itself as a leader in the integration of IT and network technologies while promoting the brand statement of "Orchestrating a brighter world." NEC enables businesses and communities to adapt to rapid changes taking place in both society and the market as it provides for the social values of safety, security, fairness and efficiency to promote a more sustainable world where everyone has the chance to reach their full potential. For more information, visit NEC at https://www.nec.com.

Contact:
NEC
Seiichiro Toda        


[email protected]


+81-3-3798-6511


Source: NEC Corporation
NEC Corporation (TSE: 6701)
Topic: Press release summary
Sectors: Enterprise IT
http://www.acnnewswire.com
From the Asia Corporate News Network
Copyright © 2020 ACN Newswire. All rights reserved. A division of Asia Corporate News Network.