| | |
| --- | --- |
| Tuesday, 19 March 2019, 22:00 HKT/SGT | |



HONG KONG and SINGAPORE, Mar 19, 2019 - (ACN Newswire) -

TNG FinTech Group ("TNG"), Asia's leading Fintech company, has teamed up with Visa, the global leader in digital payments, to launch prepaid solutions in six target markets across Asia, in a move that will further expand digital payment services in a region where adoption of digital wallets is gaining traction. The two companies officially revealed their partnership during the world's leading Fintech event Money 20/20 Asia in Singapore.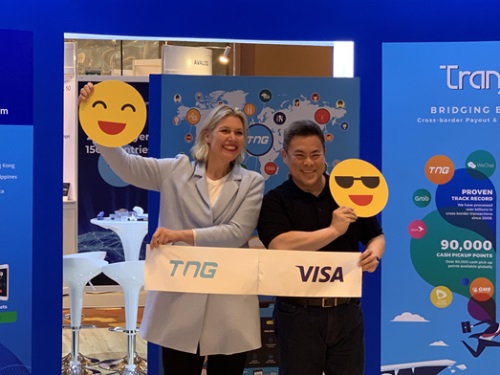 Alex Kong, Founder & Chairman of TNG (Right) and Maaike Steinebach, Visa General Manager (Hong Kong & Macau) attended the ribbon cutting ceremony to celebrate the launch of prepaid solutions in Asian markets.
Alex Kong, Founder & Chairman of TNG (Right) and Maaike Steinebach, Visa General Manager (Hong Kong & Macau) attended the toasting ceremony, revealing the strategic partnership between TNG and Visa.


The TNG and Visa partnership will explore enabling secure payment for online and face-to-face for the underserved as well as unbanked segments in the region. The prepaid payment solutions aim to tap into Visa's worldwide acceptance network and will be integrated into TNG Wallet.

TNG focuses on six primary launch markets in Southeast Asia, namely Indonesia, Malaysia, the Philippines, Singapore, Thailand and Vietnam, and subsequently expanding into other markets.

According to the World Bank, about 1.7 billion people in this world are unbanked(1) and in Southeast Asia alone it is estimated that only 27 percent of the population have banking accounts(2).

Alex Kong, Founder and Chairman of TNG, said: "As a FinTech company focused on Asia, we are committed to empowering the unbanked in this part of the world. With the backing of Visa, which has more than 50 million point-of-sale locations globally, we are confident that this strategic partnership will benefit consumers as well as merchants and retailers in all target markets."

As a participant of Visa Fintech Fast-Track Program, launched last year, TNG can tap into Visa's global network in as little as four weeks. The fast-track program provides a new commercial framework that includes access to Visa's payment capabilities, competitive fees and streamlined processes, tailored to Visa's fintech partners' needs. The program also links fintechs to platforms that are already certified by Visa and connects fintechs to sponsoring banks.

Maaike Steinebach, Visa General Manager, Hong Kong and Macau said: "Our partnership with TNG, through the Visa Fintech Fast-Track Program, reinforces Visa's ongoing strategy of providing customers with the widest and best possible choices of payment solutions while accelerating the adoption of digital payments across the region. We hope to continue to collaborate with TNG to expand access to digital payments from Asia and beyond, enabling simple, fast and secure payments for more people through Visa's worldwide network and technology."

Notes:
(1) https://globalfindex.worldbank.org/chapters/unbanked
(2) https://bit.ly/2Fe5PVf

About TNG FinTech Group
Headquartered in Hong Kong, TNG FinTech Group is an industry pioneer providing next-generation financial services to the 1.2 billion unbanked population in Asia through its e-wallet platforms. The efficient virtual payment services it provides include electronic payments, global remittance, global cash withdrawal and settlement and other financial services. Its "Global E-Wallet Alliance" currently covers Hong Kong and 12 Asian countries, including China, the Philippines, Indonesia, Singapore, Malaysia, Thailand, Vietnam, India, Sri Lanka, Bangladesh, Nepal and Pakistan. The alliance provides 24x7 cash-in and cash-out services to users through a network of 852 banks and over 183,000 cash pick-up points globally. For more information, please visit www.tngfintech.com

About Visa
Visa Inc. (NYSE: V) is the world's leader in digital payments. Our mission is to connect the world through the most innovative, reliable and secure payment network - enabling individuals, businesses and economies to thrive. Our advanced global processing network, VisaNet, provides secure and reliable payments around the world, and is capable of handling more than 65,000 transaction messages a second. The company's relentless focus on innovation is a catalyst for the rapid growth of connected commerce on any device, and a driving force behind the dream of a cashless future for everyone, everywhere. As the world moves from analog to digital, Visa is applying our brand, products, people, network and scale to reshape the future of commerce. For more information, visit About Visa, https://usa.visa.com/visa-everywhere/blog.html and @VisaNews.

Media Contact
Email: pr@tngfintech.com
Tel: +852 3951 6277

This media release is issued by TNG FinTech


Topic: Press release summary Sectors: Cards & Payments, Daily Finance, Daily News, Blockchain Technology

https://www.acnnewswire.com
From the Asia Corporate News Network
Copyright © 2023 ACN Newswire. All rights reserved. A division of Asia Corporate News Network.

Latest Press Releases
DOCOMO to Transfer Ownership of 1,552 Telecommunication Towers to JTOWER to Promote Infrastructure Sharing
Wednesday, September 27, 2023 9:03:00 AM
BYND Cannasoft Enterprises Inc and Foria announce Memorandum of Understanding for Collaborative Ventures in Female Wellness Industry
Sept 27, 2023 09:00 HKT/SGT
Music Reactor Announces Syn Genre to Soften the Music Industry AI Dilemma
Sept 27, 2023 08:40 HKT/SGT
MHI and ZutaCore Join Forces in a Strategic Alliance, Paving the Way for a Zero-emission Data Industry
Wednesday, September 27, 2023 8:00:00 AM
Solver Suite Now Available in the Microsoft Azure Marketplace
Sept 27, 2023 08:00 HKT/SGT
Doubleview Reports Proprietary Metallurgical Testwork Demonstrates Recovery of Scandium into a Secondary Phosphate Product, with a Total Scandium Recovery Greater than 90% from the Hat Deposit
Sept 26, 2023 21:29 HKT/SGT
Rover Metals Announces the Appointment of McGinley and Associates for Its NEPA Permitting Process at the LGL Project, NV, USA
Sept 26, 2023 21:00 HKT/SGT
Former Allkem Chairman Martin Rowley Joins Atlas Lithium as Lead Strategic Advisor
Sept 26, 2023 20:09 HKT/SGT
U.S. Polo Assn. Launches Global Fall-Winter 2023 Collection
Sept 26, 2023 19:00 HKT/SGT
Overview of Honda Exhibits at the JAPAN MOBILITY SHOW 2023
Tuesday, September 26, 2023 4:25:00 PM
More Press release >>