PUTRAJAYA, Malaysia, May 21, 2022 - (ACN Newswire) -

Straumann Group Sdn. Bhd, the Malaysian subsidiary of Straumann Group, global leader in implantology and aesthetic-dentistry, (Straumann Malaysia) intends to provide 3,000 dental implant packages worth in excess of RM10 million, which will benefit the lower-income group (B40) and underprivileged Malaysians. This intention was communicated within the Memorandum of Understanding (MoU) announced by the Ministry of Health Malaysia (MOH).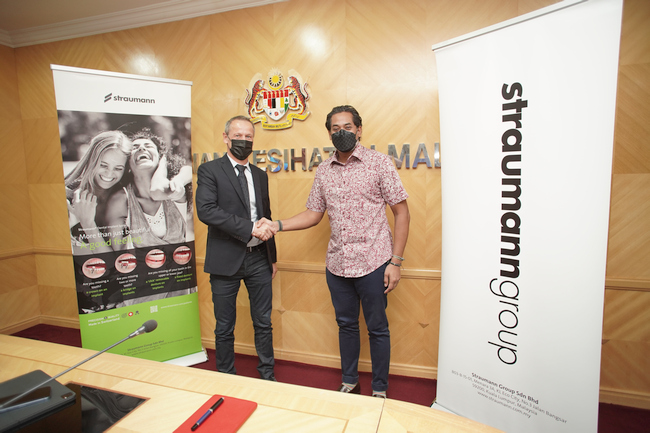 Mr. Guillaume Daniellot, CEO of Straumann Group; Yang Berhormat Tuan Khairy Jamaluddin, Minister of Health Malaysia [L-R]


The discussion of the MoU was led by Malaysia's Minister of Health, Yang Berhormat Tuan Khairy Jamaluddin and the Straumann Group's Chief Executive Officer, Guillaume Daniellot.

Straumann Group's Chief Executive Officer, Guillaume Daniellot said, "This is a significant milestone for the Straumann Group, and we appreciate MOH's willingness to collaborate with us. Oral, especially dental health is critical to everyone's wellbeing, and we believe that everyone has the right to quality medical treatments, especially holistic and ethical dental treatments. This Programme is part of the broader community oral health initiative to raise awareness on the long-term impact of tooth loss while ensuring that underprivileged Malaysian communities have access to world-class dental products and services for a better quality of life. We look forward to working closely with our local counterparts to bring the Programme to life while supporting MOH in its ambitions under the National Oral Health Plan 2021-2030."

About Straumann Group

The Straumann Group (SIX: STMN) is a global leader in tooth replacement and orthodontic solutions that restore smiles and confidence. It unites global and international brands that stand for excellence, innovation and quality in replacement, corrective and digital dentistry, including Anthogyr, ClearCorrect, Dental Wings, Medentika, Neodent, NUVO, Straumann and other fully/partly owned companies and partners. In collaboration with leading clinics, institutes and universities, the Group researches, develops, manufactures and supplies dental implants, instruments, CADCAM prosthetics, orthodontic aligners, biomaterials and digital solutions for use in tooth correction, replacement and restoration or to prevent tooth loss.

Headquartered in Basel, Switzerland, the Group currently employs more than 9000 people worldwide. Its products, solutions and services are available in more than 100 countries through a broad network of distribution subsidiaries and partners. For more information, please visit our website at: https://www.straumann.com

Media Contacts:
Lok Ru Jun
Narro Communications
E: rujun@narrocomms.com
T: +6012 339 0613

Cheong Sue Fyenn
Narro Communications
E: suefyenn@narrocomms.com
T: +6016 910 7625

Topic: Press release summary
Source: Straumann Group
Sectors: Healthcare & Pharm, Local Biz
https://www.acnnewswire.com
From the Asia Corporate News Network



Copyright © 2022 ACN Newswire. All rights reserved. A division of Asia Corporate News Network.

Latest Press Releases
Solomon Systech Announces 2022 Interim Results: Revenue Increased by about 45.1% to US$108.5 Million in 1H 2022
Aug 19, 2022 20:50 HKT/SGT
Prizes, Happy Hour Awaits Participants of #DXLeadersPH2022
Aug 19, 2022 19:58 HKT/SGT
New Horizon Health Announced 2022 Interim Report: Revenue Up 414% YoY, Gross Margin Climbs to 82%
Aug 19, 2022 19:51 HKT/SGT
Champion REIT Announces 2022 Interim Results
Aug 19, 2022 18:10 HKT/SGT
Led by Legend Capital, Multi-omics-leading Enterprise APTBIO Closes Series B with Hundreds of Millions of CNY
Aug 19, 2022 17:55 HKT/SGT
Taiwan Excellence Pavilion to showcase 10 leading medical tech innovators at Medical Fair Asia 2022
Aug 19, 2022 14:00 HKT/SGT
Taiwan Excellence Pavilion to showcase 10 leading medical tech innovators at Medical Fair Asia 2022
Aug 19, 2022 14:00 HKT/SGT
Sirnaomics Doses the First Patient in Phase I/II Clinical Study of RNAi Therapeutic STP705 for Treatment of Facial Squamous Cell Skin Cancer In Situ
Aug 19, 2022 11:30 HKT/SGT
After 500 per cent spike in a single day, MuskMelon NFT advances its game for yielding higher returns
Aug 19, 2022 08:00 HKT/SGT
CTG DUTY-FREE HK Public Offering Has Been Fully Applied with High Multiple Order Coverage From International Placing
Aug 18, 2022 19:58 HKT/SGT
More Press release >>