Appropriate Dispute Resolution veteran Mr Anil Changaroth and his ChangAroth Chambers LLC team joins RHTLaw Asia



SINGAPORE, Feb 1, 2023 - (ACN Newswire) -

Singapore headquartered regional law firm RHTLaw Asia has merged with ChangAroth Chambers LLC to strengthen its Litigation & Dispute Resolution Practice with the addition of Appropriate Dispute Resolution veteran Mr Anil Changaroth and his team. Mr Changaroth has been appointed a Partner in RHTLaw Asia.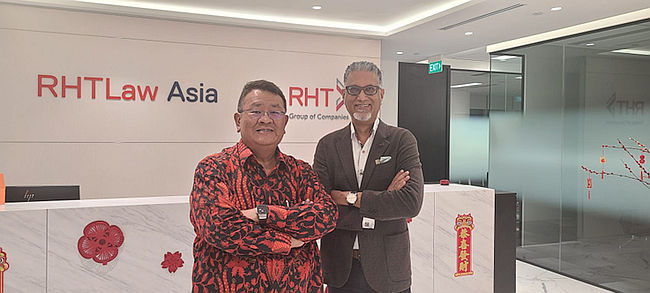 Mr Azman Jaafar, Managing Partner of RHTLaw Asia, and Mr Anil Changaroth, Partner of RHTLaw Asia [L-R]


Mr Changaroth, who is an internationally accredited mediator and arbitrator, previously managed ChangAroth Chambers' practice with a focus on Appropriate Dispute Resolution in the areas of commercial, civil, criminal matters and corporate advisory work in particular infrastructure, building and construction projects.

Mr Changaroth, said, "The merger enables us to widen our reach with our core capabilities now complemented by RHTLaw Asia's regional access and ONERHT's multidisciplinary professional services. We see significant opportunities for growth in conflict avoidance and appropriate dispute resolution including with collabrative contracting in building, construction and infrastructure as projects resume post-Covid. In the ASEAN region, sustained economic growth and urbanization will boost the construction of transport and energy infrastructure as well as urban built environment projects."

RHTLaw Asia Managing Partner, Mr Azman Jaafar, said, "We will continue to strengthen our practice through synergistic opportunities here in Singapore and the region. The talents at ChangAroth Chambers LLC are a welcome addition to our team as we roll out our new ONERHT Client UX strategy together with our core multidisciplinary capabilities."

A multilingual advocate in facilitative and restorative justice, Mr Changaroth is an experienced conflict avoidance and dispute resolution practitioner who has represented parties from across the Asia Pacific region. With graduate certificates in Law and Technology, AI and Machine Learning, and Diversity-Equity-Inclusion, Mr Changaroth also holds a Master of Science in Construction Law and Arbitration from Kings College London and the National University of Singapore.

About RHTLaw Asia LLP

RHTLaw Asia LLP is a leading regional law firm headquartered in Singapore with a network of offices in 16 jurisdictions in Asia, Oceania, Middle East and Africa under the ASEAN Plus Group (APG) comprising over 2,000 lawyers. We help clients understand the local challenges, navigate the regional complexity to deliver the competitive advantage for their businesses in Asia. We are also the Singapore member of the Interlex Group, a global network of leading law firms. RHTLaw Asia collaborates with ONERHT, an integrated network of multidisciplinary professional services, through entities which are not affiliates, branches, or subsidiaries of RHTLaw Asia LLP. For more details, please visit www.rhtlawasia.com

About ONERHT

Since 2011, RHTLaw Asia's founding team aspired to develop a second engine of growth through ONERHT, an independent ecosystem of professional services, associated companies and networks, complementing RHTLaw's full service legal offerings. Together as ONE, we deliver comprehensive integrated business solutions. For more details, please visit www.onerht.com

For media queries, please contact:
Elliot Siow / elliot.siow@rhtgoc.com / +65 8375 0417

Topic: Press release summary
Source: RHTLaw Asia LLP
Sectors: Daily News, Legal & Compliance
https://www.acnnewswire.com
From the Asia Corporate News Network



Copyright © 2023 ACN Newswire. All rights reserved. A division of Asia Corporate News Network.