| | |
| --- | --- |
| Friday, 31 March 2023, 09:28 HKT/SGT | |



HONG KONG, Mar 31, 2023 - (ACN Newswire) -

On 28th March 2023, Rxilient Biotech (a portfolio company of Legend Capital) and Junshi Biosciences made a joint announcement that two parties will form a joint venture to develop and commercialize toripalimab in Thailand, Brunei, Cambodia, Indonesia, Laos, Malaysia, Myanmar, the Philippines, and Vietnam[1].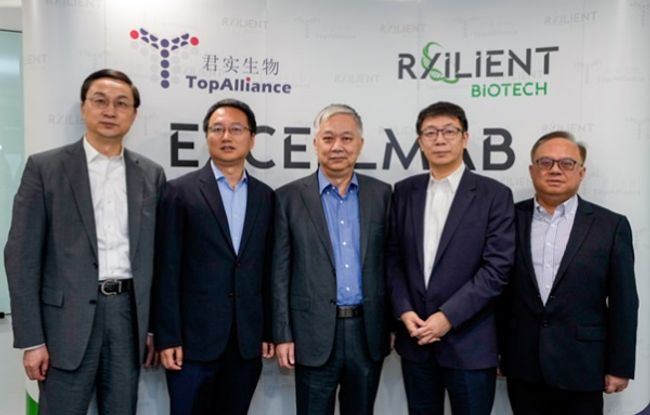 From left to right: CEO of Junshi Biosciences, Dr. Li Ning; Managing Director of Legend Capital, Executive Director of Rxilient, Mr. Hong Tan; Chairman, Chief Executive and President of CMS, Mr. Lam Kong; Chairman of Junshi Biosciences, Mr. Xiong Jun; CEO of Rxilient, Dr. Lee Ker Yin


Toripalimab is an anti-PD-1 monoclonal antibody independently developed by Junshi Biosciences. Junshi Biosciences has conducted over 30 clinical trials globally (in China, the USA, Southeast Asia, and Europe) covering more than 15 indications, including cancers of the lung, nasopharynx, esophagus, stomach, bladder, breast, liver, kidney, and skin. Six of these indications have been approved in China, and multiple marketing applications are currently under review by regulatory agencies in the US, EU, and UK.

"Cancer patients need toripalimab. We are confident that the highly professional and experienced Rxilient team will drive quick access to this valuable drug, toripalimab to patients in Southeast Asia," said Mr. HONG Tan, MD of Legend Capital.

"This collaboration is a good case example of Chinese pharmaceutical companies venturing overseas to help improve access to important novel drugs in emerging markets. Southeast Asia has a thriving innovative pharmaceuticals market, harmonized drug registration system, and diversified healthcare systems. Hence, it has great potential for innovative drugs. Legend Capital will continue to pay attention to investment opportunities in the healthcare industry of Southeast Asia, actively promote and assist Chinese pharmaceutical companies to enter the international markets, thus facilitating innovative drugs from China to benefit patients around the world," said Mr. HONG Tan.

Through this collaboration, Rxilient will introduce Toripalimab, a novel anti-PD-1 monoclonal antibody, into Southeast Asia. This joint venture leverages the strengths of Rxilient and Junshi Biosciences in drug registration and commercialization, and the R&D capabilities respectively. Rxilient plans to continue collaboration with Junshi Biosciences to introduce more high-quality innovative drugs into Southeast Asia.

JUNSHI BIOSCIENCES
Founded in December 2012, Junshi Biosciences (HKEX: 1877; SSE: 688180) is an innovation-driven biopharmaceutical company dedicated to the discovery, development, and commercialization of innovative therapeutics. The company has established a diversified R&D pipeline comprising over 50 drug candidates, with five therapeutic focus areas covering cancer, autoimmune, metabolic, neurological, and infectious diseases. Junshi Biosciences was the first Chinese pharmaceutical company that obtained marketing approval for anti-PD-1 monoclonal antibody in China. Its first-in-human anti-BTLA monoclonal antibody for the treatment of various cancers was the first in the world to be approved for clinical trials by the FDA and NMPA and has since entered Phase Ib/II trials in both China and the US. Its anti-PCSK9 monoclonal antibody was the first in China to be approved for clinical trials by the NMPA.

RXILIENT
Rxilient Biotech, established in November 2021, is a subsidiary controlled by China Medical System Holdings Limited ("CMS", (00867.HK)). Rxilient Biotech and other companies related to CMS that are involved in Southeast Asian businesses (together with Rxilient Biotech, "Rxilient", promoted and cofounded by CMS and Legend Capital) have formed an open platform integrating innovative R&D, formulation contract development, and manufacturing organization (CDMO), manufacturing, marketing, and promotion. Leveraging CMS's capability in acquiring high-quality products and strong financial position, Rxilient aims to bring innovative solutions from leading pharmaceutical companies in the USA, Europe, Japan, and China, to meet medical needs in Southeast Asia. Rxilient is operated independently by professional and experienced local teams in Southeast Asia.

[1] Junshi Biosciences's related license to the joint venture is subject to the fulfillment of the conditions precedent as agreed under the Shareholders Agreement.

Topic: Press release summary Sectors: BioTech, Healthcare & Pharm, Funds & Equities, PE, VC & Alternatives
https://www.acnnewswire.com
From the Asia Corporate News Network



Copyright © 2023 ACN Newswire. All rights reserved. A division of Asia Corporate News Network.

Latest Press Releases
SMEStreet Report on G20 Summit's Impact on Indian SMEs
Sept 30, 2023 11:00 HKT/SGT
PHOENIX HARMONIA, A Very Large LPG/Ammonia Carrier Constructed by Namura Shipbuilding, Enters into Service
Friday, September 29, 2023 4:11:00 PM
Meta Materials and Panasonic Industry Collaborate on Next Generation Transparent Conductive Materials
Sept 29, 2023 15:00 HKT/SGT
Stylish, Sporty, Spacious and All-Electric: Honda Prologue SUV Available Early Next Year with Anticipated EPA Range Rating of 300 Miles
Friday, September 29, 2023 1:31:00 PM
MHI Thermal Systems Scores Highly Again with Air-Conditioners for Australia and New Zealand Markets
Friday, September 29, 2023 10:51:00 AM
World's Best Honda Motorcycle Technician to be Determined at Inaugural Honda Global Motorcycle Technician Contest
Friday, September 29, 2023 10:05:00 AM
AIIB, PT PLN and PT SMI Collaborate to Support Energy Transition in Indonesia
Sept 29, 2023 10:00 HKT/SGT
Commercial Bank of Dubai Co-Hosts Future Sustainability Forum for a Greener Tomorrow
Sept 29, 2023 08:20 HKT/SGT
New Safety Research Sheds Light on Crucial Child Safety Product Concerns
Sept 28, 2023 21:30 HKT/SGT
Appia Provides Update on its Extensive Drilling Program at its PCH Ionic Clay Project, Brazil
Sept 28, 2023 20:59 HKT/SGT
More Press release >>