Inaugural partnership optimizes combined strengths of both companies in networking, security, industry verticals acumen and market reach



HONG KONG, May 24, 2023 - (ACN Newswire) -

CITIC Telecom International CPC Limited ("CITIC Telecom CPC"), a wholly-owned subsidiary of CITIC Telecom International Holdings Limited (SEHK: 1883) is pleased to announce it has become Versa Networks's first Greater China Secure Access Service Edge ( https://versa-networks.com/sase/ ) (SASE) & SD-WAN Managed Services Partner. Versa Networks is the recognized leader of single-vendor Unified SASE.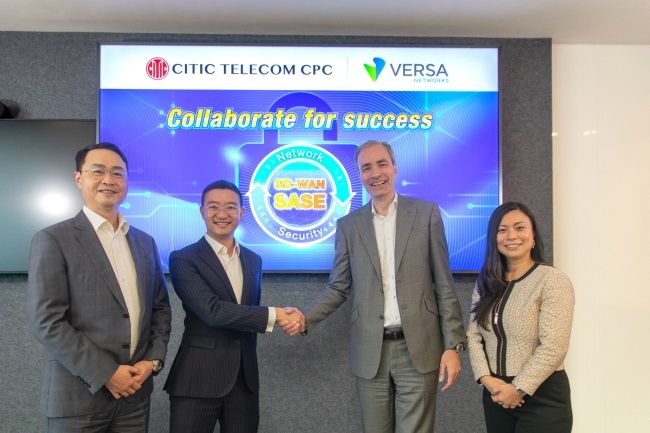 From left to right: Representatives from CITIC Telecom CPC, Jacky Kwok (Chief Commercial Officer) & Taylor Lam (Chief Strategy Officer); together with representatives from Versa Networks, Martin Mackay (Chief Revenue Officer) & Rachel Ler (Vice President, Asia Pacific & Japan)


This partnership leverages Versa Networks's market-leading technologies to enhance and expand CITIC Telecom CPC's integrated network-security portfolio, offering a new managed secure networking solution combining SASE, SD-WAN and 24x7 monitoring services to help accelerate the digital transformation of enterprise customers across the globe, especially in Greater China.

A Powerful Partnership
This powerful partnership between CITIC Telecom CPC and Versa Networks allows for mutually beneficial collaboration. As the market leader in SASE and SD-WAN, Versa Networks contributes its technological innovations, while benefiting from CITIC Telecom CPC's strengths in Greater China market acumen and reach, including navigating local regulations, compliance policies and years of customer experience. In turn, by joining resources and expertise with Versa Networks, CITIC

Telecom CPC can enhance the features and functionality of its own portfolio and bring to market a new integrated offering encompassing connectivity, security, and 24x7 monitoring to expedite the digital transformation journeys of CITIC Telecom CPC's customers across the region.

"This collaboration amplifies the core competencies of both companies," said Taylor Lam, Chief Strategy Officer of CITIC Telecom CPC. "Versa Networks has a strong reputation for innovation and delivering industry-leading networking and security solutions. We are proud to be Versa Networks's first Greater China SASE & SD-WAN Managed Services Partner, and can now further support the success of our customers with the power of Versa Networks's impressive technology. This partnership underscores our ongoing commitment to delivering the best possible solutions to our customers, and to collaborating with top technology vendors in their respective segments."

"CITIC Telecom CPC has a proven track record of delivering high-quality managed services to customers across regions and in Greater China," said Martin Mackay, Chief Revenue Officer, Versa Networks. "CITIC Telecom CPC's technical and business expertise, commitment to innovation and service excellence, and localized capabilities make them an ideal partner for us as we continue to expand our global footprint. Our combined strengths in managed services, networking, security, and cloud solutions will provide mutual customers with more comprehensive and powerful ways to address and resolve even their most complex secure network and access challenges."

Through this partnership, now with the latest Secured SD-WAN solution, customers can enjoy comprehensive managed network-security service from both top-notch players, coupled with CITIC Telecom CPC's Global-Local one-stop managed ICT services; and Versa Networks's world-class SASE and SD-WAN technologies, including key capabilities such as multi-tenancy, multi-service, zero-touch provisioning and a broad set of networking and security functions to increase IT and security agility.

Continuously Elevating Infrastructure and Capabilities for Superior Managed Service Excellence
Collaborating with Versa Networks further empowers CITIC Telecom CPC's steadfast momentum of systematically refining its already world-class infrastructure and capabilities. This headway is demonstrated by the recent launch of the company's third 24x7 Security Operations Center (SOC) in Shanghai, further elevating superior cloud and network security capabilities to actively support mainland and international enterprises with Greater China business operations. With proficiencies in cloud computing, cybersecurity, network management, and decades of business and market knowledge, CITIC Telecom CPC offers managed ICT solutions worldwide, with a particular focus on Greater China. Its Fully Managed Services provide total visibility, optimization, automation and hands-on management of IT systems and resources across the globe, to meet enterprise customers' networking, security, data, applications and multi-cloud demands.

CITIC Telecom CPC is a global-local data-driven information, communication, and technology (DICT) service provider that empowers enterprises with intelligent capabilities and vital innovations. Via partnering with Versa Networks, CITIC Telecom CPC maintains its position at the forefront of the industry and underscores its commitment to delivering the most modern secured ICT solutions and the highest level of service quality to its customers, anytime, anywhere.

About CITIC Telecom CPC
We are CITIC Telecom International CPC Limited ("CITIC Telecom CPC"), a wholly-owned subsidiary of CITIC Telecom International Holdings Limited (SEHK: 1883), serving multinational enterprises the world over by addressing their specific ICT requirements with highly scalable tailored solutions built upon our flagship technology suites, comprising TrueCONNECT(TM) private network solutions, TrustCSI(TM) information security solutions, DataHOUSE(TM) cloud data center solutions, and SmartCLOUD(TM) cloud computing solutions.

With the motto "Innovation Never Stops," we leverage innovative technologies, embracing AI, AR, Big Data, IoT, and other cutting-edge emerging technologies to transform technical potential into business value for our customers. As an enterprise digital transformation partner, we strive to help our customers achieve industry-leading positions, high agility, and cost-efficiency through digitalization.

With our Global-Local capabilities, we are committed to providing our customers with one-stop-shop ICT solutions with superior quality. Having a worldwide footprint across nearly 160 countries, including Asia, Europe and America, Africa, the Middle East, and Central Asia, our global network resources connect over 160 points of presence (POPs), 60 SDWAN gateways, 21 Cloud service centers, 30+ data centers, and three dedicated 24x7 Security Operations Centers (SOCs). We are certified with a series of international certifications, including SD-WAN Ready, ISO 9001, 14001, 20000, 27001, and 27017, to ensure our services compliance with international standards and resources for enterprises. We offer local professional services, superior delivery capabilities as well as exceptional customer experience and best practices through our global presence and extensive industry know-how, becoming a leading integrated intelligent ICT service provider to enterprise customers.
For more information, please visit www.citictel-cpc.com

About Versa Networks
Versa Networks, the leader in single-vendor Unified SASE platforms, delivers AI/ML-powered SSE and SD-WAN solutions. The platform provides networking and security with true multitenancy, and sophisticated analytics via the cloud, on-premises, or as a blended combination of both to meet SASE requirements for small to extremely large enterprises and Service Providers. Thousands of customers globally with hundreds of thousands of sites and millions of users trust Versa with their mission critical networks and security. Versa Networks is privately held and funded by Sequoia Capital, Mayfield, Artis Ventures, Verizon Ventures, Comcast Ventures, BlackRock Inc., Liberty Global Ventures, Princeville Capital, RPS Ventures and Triangle Peak Partners. For more information, visit https://www.versa-networks.com or follow Versa Networks on Twitter @versanetworks.

Media Contact:
Catherine Yuen
CITIC Telecom CPC
(852) 2170 7536
Email: catherine.yuen@citictel-cpc.com

Topic: Press release summary
Source: CITIC Telecom CPC
Sectors: Telecoms, 5G, Cloud & Enterprise, Artificial Intel [AI]
https://www.acnnewswire.com
From the Asia Corporate News Network



Copyright © 2023 ACN Newswire. All rights reserved. A division of Asia Corporate News Network.

CITIC Telecom CPC Related News
Nov 22, 2023 18:26 HKT/SGT
中信国际电讯CPC推出TrustCSI™ 3.0 云网神盾 ,智赋安防 重新定义,主动防御 合规管理 提升安全运营中心能力
Nov 22, 2023 18:25 HKT/SGT
中信國際電訊CPC推出TrustCSI™ 3.0 雲網神盾,智賦安防 重新定義,主動防禦 合規管理 提升安全運作中心能力
Nov 22, 2023 18:24 HKT/SGT
CITIC Telecom CPC Redefines Cybersecurity With AI-Powered TrustCSI(TM) 3.0: Proactive, Compliance-focused and Empowering SOCs' Capabilities
Oct 24, 2023 17:21 HKT/SGT
中信国际电讯CPC子公司中企通信凭借全球丰富ICT资源及多个「一带一路」沿线案例荣登 「一带一路」数字先锋榜
Oct 24, 2023 17:20 HKT/SGT
中信國際電訊CPC子公司中企通信憑藉全球豐富ICT資源及多個「一帶一路」沿線案例榮登 「一帶一路」數字先鋒榜
More news >>