Celebrate Pride Month, putting forward the country as a world pride destination 2023



BANGKOK, June 7, 2023 - (ACN Newswire) -

Celebrate PRIDE MONTH throughout June, experience the magic and colour of the Pride Festival in Bangkok, Thailand, supporting and celebrating the LGBTQIAN+ community. The spectacular Pride Parade on June 4 graced CentralwOrld, the center of Pride Festival celebrations, joining with the United Nations Development Programme (UNDP) Thailand, partners from government and private sectors led by the Bangkok Metropolitan Administration, Galderma Thailand, Muse by Metinee, Bangkok PRIDE and Tiffany's Show Pattaya Co, Ltd, rolling out THAILAND'S PRIDE CELEBRATION 2023 - PRIDE FOR ALL.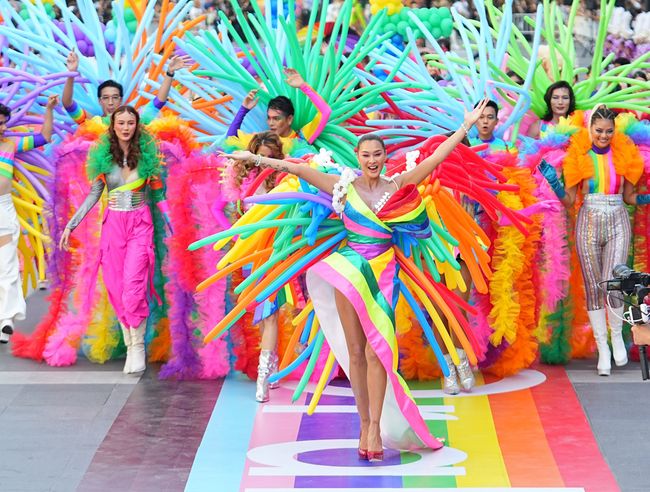 PRIDE HAPPENING, the rainbow phenomenon that meets the needs of all GENs throughout June.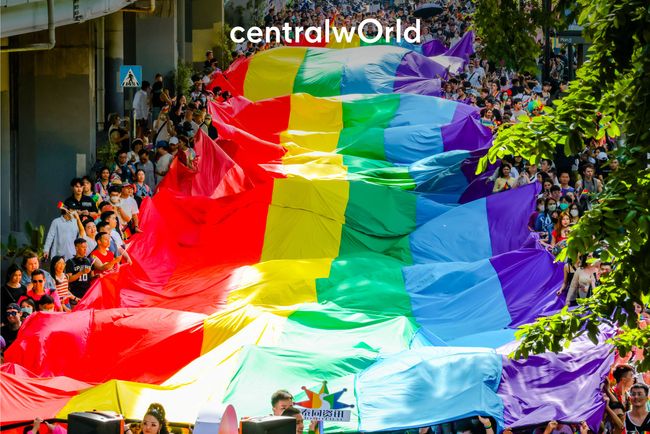 Over 500 LGBTQIAN+ joining the Parade of Rainbow Flags, symbolizing equality and reflecting on centralwOrld as a space that embraces diversity, accepts all differences and promotes equality.


Reflecting CentralwOrld as a space that embraces diversity where everyone can show their identity as 'CentralwOrld citizens' and accepts all differences and promotes equality under the concept of 'Proud to be Pride'. This biggest of Pride Parades, with waving rainbow flags from eight branches nationwide, led by 'Proud to be Pride', with the 'Fly High In The Sky for Pride' show and Fashion Parade, gathered 500+ models for the 'This is my look' Parade from Galderma (Thailand), expressing self-expression with confidence and charm, followed by the spectacular 'Pride Concert' featuring Thailand's leading artists.

Echoing voices of diversity and equality, the Bangkok Pride 2023 parade was co-hosted by CentralwOrld, the Bangkok Metropolitan Administration and Naruemit Pride. The parade moved from Pathumwan intersection to the Ratchaprasong intersection at CentralwOrld, waving the beautiful and spectacular 144.8-meter rainbow flag, with thousands of people joining the grand procession, enjoying special shows, mini-concerts and the celebration of gender diversity, with provincial governors, ambassadors, government agencies and representatives of the LGBTQIAN+ community.

The 'Pride Talk with UNDP' heard discussion from key persons in the LGBTQIAN+ community at CentralwOrld, Central Pattaya, Phuket, Udonthani, Khon Kaen, Chiangmai and Chonburi. Enjoy Pride Competitions for Miss International Queen with national costumes at CentralwOrld. Pride Vibe, you will experience an art installation from artist: 'Teayii' Prapatsorn with her work: 'Seat a Pride' throughout two full months at CentralwOrld (June-July 2023) and at Central Chonburi under the art concept of 'Mirror Mirror: Reflect Yourself'.

For the month of June we're celebrating Thai Pride as the top Pride destination for the LGBTQIAN+ community from around the world, comparable to NYC Pride in New York, EuroPride 2019 & Pride Week in Vienna Austria, Tokyo Rainbow Pride in Japan and Taiwan LGBT Pride. Come and show your support for the power of diversity, express yourself with freedom at the great rainbow landmark, and help create GLOBAL IMPACT to ensure the Thai Pride Festival becomes the Pride Celebration Landmark for the LGBTQIAN+ community worldwide, at THAILAND'S PRIDE CELEBRATION 2023 - PRIDE FOR ALL. For more information, visit the Facebook page @centralwOrld

Contact: CENTRAL PATTANA Public Relations
Tatthep Hatsakanpiamsuk (Aum), +66-81-928-7702, hatatthep@centralpattana.co.th
Ninasreen Matha (Memee), +66-82-426-3914, maninasreen@centralpattana.co.th

Topic: General Announcement
Source: Central Pattana
Sectors: Travel & Tourism, Daily News, Regional, Local Biz
https://www.acnnewswire.com
From the Asia Corporate News Network



Copyright © 2023 ACN Newswire. All rights reserved. A division of Asia Corporate News Network.

Latest Press Releases
SMEStreet Report on G20 Summit's Impact on Indian SMEs
Sept 30, 2023 11:00 HKT/SGT
PHOENIX HARMONIA, A Very Large LPG/Ammonia Carrier Constructed by Namura Shipbuilding, Enters into Service
Friday, September 29, 2023 4:11:00 PM
Meta Materials and Panasonic Industry Collaborate on Next Generation Transparent Conductive Materials
Sept 29, 2023 15:00 HKT/SGT
Stylish, Sporty, Spacious and All-Electric: Honda Prologue SUV Available Early Next Year with Anticipated EPA Range Rating of 300 Miles
Friday, September 29, 2023 1:31:00 PM
MHI Thermal Systems Scores Highly Again with Air-Conditioners for Australia and New Zealand Markets
Friday, September 29, 2023 10:51:00 AM
World's Best Honda Motorcycle Technician to be Determined at Inaugural Honda Global Motorcycle Technician Contest
Friday, September 29, 2023 10:05:00 AM
AIIB, PT PLN and PT SMI Collaborate to Support Energy Transition in Indonesia
Sept 29, 2023 10:00 HKT/SGT
Commercial Bank of Dubai Co-Hosts Future Sustainability Forum for a Greener Tomorrow
Sept 29, 2023 08:20 HKT/SGT
New Safety Research Sheds Light on Crucial Child Safety Product Concerns
Sept 28, 2023 21:30 HKT/SGT
Appia Provides Update on its Extensive Drilling Program at its PCH Ionic Clay Project, Brazil
Sept 28, 2023 20:59 HKT/SGT
More Press release >>