DUBAI, June 30, 2023 - (ACN Newswire) - Exito Media Concepts unveiled the DT 100, a magazine which commemorates the extraordinary accomplishments of technology leaders in the UAE at the Digital Transformation Summit which took place on the 14-15 of June 2023 at the Ritz Carlton, Dubai International, Financial Centre.
DT 100 recognises individuals who have made outstanding contributions to the advancement of technology in the region.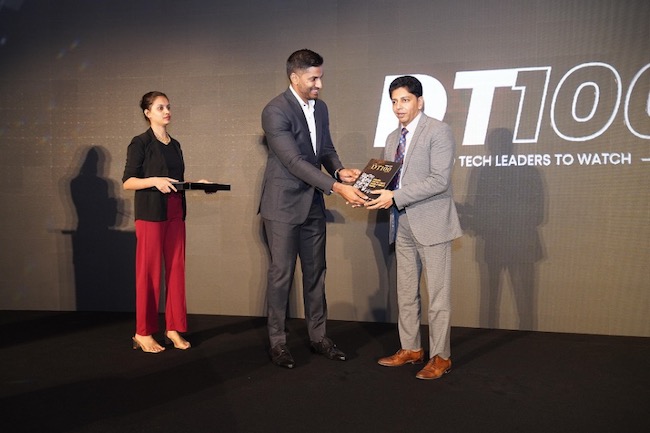 Here is the esteemed DT100 list:
Veneeth Purushotaman - Group Chief Information Officer, Aster DM healthcare
Srinivasan Sampath - Acting Chief Technology Officer, First Abu Dhabi Bank
Abdalla Al Ali - Director IT and Innovation, DMCC Authority
Aiman Othman - IT Director, Union Coop
Sebastian T. Samuel - Chief Information Officer, AW Rostamani Group
Tamer Hamed - Chief Information Officer, DUCAB
Eng. Isha Aljasmi - IT Director, Ministry of Energy & Infrastructure
Gigi Mathew Thomas - Group Head - IT & Digital Transformation, Ittihad International Investment LLC
Abdul Rahmaan Ismail - Head of IT UAE, SAAB Group
Rajesh Kumar Bhaskaran - Head - Core Technology Platforms, EMIRATES NBD
Munir Majdalawieh - Head of Information systems and Technology Management Department (Department Chair), Zayed University Dubai
Swapnil Kelaiya - Head of IT & Digital Transformation, Smith + Nephew
Alexei Ivanov - Head Of Information Technology, MAPYR FZCO
Rahul Otawat - Vice President - Data Science and Analytics, Mashreq Bank
SatyaShankar Chirravuri - Head of Technology Platforms - Cloud & Security, Al-Futtaim
Jayant Sharma - Digital Experience Platform Director, Miral Experiences
Somy Varghese - Head of Digital Transformation & Technology, Etoile Group
Himanshu Puri - Head Of Information Technology (CIO), King's College Hospital London – UAE
Gyan Prakash Srivastava - Head - Data Management , Analytics & Data Governance, Mashreq Bank
Carl Siddons - SVP Digital Design, ALDAR - Real Estate
Amna Saleh AlHammadi - Head of Health Systems and Integration Section, Acting Director of Health Information Systems Department, Emirates Health Services
Akash Lall - General Manager IT Digital, Sobha Realty
Ehtisham Syed - Executive Director IT, Falconpack
Dr. Hamad Khalifa Al Nuaimi - Telecommunications Specialist, Abu Dhabi Police
Vineesha Hk. - Regional thought leader - Digital & CX UAE MENA, Women Leader of the Year
Dr. Sid Ahmed Benraouane - Dubai Government Advisor | MENA Government Advisor, Dubai Government
Dr. Ebrahim Al Alkeem - Digital Transformation, Cyber Security and Artificial Intelligence Expert, Government of Abu Dhabi United Arab Emirates
Dr. Ebrahim Hasan Al Khajeh - Division Director of Human Capital Member of the Strategic Transformation Committee, Abu Dhabi Customs United Arab Emirates
Suleiman Mohammed Aldabbas - Digital Transformation Expert - Public Sector, UAE
Awad Ahmed Ali El-Sidiq - Head of Artificial Intelligence & Analytics, ADNOC
Manal Allam - IT Head & Business Partner, Merck Group
Jad Hindy - Senior Vice President Marketing, Expo City Dubai
Kelly Machado - Digital Strategy & Transformation, UAE Government
Taghrid Alsaeed - Executive Director – Group Communications and Destination Marketing, Miral
Raed Kuhail - Executive Director, Digital and Technology, Miral
Sarfaraz Muneer - Vice President, Cyber Security and Technology Platform, Mubadala
Vishal Anand - Senior Director IT, Jumeirah Group
Aus Alzubaidi - Director of IT, Cybersecurity & Media Management, MBC Group (Middle East Broadcasting Corp)
Sumit Srivastava - Digital and Commercial officer, A leading Digital Services provider
Bart Pietruszka - Chief Data & Analytics Officer, Wholesale Data, Analytics and CRM, HSBC Bank Middle East
Nitin Bhandari - SVP & Head of Payit Digital Wallet, First Abu Dhabi Bank (FAB)
Giovanni Gavino Everduin - Head of Strategy & Innovation, Commercial Bank International
Dr. Thierry Lestable - Executive Director, Artificial Intelligence & Digital Science Research Center (AIDRC), Technology Innovation Institute (TII)
Kareem Refaay - Managing Director GCC & MENA, The London Institute of Banking & Finance
Moe Abeidat - Group VP of Technology (Executive Committee), Aramex International
Krishnan Gopi - Group Chief Disruption Officer, GEMS Education
Imran Kannuti - Head, Banking Operations Digitization & Transformation, Banque Misr UAE
Sivakumar Venkatraman - Chief Technology Officer, Lockton (MENA) Limited
Jayaraj Perumalsamy - Group Head of IT & Digital Transformation, Barakat Group of Companies
Ronit Ghose - Global Head - Future of Finance, Citi
ElFadl Ibrahim - Advisor, Digital Oilfield, ADNOC
Stephen Kruger - CTO, Careem
Chirenj Chandran - CEO, MySyara
Debbie Botha - Chief Partnership Officer, Women In Ai
Naushad Mohammed - Director - IT, Reem Hospital, Vamed Healthcare
Meshal Abdulla Binhussain - CIO Ministry of Finance
Eyad Kashkash - EVP, Group Head of IT, Al Ramz Corporation PJSC
Mamoun Alhomssey - Executive Vice President Technology, ADIB
Linoy Kidd - MSs cio menat, HSBC
Murali Mohan Thupakula - Group Director of IT - Digital Transformation, Geidea
Billel Ammour - Head of IT & Digital, Taqeef
Younis Othman - Senior Manager- Director of IT Department, Dubai Customs
Salahuddin Almohammadi - Group IT Director, HSA Group
Bisrat Degefa - Director - Head of Digital Developments, Gleeds
Ravindran Ramiah - CTO, Aafaq Islamic Finance PSC
Mohammed Ahteshamuddin - Head of Information & Technology, FlyDubai
Umesh Moolchandani - Chief Information Officer, Bin Dasmal Group
Santosh Shetty - CIO/Head of IT, Liwa Trading Enterprises LLC
Arun Kumar Mohta - Group IT Head, FJ Group
Vippon Kumar - Associate Director - IT, Plaza Premium Group
Ezzeddine Jradi - Chief Transformation and Business Excellence Officer, EMICOOL LLC
Hiren Desai - Head Of Information Technology, Burjeel Medical City
Vignesh Bala Pillai - Vice President, Technology, Mashreq
Manish Agarwal - Chief Information Officer, M H Enterprises LLC
Dylan Fernandes - Head Of Information Technology, Lavoya Restaurants Group
Somnath Sarkar - CISO - Group Head of Information Security, Mashreq Bank
Tarek Soubra - Chief Technology Officer, Al Maryah Community Bank
Shumon A Zaman - Chief Information and Digital Officer, Ali & Sons Holding LLC
Ibrahim Al Najjar - Vice President Information Technology, DP World
Ali H Ghunaim - Director Of Information Technology, Canadian Specialist Hospital
Suraj Nair - Director - Digital Services (Middle East, North Africa, Pakistan), Mondelēz International
Lenish Kannan - CIO, WESTERN INTERNATIONAL GROUP - NESTO/GEEPAS
Khaldun S.A Al Khaldi - VP- Head Of Enterprise Infrastructure Services, Dubai Islamic Bank
Jacob Mathew - Head Of Information Technology, Government of Abu Dhabi Entity
Syed Ali Naqvi - Head of Cyber Security, HBL - Habib Bank Limited , Dubai
Miguel Rio-Tinto - Group Chief Digital and Information Officer, Emirates NBD
Gokul Gopalakrishnan - Head of Information Technology, Acino
Peter Gesper - Director of Information Technology, Majid Al Futtaim
Neeraj Tiwari - Head of Digital Technology, Kuwait Food Company (Americana) , Dubai
Dr. Joseph George - Chief Technology Officer, Smart Salem
Sasidhar Merugu - Head of Information Technology, Shalina Healthcare
Sourabh Shukla - Head IT PMO, AWR
Mustansir Aziz - Head Of Information Technology, Automech Group
Jitesh Goradia - IT Director, DarGlobal
Aslam Labeeb - Head of Supply Chain & IT, Gulf International
Mohammed Tarik Kouba - Head of IT - Quality - Service and Technology Business Management.
Mohammed Ameen - CIO/CTO/Tech Director, Masafi LLC
Sanil Abdulla Manoly - Head of IT, Uuniversity Of Wollongong
Dylan Fernandes - Head Of Information Technology, Lavoya Restaurants Group
Dr. Tariq Al Hawi - Program Director, UAE Smart Government
Diaa Moustafa - Head - Technolgy Platform, Abu Dhabi Commercial Bank
About Exito:
Exito, which means success in Spanish, embodies our commitment to the success of our customers.
Each year, we host over 240 virtual and in-person conferences globally, bringing together audiences with world-class thought leaders and C-level executives across industries. Our meticulously crafted agendas, based on extensive research and valuable industry insights, facilitate business, knowledge transfer, deal flow, and impactful messaging for brands.
For more information about DT 100, including the complete list of nominees and the Digital Transformation Summit schedule, please visit our official event website: https://digitransformationsummit.com/uae/dt-100/
For press inquiries or media coverage requests,
Contact: Mithun Gopinath
Email: mithun.gopinath@exito-e.com
Topic: Press release summary

Source: Exito
Sectors: Trade Shows, Digitalization, Artificial Intel [AI]
https://www.acnnewswire.com
From the Asia Corporate News Network
Copyright © 2023 ACN Newswire. All rights reserved. A division of Asia Corporate News Network.