| | |
| --- | --- |
| Wednesday, 23 August 2023, 13:00 HKT/SGT | |


Source: YanaTV



SINGAPORE, Aug 23, 2023 - (ACN Newswire) -

The digital entertainment landscape just got a whole lot more intriguing with the much-anticipated launch of the YanaTV YouTube channel. On this auspicious occasion, a star-studded gathering of local celebrities, friends, and well-wishers converged at the Retro Bar, Lofty Peaks to celebrate the beginning of an exciting new journey in the realm of online content. Present for the launch party were Yana Fry, Host and Founder of YanaTV, David Bachmann, Austrian Trade Commissioner for Singapore, business leaders, diplomats and ambassadors, famous writers, speakers, partners, and friends. The link to the channel is https://www.youtube.com/@yanatvsg.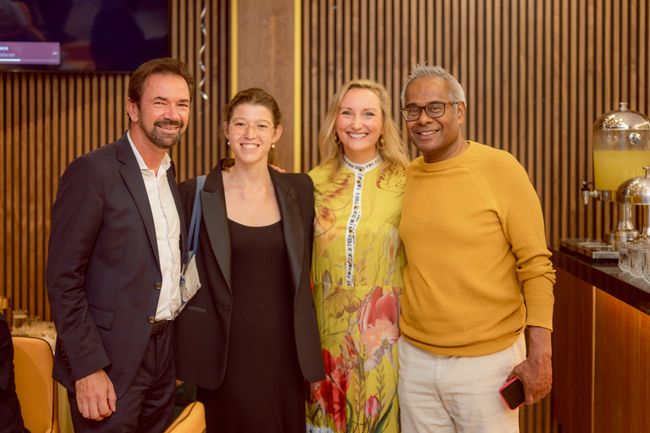 (L) David Bachmann, Austrian Trade Commissioner for Singapore, Sofia Elalamy, Yana Fry, Founder- YanaTV and Ravi Chidambaram (Yana's Husband)


YanaTV, spearheaded by visionary content creator Yana Fry promises to be a dynamic and captivating addition to the YouTube universe. Offering a unique blend of entertainment, education, and inspiration, the channel aspires to become a haven for viewers seeking quality content that resonates with a global as well as ASIA audience.

Amidst a live talk show and some fun roasts with guests,attendees were treated to an enchanting evening filled with joy, laughter, and a palpable sense of anticipation. Distinguished local celebrities, known for their contributions to various facets of the entertainment industry, graced the event and shared their excitement for YanaTV's promising future. The gathering was a testament to the wide-ranging support and anticipation that the channel has garnered even before its official launch.

As guests mingled around sharing their experiences Yana Fry took to the stage to express gratitude to everyone who had supported the channel's journey from inception to this remarkable milestone. "YanaTV is more than just a channel; it's a community where ideas, stories, and experiences converge to create something truly extraordinary. We are committed to delivering content that engages, enlightens, and entertains, and we can't wait to embark on this adventure with all of you," Yana Fry, Host and Founder stated passionately.

The event featured a sneak peek of some of the captivating content that viewers can expect from YanaTV. Ranging from thought-provoking documentaries to light-hearted entertainment, the channel promises to cater to diverse interests and age groups. The launch of YanaTV marks a significant step in the digital entertainment arena, highlighting the power of innovative content and community engagement. With a strong emphasis on fostering a sense of connection among viewers, the channel aims to be a go-to destination for anyone seeking enriching and engaging content on YouTube.

About YanaTV

YanaTV is a groundbreaking YouTube channel by Yana Fry dedicated to delivering a diverse range of content that entertains, educates, and inspires audiences around the world. With a commitment to quality storytelling and innovative ideas, YanaTV seeks to create a global community united by the power of digital content. Yana has been a coach, speaker and facilitator in the field of human development for more than a decade and has helped leaders worldwide to unlock and embody their highest goals. She runs a company Awaken Human which has been running successfully for 11 years now. Yana has been hosting Timeless Teaching podcast which focuses on human advancement for the last 2.5 years. The podcast was one of the top 3 trending podcasts which garnered an organic follower base.

Contact:
Email- yana@yanafry.com

Topic: Press release summary
Source: YanaTV
Sectors: Daily News, Regional, ASEAN, Local Biz
https://www.acnnewswire.com
From the Asia Corporate News Network



Copyright © 2023 ACN Newswire. All rights reserved. A division of Asia Corporate News Network.

Latest Press Releases
AsiaPresswire Launches GTP-PRHelper AI Tool to Boost Hong Kong Crypto, DeFi Sector Productivity
Dec 8, 2023 09:00 HKT/SGT
BIP Asia Forum and Entrepreneur Day open today
Dec 8, 2023 09:00 HKT/SGT
U.S. Polo Assn. Supports Star-Studded 'Boo-Yah' Night for The V Foundation for Cancer Research
Dec 8, 2023 09:00 HKT/SGT
Mariupol Reborn One Year On: Major Progress in Developing Fast Recovery Plan and Long-Term Regeneration
Dec 8, 2023 07:00 HKT/SGT
Curio and Deep Isolation Sign MOU to Advance Nuclear Waste Disposal Technologies.
Dec 8, 2023 06:51 HKT/SGT
Advocates Deliver Over 540,000 Signatures Demanding Increased Regulation to Combat Child Sexual Abuse Online
Dec 7, 2023 23:00 HKT/SGT
What is the Citi Cash Back+ Card, and How does it Work?
Dec 7, 2023 22:30 HKT/SGT
How to Apply for a Citi Personal Loan in Hong Kong
Dec 7, 2023 22:00 HKT/SGT
Phoenix Group and Whatsminer Seal $380M Deal for Sustainable Hydro-Powered Mining Innovation
Dec 7, 2023 20:00 HKT/SGT
CleverTap Unveils Signed Call(TM) for Trusted and Contextual Customer Engagement
Dec 7, 2023 16:00 HKT/SGT
More Press release >>