Witness the next evolution of haute couture as internationally-renowned Filipino fashion designer Michael Cinco brings his acclaimed designs to Philippine Blockchain Week (PBW) in the country's first-ever Metaverse Fashion Gala. Taking place on September 18 at the Marriott Grand Ballroom, Newport World Resorts Manila, the event will redefine how audiences see digital fashion.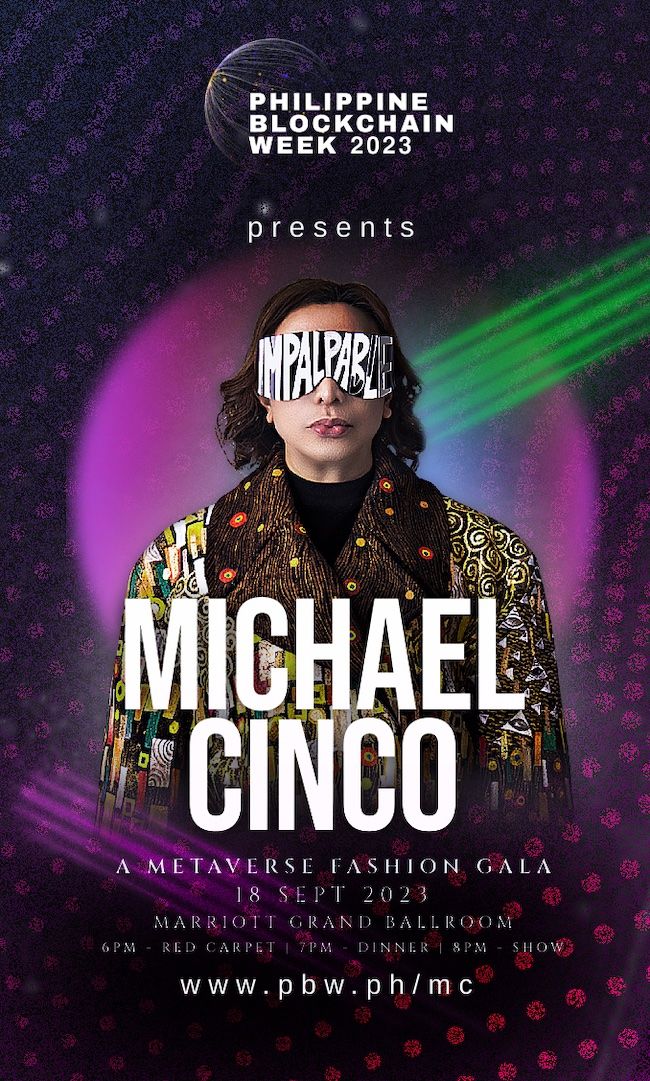 For Cinco, whose designs have been worn by royalty of multiple countries, as well as celebrities like Beyonce, Jennifer Lopez, Rihanna, Lady Gaga, Mariah Carey, Nick Jonas, James McAvoy, Jason Derulo, Steve Aoki, Carrie Underwood, Sofia Vergara, Mila Kunis, Kylie Minogue, Britney Spears, Christina Aguilera, Ellie Goulding, to name a few, the opportunity to break ground in a new medium was irresistible.
"Fashion has always been about redefining barriers, and right now, there's no bigger barrier than taking what's physical into the digital," says Cinco. "I'm excited to be partnering with PBW and even more excited for everyone to see what we have planned."
At the Gala, collectors will be treated to a showcase of signature Cinco pieces, while the runway models' avatars will be shown wearing the same outfits in the Metaverse. Finally, fashion collectors will be invited to take home their favorite pieces, which will be made available for purchase through an exclusive pre-sale, which -in addition to the actual gowns- will come with special edition digital collectibles.
To drive further hype, PBW delegates will be treated to an exhibit of Michael Cinco gowns, which will be exhibited throughout the PBW venue, allowing fashion-forward fans to get up close and personal with Cinco's iconic style.
According to PBW convenor Chezka Gonzales, the partnership with Michael Cinco is indicative of how Blockchain technology is changing every aspect of how the world lives, works, and plays. "Philippine Blockchain Week isn't just about technology - it's about showcasing how the Blockchain can complement creative professionals at the top of their field."
Part of the proceeds from the Michael Cinco Metaverse Fashion Gala will benefit the World Wildlife Fund for the conservation of endangered species, and the Global Reskilling Movement, an international initiative devoted to providing better opportunities for the youth.
Tickets for the Michael Cinco Metaverse Fashion Gala are on sale now, granting holders VIP access to a once-in-a-lifetime experience while indulging in pre-show cocktails and a 5-course epicurean dinner. For reservations or more information, visit https://bit.ly/3EEPZSQ or pbw.ph/mc or email info@pbw.ph.
About the Philippine Blockchain Week 2023
Philippine Blockchain Week (PBW), the premier blockchain event in Manila, is scheduled to showcase the most prominent figures in blockchain technology, crypto, and web3 from September 19 to 21, 2023, at the Marriott Grand Ballroom, Newport World Resorts, Pasay City.
With the theme 'BRKOUT,' PBW 2023 aims to transcend traditional norms by encouraging participants to venture beyond their comfort zones, abandon old habits, and embrace fresh opportunities in the blockchain space.
For more information, visit https://www.pbw.ph/
Join the action!
https://twitter.com/philblockchain
https://www.instagram.com/philippineblockchainweek2023/
https://www.facebook.com/philblockchainweek
Topic: Press release summary

Source: Philippine Blockchain Week 2023
Sectors: Trade Shows, Crypto, Exchange, Blockchain Technology

https://www.acnnewswire.com
From the Asia Corporate News Network
Copyright © 2023 ACN Newswire. All rights reserved. A division of Asia Corporate News Network.