| | |
| --- | --- |
| Wednesday, 23 May 2018, 19:20 HKT/SGT | |


Source: SmartUp
And Announces Its First Incubated Japan Blockchain Project ValueCoin



HONG KONG, May 23, 2018 - (ACN Newswire) -

Hong Kong based blockchain project SmartUp brings together investment opportunities in Asia. The project has two major updates over the past weekend: SmartUp announced that it received USD5 million investment from Blockchain Japan, also the project reached an agreement with ValueCoin for being its first incubating blockchain project. A press conference was held in Japan last Sunday (20 May 2018) to announce the business development.




Mr. Ric Wu, Founder of SmartUp and Mr. Yasutaka Hirao, President of FCO International Limited shook hands after signing the collaboration agreement between SmartUp and ValueCoin.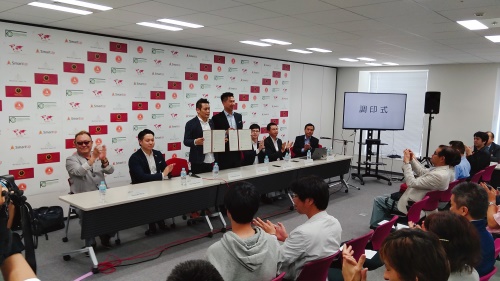 Mr. Ric Wu, Founder of SmartUp, and Mr. Toshifumi Emoto, President of Blockchain Japan, signed funding agreement in Tokyo, Japan. SmartUp has taken USD5 million investment from Blockchain Japan.



The investment of Blockchain Japan will provide initial funding for early platform operation expenses. Besides money investment, Blockchain Japan will also introduce SmartUp to its members, and match suitable projects with SmartUp.

Mr. Toshifumi Emoto, President of Blockchain Japan, said, "There are numerous quality blockchain projects in Asia. However, it is always challenging for them looking for funding and resources. SmartUp provides projects with technical support as well as one stop incubating service. We also introduced ValueCoin to be SmartUp's first incubatee. We shall work seamlessly with SmartUp and dedicate to bring more quality projects to international market."

Mr. Ric Wu, Founder of SmartUp, said, "We are happy to receive the support and investment from Blockchain Japan, representing their recognition to our vision. We shall match the project with appropriate and quality resources, and eventually bring the project to the global stage. We are looking forward to more collaboration with Blockchain Japan, not limited to incubating more quality projects, but also increase the awareness of regional market on blockchain technology applications."

Mr. Fay Lam, Chief Executive Officer of SmartUp, said, "The investment of Blockchain Japan on SmartUp implies strong funding support on the incubated projects, and also a testimonial to SmartUp's experienced management team and its potential. After the private funding, SmartUp will connect with various Asian investor communities, and grow the incubatees on its transparent and trustful platform."

ValueCoin is invested and distributed by FCO International Limited, with the technical support and funding from Blockchain Japan. Given the increasing opportunities working with different business organizations when the company is getting involved in international trading, the transactions need to be effectively managed and ensure the transaction records are open, authentic and transparent. ValueCoin's blockchain platform will provide convenient and accurate way of transaction to its members.

Mr. Zuo Peng, CEO of FCO International Limited, commented on ValueCoin being the first project landing on SmartUp, "Blockchain application is becoming popular in Japan. We share the vision of SmartUp and we are looking forward to apply ValueCoin and its blockchain applications in international trading. The participation to SmartUp incubator will help us getting international resources and partners to promote the said applications to improve business efficiency. Looking ahead, we shall work closely with Mr Wu and his team for bring ValueCoin to the global market."

Mr. Ric Wu concluded, "On behalf of SmartUp, we welcome ValueCoin to join our platform. SmartUp integrates resources for projects and provides accurate funding record for investors, which hugely reduces transaction cost. ValueCoin owns a membership base of more than 56 million, and its participation to SmartUp has provided an ideal choice to investors. Looking forward, we shall bring in more quality projects in the region as well as better value to investors."

Please visit https://www.smart-up.co/ for more information about the project, team and service providers.

Please find the link here for HD event photos: https://goo.gl/8H625i

About SmartUp
SmartUp is a global blockchain incubating platform connecting enterprises and individuals. It connects diversified types of projects, companies, individuals, and services, as a result of irrefutable, transparent and temper-free features. The platform also provides a comprehensive service for startups through SIT, which would help create a complete credit system. For detailed information, please visit: www.smart-up.co

Media Enquiry:
Across Asia Communications Limited
Damon Kwok
Direct: +852 3111 5182
Email:

[email protected]




Topic: Press release summary
Sectors: Daily Finance, Daily News, FX & Digital Currencies, FinTech & Blockchain, Venture Capital

http://www.acnnewswire.com
From the Asia Corporate News Network
Copyright © 2020 ACN Newswire. All rights reserved. A division of Asia Corporate News Network.