Achieves Record-high Contracted Sales of RMB20.8 Billion;
Actively Replenishes Land Bank in Second-tier and Strong Third-tier Cities



HONG KONG, Aug 24, 2018 - (ACN Newswire) -

China SCE Group Holdings Limited ("China SCE" or the "Company", together with its subsidiaries, the "Group"; Stock Code: 1966), announced its interim results for six months ended 30 June 2018.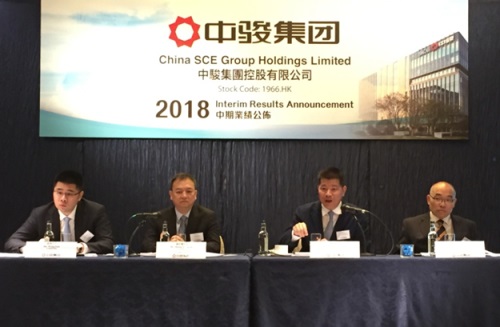 From left to right: Mr. Wong Lun, Executive Director and Assistant President; Mr. Huang Youquan, Executive Director and Executive President; Mr. Wong Chiu Yeung, Chairman, President and Executive Director; Mr. Li Siu Po, Financial Controller and Company Secretary


For the six months ended 30 June 2018, the Group's revenue increased by 15.3% to approximately RMB9.41 billion, attributable mainly to the increase in property sales income. Gross profit increased by 21.4% to RMB3.04 billion. Gross profit margin rose by 1.6 percentage points to 32.3%, thanks to the delivery of higher gross profit margin products in first-tier cities during the period. Profit attributable to owners of the parent saw a significant 99.3% increase to approximately RMB2.02 billion. Basic earnings per share were approximately RMB52.8 cents. The Board has declared an interim dividend of HK7 cents per share.

In the first half of 2018, the Group achieved record-high contracted sales again in the amount of approximately RMB20.81 billion, with contracted sales area reaching about 1.645 million square meters ("sq.m."), representing a year-on-year growth of 34.1% and 93.1% respectively. The average selling price of properties was RMB12,648 per sq.m..

The Group prides a healthy financial position. As at 30 June 2018, the Group had cash and cash equivalents of approximately RMB17.07 billion. Gearing ratio was 69.2%, down by 2.6 percentage points when compared with that at year-end 2017. In March 2018, Standard & Poor's Rating Services upgraded the corporate credit rating of the Company to "B+", affirming that the Company has a "stable" rating outlook.

In the first half of 2018, the Group acquired 31 projects, mainly in second-tier and strong third-tier cities, with the aggregate above-ground buildable area of approximately 5.07 million sq.m. and at the average land cost of RMB5,181 per sq.m. As at 30 June 2018, the Group owned a land bank with aggregate planned gross floor area of approximately 19.86 million sq.m., believed to be sufficient for development by the Group in the next three to four years.

Subsequent to the review period, the Company changed its English name from "China SCE Property Holdings Limited" to "China SCE Group Holdings Limited" and Chinese name from "China SCE Property Holdings Limited" to "China SCE Group Holdings Limited", to reflect more accurately the current status of the Group's business and help promote the corporate image and future business development of the Group.

In the long run, the Group remains optimistic about the prospects of the real estate market in China. Continuous urbanisation and traffic network expansion are expected to see people not only moving to first-tier cities, but also moving to certain second-tier and strong third-tier cities. These cities thus will be the Group's future development focus. The Group will seize opportune time to acquire land at lower prices and actively replenish its land bank in target cities. In the second half of 2018, China SCE plans to launch over 30 projects with expected saleable resources amounting to RMB60.0 billion.

Looking ahead, the Group will expands its business within the "Fun+Happy Life Ecosystem" based on the study of consumption upgrades and customers' lifestyle. Through the development of new business segments such as long-term rental apartments, shared-offices, fitness and health, and education industries, the Group is dedicated to setting the trend of smart living, so as to meet the social, work, fitness, commercial, lifestyle and other needs of users. The Group will strive to meet market expectations with the most outstanding products and services.

About China SCE Group Holdings Limited
China SCE Group Holdings Limited (formerly known as "China SCE Property Holdings Limited") was established in 1996 and listed on the Main Board of The Stock Exchange of Hong Kong Limited in February 2010 (Stock Code: 1966.HK). The Group's major businesses include property development, property investment and property management. The Company is headquartered in Shanghai for its business operations, while implementing regional focused development strategy targeting the first- and second-tier cities in the Yangtze River Delta Economic Zone, the Bohai Rim Economic Zone, the Guangdong-Hong Kong-Macao Greater Bay Area, the West Taiwan Strait Economic Zone and Central Western Region.

The Group's property projects are distributed in 30 cities, including Beijing, Shanghai, Shenzhen, Tianjin, Chongqing, Suzhou, Hangzhou, Nanjing, Qingdao, Jinan, Nanchang and Xiamen, etc. Its products cover a wide range of properties including high-rise residential buildings, low-rise residential buildings, villas, commercial buildings and offices. The Company upholds "We Build to Inspire" as its key value proposition, "Creating Smart Living to Help Seize Happiness" as mission. The Company was awarded the "2018 Best 40 China Real Estate Listed Companies with Strongest Comprehensive Strengths", "2018 Best 50 of China Real Estate Developers" and "Fortune China 500" in 2018.

Enquiries
Strategic Financial Relations Limited
Vicky Lee / Fanny Yuen / James Fung
Tel.: 2864 4834 / 2864 4853 / 2114 4956
Email: vicky.lee@sprg.com.hk / fanny.yuen@sprg.com.hk / james.fung@sprg.com.hk


Topic: Press release summary
Source: China SCE Group Holdings Limited
Sectors: Daily Finance, Daily News
https://www.acnnewswire.com
From the Asia Corporate News Network



Copyright © 2023 ACN Newswire. All rights reserved. A division of Asia Corporate News Network.